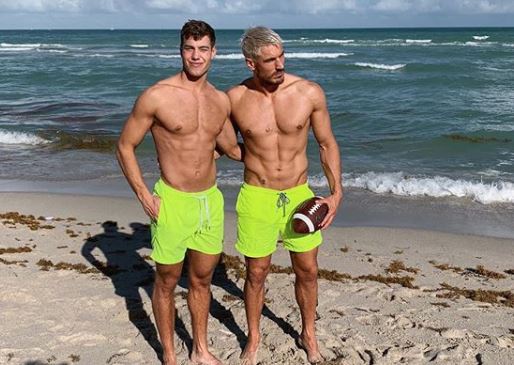 Gay thirst trap Derek Chadwick, who came out in July 2018, is dating hairdresser to the stars Chris Appleton
The couple has yet to confirm their relationship to the public but the guys are currently on vacation together and are drooling all over each other's Instagrams.
Chris has sculpted celebs hair in LA for more than a decade and has stars like Katy Perry, Ariana Grande, Kim Kardashian and J Lo on his client list.
Derek – who is 23 years old- is apparently into a bit more mature guys.
Chris is 35 years old, and Derek's previous boyfriend, design director Luke Scot, is also quite a few years older than him.
Related: Are Male Models Gay?
About Derek Chadwick
Derek Chadwick was born July 8, 1995 in Long Island, New York, U.S.A. He now lives in Los Angeles.
What is he famous for?
Chadwick is a film and television actor and model. He has been featured in the television shows, "Scream Queens" and "Blue Bloods".
He acted in the 2015 film, "Experimenter" with Winona Ryder and Peter Sarsgaard as well as 2016's "Teenage Mutant Ninja Turtles: Out of the Shadows".
As a model, Chadwick was the face of Urban Outfitters has an Instagram following of over 378 thousand followers and counting.
Is Derek Chadwick gay?
Chadwick came out as gay publicly in the August 2018 edition of Gay Times. In the cover story, Chadwick explains that he wanted to use his unique platform and privilege to be able to help others and be visible to others. He also described feeling shame when he first came out to his mother and step-father, who were "not very accepting at first".
Derek Chadwick's social media accounts:
Twitter: https://twitter.com/derekachadwick
Instagram: https://instagram.com/derekchadwick
Facebook: https://facebook.com/derekachadwick
Youtube: https://youtube.com/channel/UCsqpr8IT2W4YqTB_NP1wSVw