Please note that this guide contains some affiliate links. If you purchase a product or service through one of these links we may earn a small commission (at no extra cost to you).
Out and The Advocate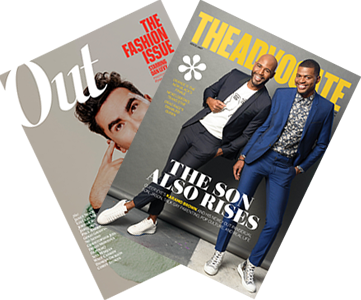 Get the best of both worlds!
Now you get both great magazines in one easy subscription package. Subscribe to The Out/Advocate Print Edition and you'll receive The Advocate's authoritative coverage of LGBT news, politics and opinion along with Out's rich mix of thoughtful writing, stunning visuals, and unsurpassed coverage of fashion and design.
Mailed to your home or office 6 times a year. Note: The Advocate is not available separately in print.
Cover Price: $59.90
You Save $39.95 (67%) – Offer from DiscountMags.com