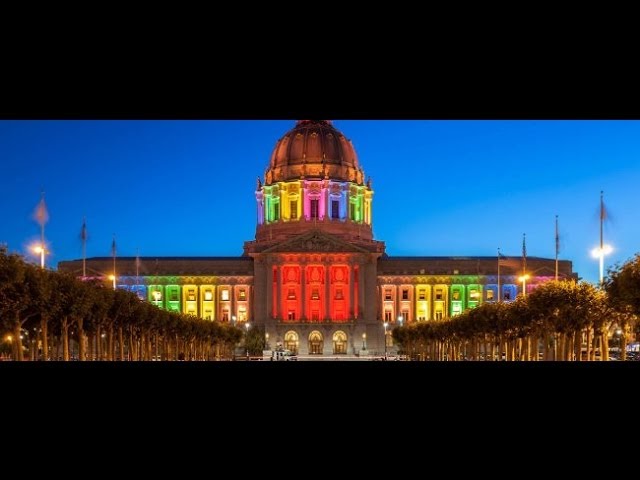 The ideal approach to enjoying a gay long weekend in San Francisco
San Francisco may just be the most talked-about and dynamic gay and lesbian destination in the world. But with so much to see and do, how do you make the most of a short visit to the City by the Bay?
You'll want to soak up the culture of cool neighborhoods like the Castro and the Mission. You can't leave without glimpsing the must-see attractions, such as the Golden Gate Bridge and the beautifully redesigned de Young Museum.
And then there are the incredible restaurants, serving everything from fresh-harvested oysters to bountiful organic salads to decadent chocolate desserts.
Here's one approach to enjoying a long weekend in San Francisco, ideal for both first-time and repeat visitors.
You might begin by purchasing a San Francisco CityPass, which you can order online before you go.
The pass, which costs $89 per person (2017), provides free admission to several of the city's most prominent attractions as well as seven days of unlimited travel on the Cable Car and Muni bus and train network and sightseeing boat excursions on the city's Blue and Gold Fleet.
Attractions included:
Entrance to either the Aquarium of the Bay or Monterey Bay Aquarium
Entrance to either the Exploratorium science museum or De Young Museum of Art
Entrance to the California Academy of Sciences
Related: Great Places to Stay in San Francisco
One of the best times to visit San Francisco is of course during the gay parade:
Friday Night
Hayes Valley, a central neighborhood that's easily reached from downtown or the Castro, has several fun, low-keyed restaurants, perfect for your first evening in town.
One of the best is Cafe Delle Stelle, which serves superb, reasonably inexpensive Italian fare. Although you could survive on the rich Tuscan bread that comes with your meal, you'll want to sample the delicious homemade pastas and traditional Italian dishes, ranging from polenta with roasted portobello mushrooms to roasted pumpkin ravioli with sage butter.
From here it's a 15-minute walk to the Castro, where you can check out the dozens of lively gay bars and clubs, including such neighborhood faves as the bustling and youthful The Cafe, popular dance/video bar Badlands, and the friendly neighborhood bar Moby Dick.
The laid-back Pilsner Inn, and the hip Q Bar, which draws vigorous, young crowds on the weekends, are also great choices.
Or if you're walking back toward downtown, you can peek inside one of the bars that still line Polk Street, a longtime gay-nightlife hub in the '70s and '80s that has only a few nightspots left these days.
Good bets include the Cinch Saloon, a mellow neighborhood joint, and Gangway, the oldest gay bar in San Francisco.
Saturday
In the morning, head to the Castro to explore this famous gay neighborhood during daylight hours.
The best way to learn of the area's rich history is by taking a walking tour with Kathy Amendola, of Cruisin' the Castro Historical & Cultural Walking Tours.
Amendola leads visitors past the Pink Triangle Park & Memorial, the residence of slain gay icon Harvey Milk, and the ornate and historic Castro Theatre.
The tours leave at 10 a.m. and are also offered Tuesday through Friday (9 a.m.).
After the tour, set aside some time for shopping. The Castro has grown up over the past decades as a sophisticated retail neighborhood, with everything from high-end clothiers and boutiques to adult gift and bookshops.
Then walk (about 30 minutes) or take Muni over to lush Golden Gate Park to visit the de Young Museum, which has a distinctive copper exterior and a dramatic 145-foot observation tower that looms high above the park's leafy trees.
Spectacular collections of American paintings and sculptures, African art, and textiles fill this beautiful building.
Saturday Night
The Mission District is a great neighborhood for dinner, with the Foreign Cinema ranking among the top picks.
This romantic dinner destination creates awesome dining experiences for the palatte and the senses, serving guests in a lovely courtyard that projects classic foreign films on the walls.
Limon is another superb choice, serving kicky Latin fusion fare and tangy sangria.
If you're up for nighttime fun, you can always head back to the Castro, or if you're a serious clubber, take a cab to the trendy SoMa neighborhood, where you'll find the famed Powerhouse and Stud discos.
Here you will also find raunchy fetish and leather bars like the lovably sleazy Hole in the Wall Saloon and the rough-and-tumble SF-Eagle, which brings in live bands many evenings.
Sunday
Walk or take Muni northeast along Market Street for a leisurely late breakfast or early lunch at the Ferry Building Marketplace, a gorgeous 1898 former transportation hub that was converted a few years ago into fabulous food shops and restaurants.
There's also a farmers market held on the grounds on Sundays, from 10 a.m. to 2 p.m., spring through fall.
Order a tender ahi burger and garlic fries at Gott's Roadside, before devouring a few scoops at Humphry Slocombe – a San Francisco hot spot and definitive trendsetter in ice cream innovation.
Next, take Muni along the Embarcadero to Pier 41.
This is a touristy part of the city, adjoining Fisherman's Wharf and its slew of annoyingly kitschy shops, but from Pier 41 you can use your CityPass to take a free one-hour Blue & Gold Fleet boat tour of San Francisco Bay.
This is the quickest and easiest, and arguably the most interesting, way to get a sense of why San Francisco ranks among the most beautiful cities in the world.
These narrated tours pass under the Golden Gate Bridge, by the tony towns of Sausalito and Tiburon, and around the infamous former prison, Alcatraz.
Sunday Night
Head to one of the Castro's hottest gay-date spots, Catch, which serves addictive french fries tossed with Parmesan cheese and white-truffle oil as well as a dandy grilled monkfish with herb-mushroom risotto.
Or for a more casual experience, go to Harvey's who serves a full menu of hearty options before the bar crowd shows up.
Monday
Depending on the exact time of your departure, you can set aside Monday to check out a neighborhood you hadn't sufficient time to explore, such as SoMa, home to outstanding San Francisco Museum of Modern Art (SFMOMA).
Or perhaps spend a little time browsing Macy's, Gump's, or any of the hundreds of fine shops around Union Square.
You can break for lunch at Townhall, a superb contemporary American restaurant set inside a vintage SoMa warehouse, where you might sample duck-confit enchiladas with tomatillo sauce, or a poached-shrimp club sandwich with bacon and heirloom tomatoes.
Where to Stay
A splendidly restored 1909 Edwardian mansion straddling the Castro and Mission neighborhoods, Parker Guest House is the Castro's most spectacular inn.
Guests make considerable use of the lavish public areas and appreciate the antiques, rich fabrics, and modern conveniences (WiFi, voicemail) in the 21 sun-filled rooms. Paths wind through extensive gardens and lawns.
A more affordable Castro option is the Willows Inn, whose 12 cozy, warmly furnished rooms share four bathrooms and four separate shower rooms but have all the other charms and comforts you'd expect of a far pricier small hotel.
Both properties draw a mix of lesbians and gay men.
If you'd prefer to stay downtown, consider booking a room at one of the several hotels run by the gay-friendly Kimpton or Joie de Vivre hotel chains.
Favorite Kimpton properties include urban chic The Buchanan, a sultry, historic revival hotel which features a sophisticated, residential flavor with artful touches.
And with its Beefeater doormen, a grand lobby, and a killer location just steps from Chinatown and Union Square, the four-star Sir Francis Drake is a San Francisco regal icon.
Joie de Vivre offers a range of great hotels, like the ultra-chic Hotel Vitale, which opened in 2005 across from the Ferry Building Marketplace and is best-known for its nifty Panoramic Suites, with 180-degree views of San Francisco Bay.
Hotel Carlton is a boutique hotel in San Francisco's Lower Nob Hill with an eclectic decor and laid-back, eco-friendly vibe.
Hotel Phoenix' funky space, wedged between San Francisco's gritty Tenderloin district and its iconic Civic Center, incorporates '50s architecture and design, artwork by local artists, and a tropical courtyard and heated pool in an atmosphere that feels both chic and unpretentious.
In this city known for its swank and sumptuous hotels, the biggest challenge you may face during a three-day visit is finding the motivation to leave your cushy guest room.
Related: Touring the Napa-Sonoma Wine Country