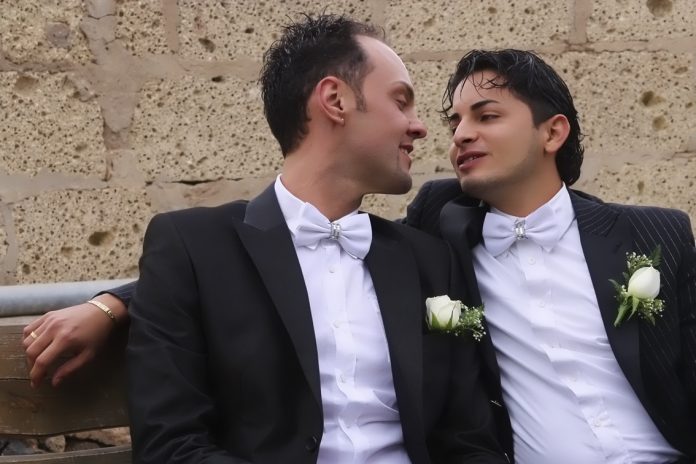 Regardless of who you love, getting married can be stressful. For same-sex couples there's even more complexity and that's why we made this gay wedding checklist.
Once the euphoria of the engagement wears off, the reality of wedding minutiae sets in. From fittings to cake designs to venue selection, your pending nuptials require a lot more than love; you'll need tons of energy and effort.
Like any couple, there are a series of mandatory tasks (invitations, vows, etc.) that must happen. But for gay couples, there's an added layer of complexity.
In an era where the term "religious freedom" is tossed around quite often, there's always the possibility that some vendors might refuse to help you. And there's probably a few family members in the mix, too, who aren't completely supportive.
There's quite a bit to worry about, but with this high-level 10-point gay wedding checklist, you can ensure you've got the basics covered.
Please note that we link to some vendors in the text below and if you click on one of the links and buy something, we may get a small commission.
1. Replace the Bride and Groom Tradition
Wedding traditions are based around the idea of a bride and a groom. Those traditions don't account for the nature of your relationship.
Maybe you like the idea of walking down the aisle, so one of you can still have that epic church aisle reveal while the other waits at the altar. Maybe you'll both walk down the aisle. Maybe you'll ditch all the hoopla and go for something low-key instead.
Gay marriage is still relatively new territory. So, you can literally do whatever you want. Before you start booking vendors and scouting locations, it's important to iron out your vision.
2. Find Gay Friendly Vendors
We've all heard about the Portland bakery that denied service to a lesbian couple when they ordered their wedding cake. That bakery faced a hefty fine—and the wrath of the gay web.
But anti-gay vendors aren't always easy to spot. There are tons of states where it's okay to discriminate against gay couples. Before you start picking out the icing for your dream cake, make a list of gay friendly vendors in your area. Spend your money in places that support you.
You can even influence where your guests buy their gifts by signing up for an online wedding registry. A wedding registry is a service provided by a website or retail store that assists engaged couples in the communication of gift preferences to wedding guests.
Online shopping giant Amazon have a wedding registry and you can pick gift wishes from their huge inventory. It's totally free and you can sign up here.
Related: 10 Awesomely Cute Gay Weddings
3. Decide on a Budget
It's no secret that weddings are expensive. You can end up spending $50,000 if you aren't careful. If you have that kind of dough, go all out. If you don't, do some research and set a clear budget beforehand. No one wants to their first year of marriage with a mountain of wedding debt.
4. Scrutinize Your Guest List
Whether you're hosting a DIY wedding in your backyard or throwing an extravaganza at an exclusive Caribbean resort, your guest list will have a limit. As much as you want your best friend from kindergarten to attend, there might not be space.
Focus on friends and family first. Then add in the filler if there's room. Expect to make edits. And, of course, don't feel pressure to invite your homophobic relatives. The most important day of your life isn't the time to hash out your differences.
5. Clothing
Your wedding day fashion is the perfect opportunity to stand out from boring, traditional weddings. Do you want a pair of matching outfits? Do you want to give the middle finger to gender norms?
You want your clothing to match the elegance and importance of the day. But you also want to show off your personality. Nordstrom, Macy's, Saks Fifth Avenue, Dillard's, and Kohl's are a few good places to start for some inspiration.
6. Rings
Rings are some of the most expensive things you'll buy for your wedding. Start your ring shopping earlier than later. The price tags are hefty and can eat up a big part of your budget.
Plus, some vendors need several months to get the rings just right. Don't wait to get started. Zales, blue nile, and KAY are some major retailers you may want to check out.
The B-Gay Shop also has some beautiful gay pride rings that would be perfect for the occasion.
7. The Legal Stuff
Every state has different requirements for registering your marriage. You might need to get a license before the wedding. You might need a specific type of officiant.
Your license is probably the most important detail of your wedding. It's the piece of paper that makes it all official. Don't overlook details here; pay close attention.
8. Vows
Life is not a romantic comedy film. Don't spend the night before your wedding rushing through your vows with sweaty palms. This is your chance to confess your love for your partner in front of a crowd of loved ones. It's a big moment.
You need to work through exactly what you want to say. You also need to practice. The altar is your stage. This is one performance you need to knock out of the park.
9. Schedule for the Day
Figuring out a schedule for your big day is a lot less than fun than the other parts. However, it's important.
When's the cake being delivered? When should everyone arrive to the reception hall? When will the photographer show up? There are tons of little details to manage.
Make sure you have a rough sketch of the day beforehand. This way, you can enjoy the day instead of acting like the wedding planner.
10. Honeymoon
Anti-gay vendors are one thing. Anti-gay resorts are another. There are quite a few places where it's unsafe for gay couples to vacation. Before you book your stay, do your research.
Jamaica is a lovely country but it's aggressively homophobic. A few minutes of research can be the difference between a memorable honeymoon and a disaster.
General weddings can be a lot of work. Gay weddings require a lot more. But with a little planning and research, the day is guaranteed to be perfect.
Related: 3 Gay Wedding Hot-Spots