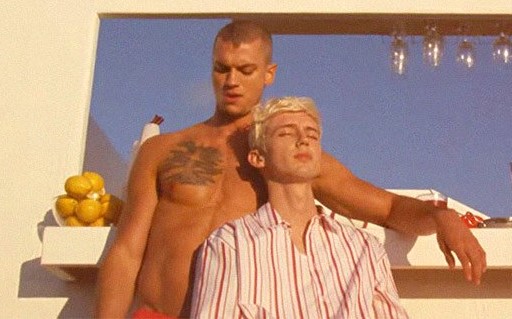 Gay Aussie pop star Troye Sivan has released a video for his bouncy, summertime ready single "Lucky Strike" from his album Bloom
In the video, Troye is sunning himself on a gorgeous beach and flirting with an attractive beach-stand bartender.
It soon turns steamy – and a bit morbid – as Troye imagines the hunk literally squeezing juice out of his heart.
See the deliciously morbid video below.
Troye is not only happily showing his own homosexuality to the world, he is also fighting homophobia within the music business.
Last year, Troye stated that Eminem's use of a homophobic slur on his latest album "Kamikaze" was inexcusable
"I don't think there's ever really a reason," the Aussie singer told Variety. "I just feel like some words are not meant for everyone, or for anyone. It's not that hard to respect that, so I just hope that people do."
Eminem recently said in an interview that he regrets using the word "f-a-g-g-o-t" to diss rapper Tyler, the Creator on the song "Fall."
"I was angry when I said the shit about Tyler…in my quest to hurt him, I realized that I was hurting a lot of other people by saying it," he said.
Troye believes in forgiveness and says forgiveness for actions like Eminem's is possible, but not without some real work.
"I would like to believe that people can grow and change," he said. "I think that repeated behavior is something that should be taken really seriously…I would love to believe that if the person showed enough genuine remorse and understanding of how they've hurt people and actively made strides to correct that — I would like to believe I can be fine with that person."
Related: YouTube Star Greyson Chance Comes Out as Gay
About Troye Sivan
Troye Sivan Mellet was born on June 5, 1995 in Johannesburg, South Africa. He currently lives in Los Angeles, California U.S.A.
What is he famous for?
Sivan is a singer, actor and Youtuber. He first gained popularity when he appeared on Australia's Channel Seven Perth Telethon in 2006. He sang a duet with winner of Australian Idol, Guy Sebastian.
In 2013, Sivan signed to Universal Music Australia and released his EP "TRXYE". In over 55 countries, the EP debuted at number 1 on iTunes.
In addition to several stage performances, Sivan played the younger version of James Howlett in "X-Men Origins: Wolverine". He is set to appear with Xavier Dolan and Jessica Chastain in "Boy Erased" in 2017.
Is Troye Sivan gay?
Sivan told his family that he was gay on August 7, 2010. His family was very supportive. On August 7, 2013, Sivan came out via Youtube Video to his fans and the public. In the video he speaks about how coming out videos on Youtube were a huge resource and inspiration to him when he was figuring out his own sexuality and he hopes that his will contribute to support others on their own journeys.
Many of Sivan's music videos feature LGBTQ relationships. The video for "Heaven ft. Betty Who" shows footage of LGBTQ couples and events through history.
Troye Sivan's social media accounts:
Twitter: https://twitter.com/troyesivan
Instagram: https://www.instagram.com/troyesivan/
Facebook: https://www.facebook.com/troyesivan/
YouTube: https://www.youtube.com/channel/UCWcrr8Q9INGNp-PTCLTzc8Q
Related: Top 5 Gay Love Videos on YouTube