Our favorite gay Olympian Gus Kenworthy has a hall pass from hunky boyfriend Matt Wilkas to hook up with teen pop superstar
The free skier told OK! Magazine that he has a sweet spot for Canadian singer Shawn Mendes.
Gus and Shawn met in March 2019 backstage at a meet and greet at Shawn's concert in Zurich, Switzerland.
The 19yo singer was shirtless for the moment and he was such an impressive sight that Gus fake fainted.
And it wasn't just Shawn's good looks that got Gus' juices going. The guys also had a nice conversation.
"He was really sweet," Gus says.
Related: Gay Videos on Amazon Prime
In February, Gus surprised us by adding another skill to his repertoire. The hot jock ibecame an actor.
AHS producer Ryan Murphy announced on his Instagram that Gus will be joining the cast of American Horror Story season 9, where he will be playing Emma Roberts' boyfriend.
«That special moment when you realize you have an Olympic medal AND will be playing Emma Roberts' boyfriend on "American Horror Story" Season 9,» Ryan wrote in his post.
Gus' boyfriend Matthew Wilkas also has a new TV gig. He is playing a gay police officer in Netflix's AJ and the Queen starring RuPaul.
Related: Tom Daley Nominated as Sports Star of the Year
Gus is everywhere in media nowadays, and in December he was featured in US Weekly's "Who Wore It Best?" section and was totally "trashed".
It has to be said in his defense though, that the competition was totally unfair.
Gus was pictured together with his adorable dog Birdie, both of them wearing the same scarf.
And a staggering 100% voted that Birdie wore the garment best!
🤣🤣🤣
To add insult to injury, Birdie (who has "her own" Instagram account) posted the following biting comment on Gus' insta post: "Good to know not all elections are rigged…"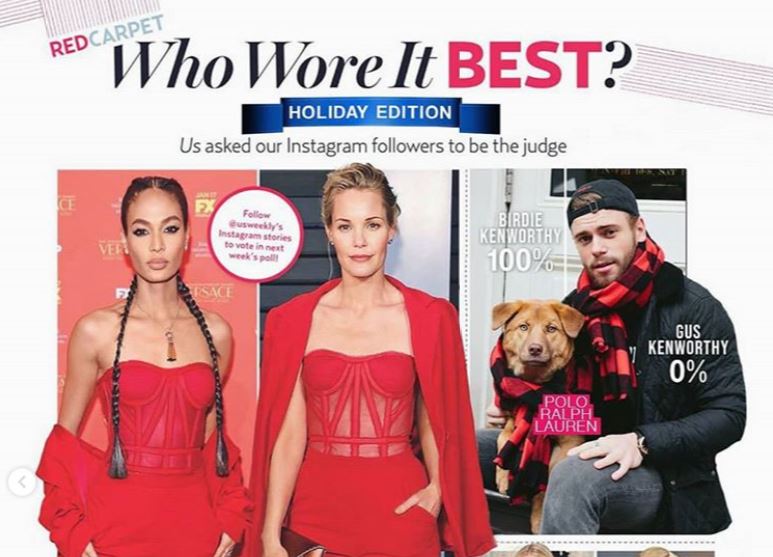 Gus' boyfriend Matt Wilkas tried to comfort the Olympian by suggesting that there must have been some kind of collusion.
"The Russians must've interfered," he wrote in a comment.
Gus' openness about his sexuality inspires youth to come out of the closet.
In a new web series, "Fearless," the hot Olympian meets a 20yo college student from Lancaster, Pennsylvania, who says Gus inspired him to come out as gay.
"I knew that, in a way, nothing was gonna change, and at the exact same time, everything was about to change," Gus says about his own coming out process. "When I actually came out, it was so positive. The reaction was amazing."
The show is presented by Ellen DeGeneres and hosted by activist and entrepreneur Ashley Graham.
New episodes will be available Wednesdays on Ellen Tube and DeGeneres' official YouTube channel.
On National Coming Out Day October 11th, Gus posted a very personal greeting to his fans.
"Happy #NationalComingOutDay everybody!" Gus wrote on Instagram.
"Coming out is an extremely personal journey that each person should do on their own time when they feel ready, safe and comfortable."
He ended the post by praising the gay community for being a place to find comfort and acceptance.
"Although you may feel alone in the closet there is a community out there that sees you, hears you and not only accepts you but is actually waiting with open arms to embrace you. Good luck! ❤️🧡💛💚💙💜"
Gus is traveling around the world and recently turned a canceled Milan fashion debut into a romantic vacation in Venice with boyfriend Matt Wilkas.
Gus joked that he actually would have preferred his cute new puppy Birdie as travel mate over his hunky boyfriend: "He honestly wasn't my first choice but @b_pups only flies private…"
Gus got Birdie after his previous puppy Beemo passed away in May. Gus shared a heartwarming tribute to Beemo on YouTube.
Gus and Matt rescued the puppy from a farm during the 2018 Olympics in Pyeongyang, South Korea.
https://youtu.be/IYPRTsKCN4c
Gus also posted a picture of them both together on Instagram and asked people to help other rescue dogs by making a donation in Beemo's honor at hsi.org/rescuedogs.
Gus and Matt had to puppy-proof their house when they got Birdie.
"She's so great," the 26-year-old olympian told Us Weekly at the magazine's Most Stylish New Yorkers event, before adding, "she's kind of a monster."
He hilariously explained: "Like, we leave her at home and she'll, like, chew the lamp cord or stuff, so the whole place is puppy-proofed. Everything's, like, on the top shelf … nothing is on the counter for her to be able to access. But she's great."
Gus and Matt spent the labor day weekend in Fire Island Pines, New York together with Birdie and shared a series of pawesomely cute pictures.
"She's a 5-month-old Jindo/Lab mix and we named her Birdie (because birds were one of Beemo's favorite things in the world)," Gus wrote in an Instagram post.
"Nothing in the world could ever replace Beemo or the love that we felt and still feel for her, but Birdie has already stolen a new place in our hearts and we're excited to be dog dads again."
In February 2018, all of America got to see Gus and Matt kiss live on NBC during the Olympics in Pyeongyang, South Korea.
"It's something I was too scared to do for myself," Kenworthy said after the competition.
"To be able to do that, to give him a kiss, to have that affection broadcast to the world, is incredible. The only way to really change perceptions, to break down barriers, break down homophobia, is through representation. That's definitely not something I had as a kid. I never saw a gay athlete kissing their boyfriend at the Olympics. I think if I had, it would've made it easier for me."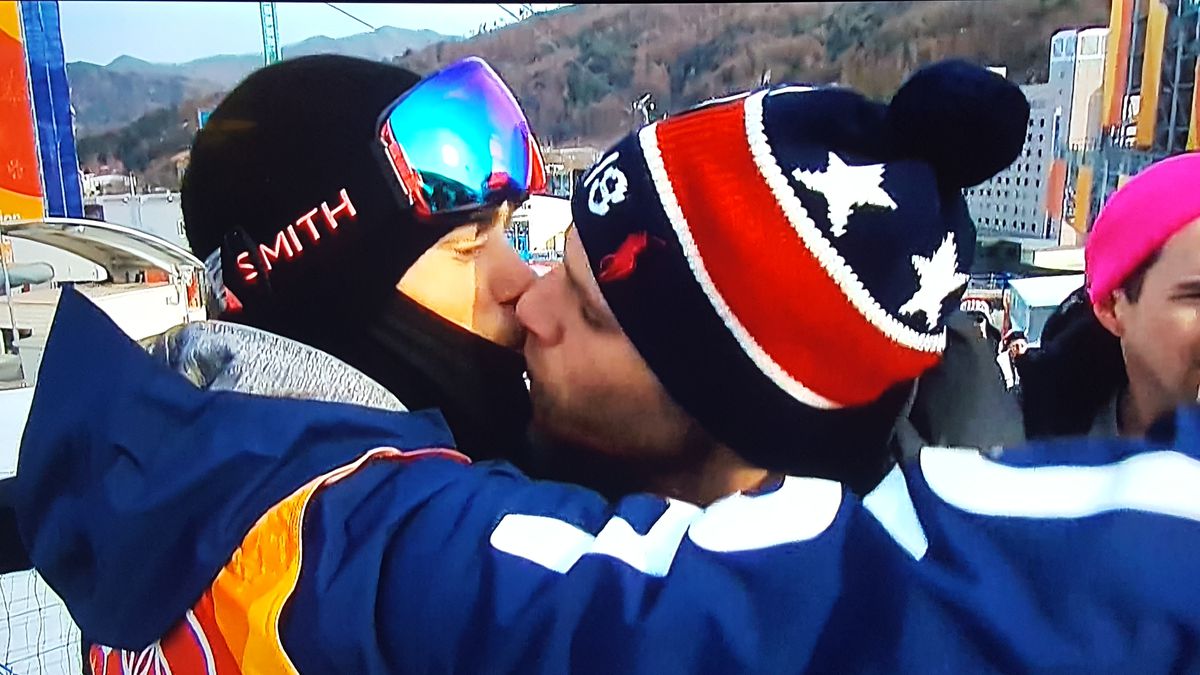 Gus and his fellow gay Olympians made a big impact on this years Olympics by being out and proud at the event.
We're here. We're queer. Get used to it. @Adaripp #Olympics #OpeningCeremony pic.twitter.com/OCeiqiY6BN

— Gus Kenworthy (@guskenworthy) February 9, 2018
In a post on Instagram, Gus wrote:
"The #OpeningCeremony is a wrap and the 2018 Winter Olympic Gaymes are officially under way!" he wrote. "I feel incredibly honored to be here in Korea competing for the US and I'm so proud to be representing the LGBTQ community alongside this amazing guy! Eat your heart out, Pence. #TeamUSA #TeamUSGay"
Hillary Clinton commented on the historic significance of this years openly gay athletes.
"I'm going to watch as much as I can see," she said at the 2018 MAKERS Conference. "I love the Winter Olympics. I love the athleticism and the stories of our athletes, and I'm excited that Adam Rippon and Gus Kenworthy will be the first openly gay Olympians. So I'm going to be there cheering them on."
Gus stopped by "The Ellen DeGeneres Show" to discuss making history as an openly gay athlete in the Winter Olympics
He told Ellen that he was really excited about the upcoming Games, including meeting all the other athletes.
Them: What are you most excited for in Korea?
Me: Meeting the other athletes… 😈 pic.twitter.com/fbC7v2rc0z

— Gus Kenworthy (@guskenworthy) January 27, 2018
"It's going to be a different experience than last time around because I'm not in the closet," Kenworthy said. "I just want to meet as many athletes as I can, get to enjoy the opening and closing ceremonies, [and] hopefully ski the best I possibly can."
But he also had some reservations about the politics involved, saying that anti-LGBT VP Mike Pence is "a bad fit" to lead the Winter Olympics delegation.
"To have somebody leading the delegation that [has] directly attacked the LGBTQ community … just seems like a bad fit," he told Ellen. "I feel like the Olympics is all about inclusion and people coming together, and it seems like it's not really doing that."
Related: Tom Daley Nominated as Sports Star of the Year
About Gus Kenworthy
Gus Kenworthy was born in Chelmsford, Essex, United Kingdom on 10/01/1991. He is currently living in Telluride, Colorado, USA.
What is he famous for?
Gus Kenworthy is an athlete. He is best known as a freestyle skier who competes in slopestyle and the halfpipe, and won the silver medal in Men's freestyle skiing at the 2014 Winter Olympics in Sochi, Russia.
Is Gus Kenworthy gay?
Gus Kenworthy came out as gay in October, 2015, and is the first action-sports star to come out.
He came out in an interview with ESPN, telling the reporter "I guess I should start by saying, 'I'm gay.'"
"I wanted to do it in my words and once and for all – and hopefully help kids that are in the same position I was," he later told Attitude magazine.
Since 2016, Gus has been in a relationship with American actor and reality star Matthew Wilkas, who had a lead role in the 2012 film Gayby.
Gus Kenworthy's Social Media accounts:
Twitter: https://twitter.com/guskenworthy
Instagram: https://instagram.com/guskenworthy
Facebook: https://facebook.com/guskenworthy
PS! You have to check out this Insta post where the skier shows off his greatest assets:-D