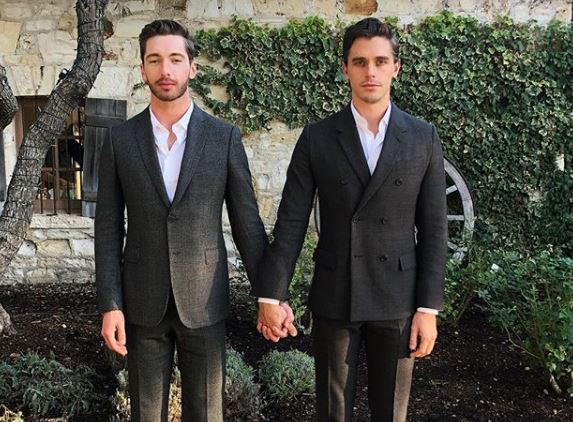 Antoni Porowski appears to be back on the market after he and fellow TV-star Trace Lehnoff split up
The 35-year-old "Queer Eye" food guru has been dating the "Flipping Out" star for 8 months after the couple met on Instagram.
Antoni has removed all photos of himself and Trace together from his Instagram page, while Trace still hasn't deleted a single image.
Antoni called Trace "a good boy" on "Watch What Happens Live With Andy Cohen," and said that the pair met via Instagram DMs.
Related: Matt Bomer Shows His Husband Some Old Skills
When Antoni and Trace started dating, Antoni posted some really hot pics of himself in his Calvins to celebrate the event.
"Antoni brought Trace Lehnhoff from Flipping Out to Emmy parties [in September], and Trace was clearly there as his date," US Weekly wrote about the couple. "They weren't trying to hide it. They met on Instagram."
The gay TV star and food expert split from his longtime boyfriend Joey Krietemeyer in 2018.
Antoni and Joey were together for more than seven years and the foody has previously credited Joey for helping him come out to his family.
"Antoni and Joey broke up months ago," a source close to the star revealed to US Weekly in October. "It was very amicable. They're still friends. It was a clean split."
Related: Gay TV Host Nate Berkus Inducted Into Hall of Fame
About Antoni Porowski
Antoni Porowski was born March 14, 1984 in Montreal, Quebec, Canada. He now resides in New York City, U.S.A.
What is he famous for?
Antoni Porowski is a chef, actor and TV personality. He is best known as a one fifth of the "fab five", hosts of the Netflix makeover show, "Queer Eye".
After graduating from university, Porowski studied acting at the Neighborhood Playhouse School of the Theatre in New York City. He appeared in the movies "Elliot Loves", "Daddy's Boy", "The Pretenders" as well as an episode of the TV series "The Blacklist".
The "Queer Eye" cast were the recipients of a Daytime Emmy for Outstanding Structured Reality Program in September 2018. Porowski signed a deal to write his own cookbook and has also announced that he will be opening his own restaurant in New York City.
Is Antoni Porowski gay?
Porowski has stated that his sexuality is fluid. He and ex-boyfriend Joey Krietemeyer were in a relationship for 7 years.
Porowski says that growing up in the liberal city of Montreal, Canada sheltered him from homophobia and predjudice in comparison to his cast mates. Porowski admits he is often perceived as straight, which has also contributed to his more "sheltered" queer experience.
Antoni Porowski's social media accounts:
Twitter: https://twitter.com/antoni
Instagram: https://www.instagram.com/antoni
Facebook: https://www.facebook.com/antoniporowski