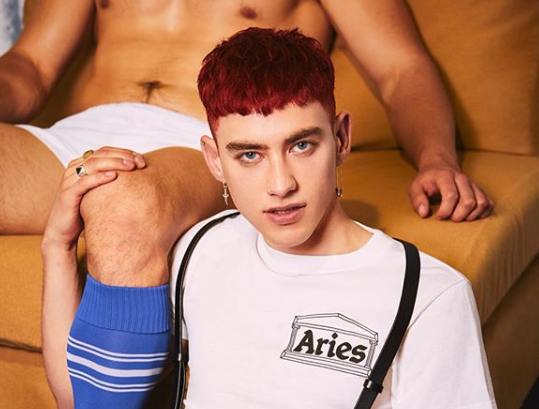 British pop star Olly Alexander says he would be up for competing on 'Strictly Come Dancing,' but only if he's allowed to dance with a man
The 'Years & Years' frontman was speaking on Channel 4's 'Sunday Brunch' on August 19, saying: "I'd want a guy partner. I need a big man to spin me around."
'Strictly Come Dancing' is the British celebrity dance show that is the origin of 'Dancing With The Stars' and 40 other similar shows around the world.
The show has recently come under fire for not permitting same-sex dance couples to compete.
"Strictly has chosen the traditional format of mixed-sex couples and at the moment we have no plans to introduce same-sex couples," a spokesperson said in a statement.
Not everybody on the show agrees, though. The new head judge Shirley Ballas has said "..things are changing, and I couldn't think of anything more exciting. I'm for it!"
One of the contestants on this season's show, openly gay doctor and TV personality Ranj Singh, has said he would like to dance with a man.
Singh told The Mirror that: "I would love to dance with a same sex partner. I would value a time when same sex couples could dance on shows like Strictly.
"It is incredibly important. We are making progress but I think there is still some way to go."
PS! Olly was just on the cover of Paper Magazine. Amazing photos!
Related: Bisexual Actor Keiynan Lonsdale's Hot Male Model Weekend
About Olly Alexander
Oliver Alexander Thornton was born July 15, 1990 in Harrogate, North Yorkshire, England. He is now based in London.
What is he famous for?
Olly Alexander is a musician, singer, songwriter and actor. He is most known as the lead singer for "Years & Years", an English synth-pop band.
Before his music career began, Alexander was an actor. He is featured in the films "Bright Star" (2008), "Enter The Void" (2009) and "The Dish and The Spoon" (2010). He appeared in the final series of the English teen-drama "Skins" and starred in the 2014 musical feature "God Help the Girl".
His band "Years & Years" formed in 2010. Their hit single "King" was released under Polydor in 2015 and reached number one on the UK Single Chart that year. Their first studio album "Communion", also released in 2015, debuted on the UK Albums Chart at number one.
Is Olly Alexander gay?
Although Alexander says he knew he was gay when he was 13, he came out to his mother over the phone when he was 20. He told her he was said her response was extremely accepting and casual and made him realize there was no reason to be afraid.
Alexander is a vocal advocate for LGBTQ rights. At the Stonewall Equality Dinner in March 2018, he said when he first experienced fame, he was encouraged by a media trainer to stay quiet about his sexuality. He ignored the advice and has gone on to do quite the opposite. He makes a point of using male pronouns in his songwriting to increase visibility of gay relationships in pop culture.
Olly Alexander's social media accounts:
Twitter: https://twitter.com/alexander_olly
Instagram: https://www.instagram.com/ollyyears