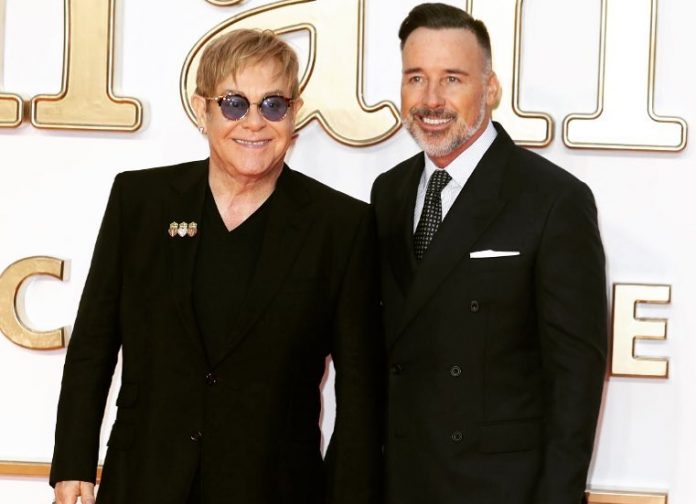 Elton John claims fellow gay pop icon George Michael died because he couldn't deal with his sexuality
In a conversation with Sharon Osbourne on her TV show The Talk, Elton recalled how he had tried to help George with his addictions.
"He couldn't get it, George. And he resented the fact that I had hinted that maybe he change his life a little bit and he'd be happier if he tried something else," Elton said.
Elton has been struggling with his own addictions and successful went through rehab in 1990.
"The person has actually got to want it. It's like me in the end; I really wanted it. I had two alternatives: one, to die, and one to live, and I wanted to live. But that's the difference if you want it, and poor George didn't want it."
The Osbournes also knew George well, and Elton talks about the conversations they had just after he passed in 2016.
"I remember talking to you the day he died on Christmas Day, and I phoned you, and I was in Aspen and Ozzy got on the phone, and he said, 'He didn't want to be here.' And I thought that's the most succinct apt thing: he didn't want to be here.
"He was so uncomfortable in his skin about being gay even though he said he wasn't."
Related: How Embracing That You're Gay Will Bring Happiness to Others
On a happier note, earlier this year actor Taron Egerton posted a steamy picture of himself as Elton John on the set of the movie 'Rocketman' to congratulate the singer on his birthday.
"Happy Birthday, @eltonjohn," Taron wrote. "You are just about the most extraordinary person I've ever met. In honour of your birthday, here's a photo of me (as you) in some hot pants."
Taron plays Elton John in the movie about the legends career and life.
Elton John has had such an amazing life and has long been engaged in the fight to stop AIDS. The star is urging everyone to get tested so that they can learn their HIV status and start treatment if necessary
In a letter posted in UK newspaper The Independent, Elton writes:
"37 million people globally are living with HIV. Last year alone, 1.8 million people contracted the virus and 940,000 died of an AIDS-related illness. This need not happen.
"Today's medicines not only enable those living with HIV to have full and fulfilling lives, but also ensure they cannot pass the virus on to others."
The letter was co-signed by The Independent's owner Evgeny Lebedev, and was a contribution in the fight to stop the stigma that is still surrounding HIV and AIDS even today.
"The challenge is that too many people still do not realize they are at risk, are too afraid of the stigma or are denied the chance of taking an HIV test," Elton writes.
"The theme of World Aids Day on Saturday – the 30th year of the international awareness campaign – was "know your status". Why? Because everyone should understand the risks of HIV, and everyone who needs it should have the chance of dignified help and support. That can only happen if we know our status.
"Let's make HIV testing normal and break the stigma that still surrounds the virus."
Related: Grindr Shares Your HIV Status With Other Companies
About Elton John
At birth, Sir Elton Hercules John was named Reginald Kenneth Dwight. He was born in Pinner, Middlesex, England.
His primary address is Woodside, Old Windsor in England but John also owns property in Atlanta Georgia, Los Angeles California, and Nice France among others.
What is he famous for?
Elton John is a world famous musician, singer and composer. His career spans five decades starting in 1967 when he met his songwriting partner Bernie Taupin.
His debut album "Empty Sky" was released in 1969 and his first hit single was "Your Song" from his self-titled second Album in 1970.
He has sold over 300 million records and has over 50 Top 40 hits. He has received 5 Grammy Awards and 5 Brit Awards, an Academy Award and a Tony Award.
Elton John composed the music for "The Lion King" movie and Broadway musical. He was ranked the third on Billboard's Hot 100 Top All Time Artists behind The Beatles and Madonna.
Queen Elizabeth II knighted Elton John in 1998 for "services to music and charitable services". He has been active in the fight against AIDS since the 1980's and established the Elton John AIDS Foundation in 1992.
Is Elton John gay?
Elton John came out as bisexual in an interview with Rolling Stone magazine in 1976.
In 1984 he married a female recording engineer named Renate Blauel. They divorced in 1988 and in the same year he came out as gay. He has since stated that he never thought he was keeping his sexuality a secret.
On December 21, 2005 Elton John and his partner David Furnish were among the first couples in the UK to be joined in a civil partnership.
Once gay marriage became legal in the United Kingdom, the couple married on the ninth anniversary of their civil partnership on December 21, 2014.
They have two sons.
Elton John's social media accounts:
Twitter: https://twitter.com/eltonofficial
Instagram: https://instagram.com/eltonjohn
Facebook: https://facebook.com/EltonJohn
Youtube: https://youtube.com/user/EltonJohn
Related: Neil Patrick Harris' Family Rocks with Uncle Elton John