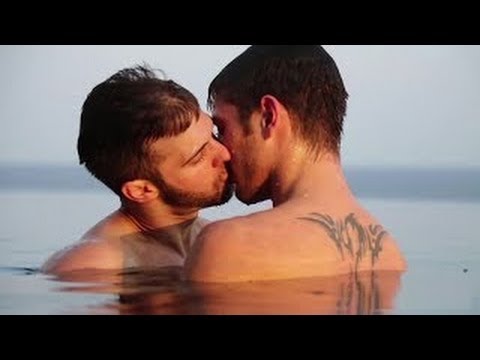 A short list of some of the most popular gay love videos/movies ever made
There are no limits nowadays to what you can find on the Internet. No matter what your fantasies are, there is always something easily available to cover your immediate needs.
Not that it's anything wrong with that, but it's not what B-Gay is all about.
So we'll leave those searches up to you. Instead we're all about gay love & life (in that order) so we want to present to you some of the most popular gay love videos/movies ever made.
Enjoy and get inspired!
Related: 5 Perfect Gay Date "Netflix And Chill" Movies
Redwoods
An unfulfilled gay man in a stagnant relationship finds his life changed forever when he meets a struggling writer visiting the Redwoods Country.
It's a must see film about two men who fall in love, with instant chemistry between the actors.
Just wish that the ending was happier…
Same Love
This amazing video by mega stars Macklemore & Ryan Lewis shows the struggle of gay men, and especially gay men of colour who have to fight discrimination based on their skin colour in addition to their sexuality.
However, love can conquer everything and wins in the end.
Young Love
Music video by Eli Lieb. A celebration of love and living life to the fullest without fear. Be happy, live freely and be your most authentic self.
Directed by Geoff Boothby. Produced by Shark Pig.
Silver Road
Mark and Danny have been best friends their entire young lives, growing up together in an isolated farming community in Ontario, Canada.
Danny is closeted gay and about to move to the city in order to fullfill his life, but he doesn't want to leave before confessing his love to Mark and the boys embark on one last journey together.
Doorman
A cute doorman is watching other people's lives go by while dreaming about his own happiness.
When a cute guy in the building continues to pass on him, he eventually finds an excuse to meet him and break out of his shell.
+ our favorite gay video on YouTube of 2019:
Hallelujah
"Hallelujah" by Matthew Richardson is a queer/circus concept about religion and the importance of choosing kindness regardless of our differences or beliefs.
Religion is a tough subject for many in the LGBTQ community, and this piece is a reflection of the struggle and rejection we often feel.
It tells the story of an individual troubled by the hate in the world and his partner who is fighting to lift him up, to remind him he is beautiful exactly how he is.
Related: Gay Videos on Amazon Prime