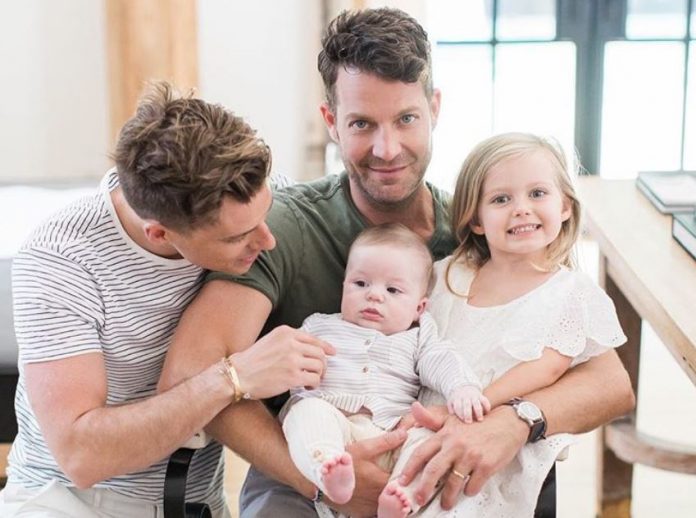 Gay interior designer and TLC host Nate Berkus has been inducted into the Taste Awards hall of fame for his lifetime achievements
The inductees were selected based on either having received numerous Taste Awards and finalist nominations over the years, or having made a significant impact in the world of taste and broadcast entertainment.
Nate and husband Jeremiah Brent co-host "Nate and Jeremiah By Design," which runs on TLC.
Nate posted this beautiful picture of his adorable family on Instagram yesterday.
https://www.instagram.com/p/Bo2AchYH7vQ/
https://www.instagram.com/p/BnEirEvgY-t/
https://www.instagram.com/p/Bk-mVVkgkdU/
https://www.instagram.com/p/BiUzQhfgtYL/
Related: Newlyweds Ricky and Jwan's Beautiful New Home
About Nate Berkus
Nathan Jay Berkus was born September 17, 1971 in Orange County California, U.S.A. He currently lives in West Hollywood, California.
What is he famous for?
Berkus is an interior decorator and television host. His interior design firm, Nate Berkus Associates operates from Chicago.
He first appeared on "The Oprah Winfrey Show" in 2004 to speak about his experience as a victim of the 2004 Indian Ocean Tsunami, which claimed his partner Fernando Bengoechea.
From 2004 to 2011, Berkus was regularly featured on the "Oprah Winfrey Show" giving design advice and home makeovers. He has since worked with Oprah on multiple productions, including "Super Soul Sunday".
His own show "The Nate Berkus Show" ran from 2010 to 2012. Berkus has authored several books on design and has his own line of home products at Target.
Is Nate Berkus gay?
Nate Berkus is openly gay and married to another designer, Jeremiah Brent. The two have been married since 2014 and have two children through surrogacy. The family stars in the TLC series "Nate and Jeremiah by Design".
When Berkus came out to his parents it came as quite a shock, especially to his father. They were vocally supportive from the start but took some time to adjust.
Nate Berkus social media accounts:
Twitter: https://twitter.com/NateBerkus
Instagram: https://instagram.com/nateberkus
Facebook: https://facebook.com/NateBerkus
Related: Montreal: Canada's Design City