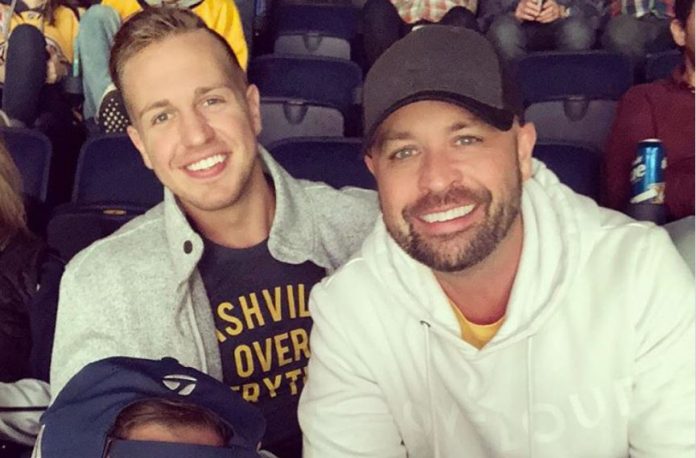 Gay Country music personality and TV host Cody Alan took time off his busy schedule Saturday night to go on a double date with his fiancée Trea Smith
"Best saturday night date ever," Cody wrote on Instagram.
The two couples went to see their Nashville, Tennessee ice hockey team The Nashville Predators play.
https://www.instagram.com/p/Bo5ejDNDA1T/
Cody proposed to Trea last fall while on the guys were on vacation at the Sandals South Coast resort in Jamaica.
"I'd been carrying around the ring for a few months and almost popped the question on several different occasions, but I waited," Cody told PEOPLE magazine at the time.
"With waves softly breaking around us and a gorgeous bright moon hanging overhead, we felt like we were on an episode of The Bachelor!"
"I was anxious about the moment, so I started my big speech before the food even arrived. I told him how much I loved him, and with a few tears and a crack in my voice, I gave him the ring and asked him to marry me. Lucky for me, he said yes!"
https://www.instagram.com/p/BSJSnhwj39S/
https://www.instagram.com/p/Blma0btAhSP/
https://www.instagram.com/p/BkRM0XEBahe/
https://www.instagram.com/p/BYXAUATFES9/
https://www.instagram.com/p/BSb3aSAFDm2/
Related: Gay TV Host Nate Berkus Inducted Into Hall of Fame
About Cody Alan
Cody Alan was born November 13, 1985 in Lexington, South Carolina, USA and now lives in Nashville, Tennessee.
What is he famous for?
Alan works as a radio host for CMT. He hosts the shows "After MidNite", "CMT Radio Live" and "CMT All Access". He has interviewed country music's biggest stars from Dierks Bentley to Tim McGraw.
Alan is also known as the host of CMT's TV series "Hot 20 Countdown" and "CMT #1 Music and a Movie". He has won both The Country Radio Broadcasters "DJ of the Year" award and ACM's "National On Air Personality of the Year Award".
Is Cody Alan gay?
Alan came out to the public as gay on Instagram on January 12, 2017. He said that it was something he has known about his entire life. He had been married to a woman previously and is a father to two children. To Rolling Stone Magazine, Alan said, "For my teenage kids, to them, being gay is like your eye color [laughs]. It's just there. So they have been nothing but encouraging about me stepping up and sharing this with the world."
Alan is now engaged to marry Michael "Trea" Smith and the couple are close with Alan's family, including his ex-wife. They describe themselves as a modern blended family.
CMT reports that Alan's ratings continued to rise after coming out.
Cody Alan's social media accounts:
Twitter: https://twitter.com/codyalan
Instagram: https://www.instagram.com/codyalan/
Facebook: https://www.facebook.com/codyalanlive/
Related: 'RuPaul's Drag Race' Wins Emmy for Best Reality Competition