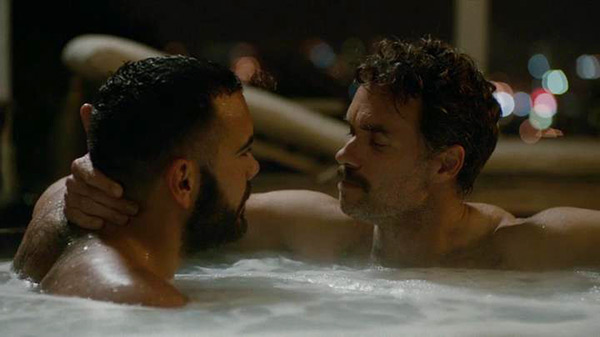 Gay actor Matthew Risch doesn't like the direction this country is heading and offers to help people vote in the upcoming election
In a post on Instagram, the "Looking" actor is billboarding for change, wearing a shirt that says:
"The mayor from Jaws is still the mayor in Jaws 2. It is so important to vote in your local election."
In the post, Matthew writes: "If you follow me and you're not registered to vote, please DM me & I will lovingly help you through the process. Enough is enough. F…ing hell."
Related: Gay Actor Russell Tovey And Hunky Fiancé Split
About Matthew Risch
Matthew Risch was born in 1982 in Salem, Massachusetts, U.S.A. He now lives between New York City and Los Angeles, California.
What is he famous for?
Risch is an actor on television, film and stage. He is best known for playing the role of Thomas in "How To Get Away With Murder". He also played Senator Chip Coto in "Switched At Birth" and Matthew in HBO's 2014 show, "Looking".
Risch played the recurring character of Jotham in "Modern Family" from 2013 to 2018.
Risch's first Broadway role was in the cast of "Chicago". He was the understudy for the role of Warner in the original cast of "Legally Blonde: The Musical" with Stockard Channing and Martha Plimpton.
Risch took over for Christian Hoff to play the titular role in "Pal Joey" in 2008.
Is Matthew Risch gay?
Matthew Risch has said it was easy to come out as gay to his supportive mother when he was 14 years old.
He says that there had been a wall up between he and his father since his parents' divorce but he came out to him two years later, when Risch was 16.
Matthew Risch's social media accounts:
Twitter: https://twitter.com/matthewrisch_
Instagram: https://instagram.com/matthewrisch_