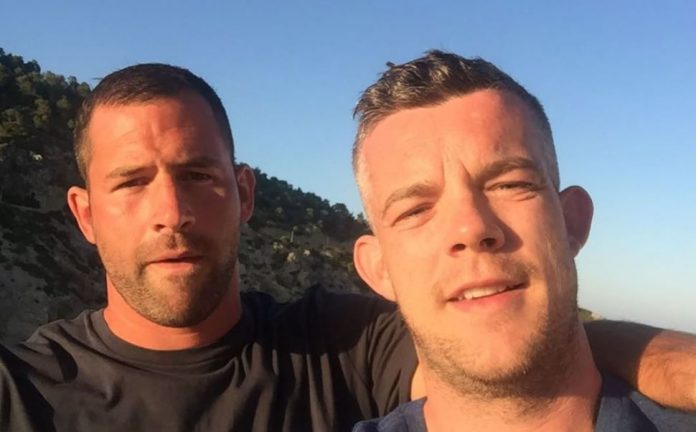 The world seems to have lost one of her sexiest gay couples
According to a comment on Instagram, Quantico / Looking actor Russel Tovey and rugby player / gay adult movie star Steve Brockman are no longer a couple
The guys got engaged earlier this year and have shared plenty of cute and sexy pics of themselves with their fans on Insta.
But no more.
There has not been any updates showing the guys together for months, and now Russel confirms that they are no longer together.
In one of his posts, a fan asks Russel "are you still with Steve Brockman" and Russel simply replies "no darling".
Not exactly a big public announcement, but if it's true one of my favorite gay celebrity couples is history:-(
Russell announced in February 2018 that he and Steve was engaged
The Brit actor, who has starred in Looking, DC's Legends of Tomorrow and Quantico, told friends, family and fans the news on social media.
According to The Sun, Russell was "over the moon" about the upcoming wedding to Brockman, who plays for the Kings Cross Steelers.
Russell has previously stated that he is open to marriage: "Totally, I will do it, when the time is right."
The sexy Brit started to get noticed with roles in 'The History Boys' and the TV series 'Sherlock,' but says his career didn't really take off until he started taking on gay roles.
"It wasn't a conscious decision," according to Russell.
"And it was only the other day that I realised it had been important somehow.
"For so long, as a young actor, I had this anxiety about making sure I could get straight roles, and now I know that's not necessary.
"The gay roles are the best for me. Being gay has made my career."
"The best thing I ever did was come out and it seems my career has blossomed off the back of it, everything I do is a lot of characters that are testing the water, they aren't gay for gay's sake," Russell told Star Observer.
"They are dynamic incredibly inspiring roles that are very LGBTI and this definitely all comes from me identifying as gay myself, and I think it has not in any way held me back."
Related: The 10-Point Gay Wedding Checklist
About Russell Tovey
Russell Tovey was born in Essex, England on 11/14/1981. He is currently living in New York City, USA.
What is he famous for?
Russell George Tovey is an actor, author and screenwriter. He is best known for his role as Kevin Matheson in the HBO drama 'Looking,' which is about a group of gay male friends living in San Francisco.
He played the werewolf George Sands in BBC's supernatural drama 'Being Human' and Rudge in 'The History Boys'. He currently stars as Harry Doyle on ABC's 'Quantico'.
Is Russell Tovey gay?
Russell Tovey came out as gay to his family around 1999, and to the world about ten years later. His sexuality caused friction within his family.
Russel and his father had a falling out and his father even suggested that he would have asked Russel to undergo medical treatment to "fix the problem" if he had known about his son's sexuality earlier.
A few years later, the family managed to mend their relationship.
Russell Tovey's Social Media accounts:
Twitter: https://twitter.com/russelltovey
Instagram: https://instagram.com/russelltovey
Facebook: https://facebook.com/russelltoveycommunity
Related: 'Younger' Star Dan Amboyer Comes out as Gay and Married