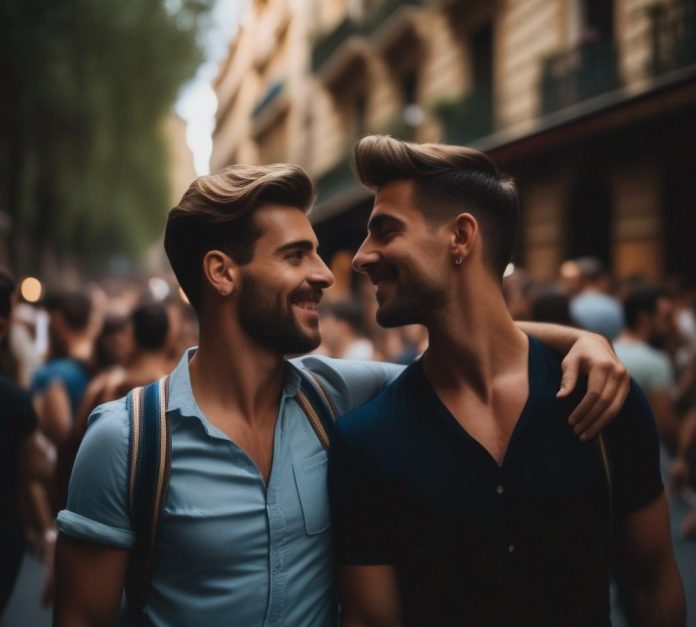 This post may contain affiliate links. We may receive a commission if you make a purchase after clicking on one of these links.
---
Barcelona, the cosmopolitan capital of Spain's Catalonia region, is not just a city but an experience, especially for the gay traveler. With its vibrant culture, stunning architecture, and a bustling gay scene, Barcelona stands out as a beacon of inclusivity and celebration in Europe. This article offers a comprehensive guide to exploring the best of what Barcelona has to offer to the LGBTQ+ community.
The Heartbeat of Gay Barcelona: Eixample District
Affectionately known as 'Gaixample,' this area is the epicenter of gay life in Barcelona. The streets here are lined with rainbow flags, and the energy is palpable. It's home to a plethora of gay bars, clubs, and cafes, each offering a unique experience.
Must-Visit Spots in Gaixample
Nightlife: Arena Madre is one of the largest gay clubs, known for its lively atmosphere and themed nights. For a more relaxed vibe, Punto BCN is a great bar to start the night.
Cafes and restaurants: Try the brunch at Plata Bar, or enjoy a cocktail at Sky Bar, located on the rooftop of Axel Hotel, which is renowned for being hetero-friendly and offers stunning views of the city.
Cultural Immersion: Art and History
Barcelona's rich history and art are displayed through its stunning architecture and museums.
Gaudí's Architectural Marvels
Sagrada Família: This iconic basilica is a masterpiece of Antoni Gaudí, a must-visit for its breathtaking design.
Park Güell: Another of Gaudí's creations, this park combines nature and design in a unique way.
Museums
Museu Picasso: Showcases the early works of Pablo Picasso and is a treat for art enthusiasts.
Fundació Joan Miró: A museum dedicated to the work of the Catalan artist Joan Miró, nestled on the hill of Montjuïc.
Beaches: Sun, Sea, and Sand
Barcelona's beaches are a highlight, with a welcoming atmosphere for everyone.
Popular Beaches
Mar Bella Beach: Known for being gay-friendly, it has a nudist area and is a popular spot for both locals and travelers.
Sitges: A short train ride away, Sitges is a charming coastal town with beautiful beaches and a vibrant gay scene.
Related: Sitges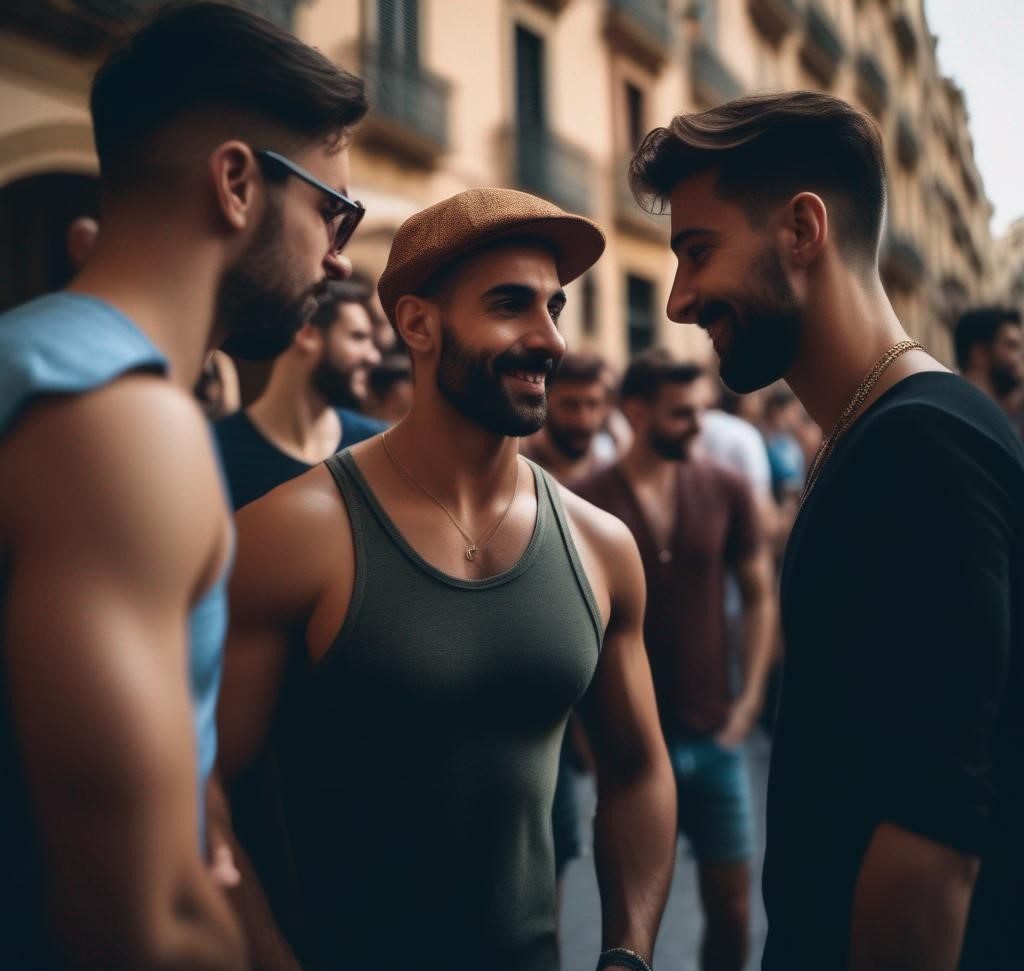 Events: Celebrating Pride and Beyond
Barcelona's event calendar is packed with celebrations that cater to the gay community.
Notable Events
Barcelona Pride: Usually held in late June, it's a colorful and vibrant celebration of love and diversity.
Circuit Festival: Held in August, it's one of the biggest international gay events, attracting thousands from around the globe.
Gastronomic Delights: A Taste of Catalonia
Barcelona's culinary scene is a fusion of traditional Catalan dishes and modern gastronomy.
Dining Recommendations
Can Eusebio: Famous for its tapas and lively atmosphere.
Els Quatre Gats: A historic café that was once a gathering place for artists like Picasso.
Accommodation
Barcelona offers a range of accommodation options that cater to the diverse needs of the LGBTQ+ community. Whether you're looking for luxury, comfort, or budget-friendly options, this guide will help you find the perfect place to stay in this vibrant city. (Note: Contains sponsored links)
Luxury Stays
Axel Hotel Barcelona: Located in the heart of the Gaixample district, Axel Hotel is widely recognized as a staple in the LGBTQ+ community. This hotel is not only gay-friendly but actively markets itself as hetero-friendly, ensuring a welcoming environment for all. The rooftop terrace, with its pool and stunning city views, is a highlight.
TWO Hotel Barcelona by Axel: This is another offering from the Axel chain, known for its sleek design and modern amenities. It's a great choice for travelers seeking a luxurious experience with an inclusive atmosphere.
Hotel Cram: Situated in Eixample, Hotel Cram is housed in a building dating back to 1892 but offers a thoroughly modern and stylish interior. Its terrace pool and Michelin-starred restaurant add a touch of luxury to your stay.
Mid-Range Options
Casa Camper Barcelona: A trendy and eco-friendly option, Casa Camper is located in the Raval neighborhood, close to many LGBTQ+ bars and clubs. It offers a unique "home away from home" feel with its comfortable and stylish rooms.
Room Mate Pau: This is located just a stone's throw from Plaça de Catalunya. Room Mate Pau offers modern, chic accommodation with a friendly vibe that resonates well with LGBTQ+ travelers.
Hotel Rec Barcelona: Located in the El Born district, this hotel is perfect for those who want to explore Barcelona's cultural side. It's close to the Picasso Museum and within walking distance of the Gothic Quarter.
Budget-Friendly
Generator Barcelona: This is a hostel-hotel hybrid located in the Gràcia district, offering both shared dorms and private rooms. It's a great option for younger travelers or those on a tight budget, with a lively social scene.
Hostal Mare Nostrum: Situated on La Rambla, near the Liceu Metro Station, this hostel offers comfort and convenience at an affordable price, perfect for budget-conscious travelers.
Praktik Garden: This hotel offers a unique experience with its beautiful garden, where guests can relax. Located in Eixample, it's close to major attractions and gay nightlife.
Gay-Exclusive Options
The5Rooms: This is a small boutique guesthouse offering a more intimate and personalized experience. It's beautifully decorated and located centrally, making it an ideal choice for those seeking an exclusively gay environment.
Gay Hostel: Catering specifically to gay travelers, this hostel provides a safe and inclusive environment. It's a great place to meet fellow travelers and is located close to various gay bars and clubs.
Tips for Accommodation
Book in advance: Barcelona is a popular destination, especially during the summer and major events like Pride. Booking in advance ensures better rates and availability.
Location matters: Staying in or near the Gaixample district keeps you close to the gay nightlife and community.
Check reviews: Look for accommodations with positive reviews from LGBTQ+ travelers for a more assured and comfortable experience.
Practical Advice for Gay Travelers
Safety: Barcelona is generally safe for LGBTQ+ travelers, but like any major city, it's wise to stay aware of your surroundings. Look out for pickpockets!
Transport: The city has an excellent public transport system. A T-10 ticket is cost-effective and can be used on buses, trams, and metro.
Final Thoughts
Barcelona is a city that embraces diversity, making it an ideal destination for gay travelers. From its dynamic gay scene in Gaixample to its stunning architecture and beautiful beaches, Barcelona promises an unforgettable experience. As you explore this vibrant city, immerse yourself in its culture, indulge in its culinary delights, and celebrate the freedom and joy that make Barcelona a beloved destination in the LGBTQ+ community.