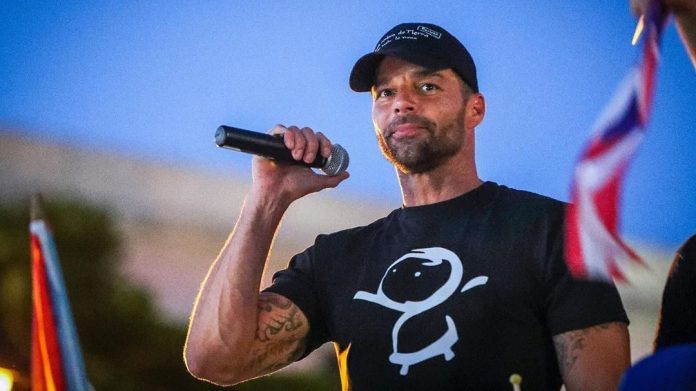 Ricky Martin and thousands of other protesters succeded in making homophobic governor Ricardo Rosselló resign
Last week, Ricky joined the thousands of protestors rallying in the streets of San Juan, calling for Puerto Rico's governor Ricardo Rosselló to resign
The governor has been accused of mishandling Hurricane Maria funds and media leaked a large number of homophobic messages from a private group chat between Rosselló and 11 other.
The leaked messages triggered an outrage among Puerto Rico's citizens and thousands of people protested outside the governor's mansion in San Juan.
Among the protesters was gay pop star Ricky Martin who posted several messages on Instagram documenting the event.
"We're tired of the cynicism," he said in a video. "They put down women. They put down the LGBT community, people with disabilities. Corruption, it is insane."
"We are tired. We can't take it anymore. I do live in America, but I have to come to Puerto Rico to let the world know that we will make a change. That Puerto Ricans get together and if we do it orderly, we can make it happen. And that's why we're here today. He's [Rosselló] going to listen to us.
"We just can't take it anymore. Puerto Rico has suffered enough. It's pretty much barbaric what he's doing. We're tired and we're angry."
Rosselló announced his resignation on July 25th.
Ricky Martin Posts Pictures from Devastated Puerto Rico
Ricky Martin lives in LA with his husbamd Jwan Yosef and his two sons Matteo and Valentino.
In january 2018, Ricky and Jwan showed off their beautiful home in an Architectural Digest cover story
"We were considering living in London or New York City, but then we decided to rent in Los Angeles for a month, to get a feel for the vibe," Jwan told the magazine. "L.A. totally caught us off guard—we loved it. By the end of the month, we knew we wanted to be here."
After a three-day house-hunting expedition, Ricky and Jwan settled on a serene, modernist residence. At the core of the 11,000-square-foot dwelling was a 3,000-square-foot home designed by acclaimed midcentury architect Gregory Ain for psychiatrist Fred Feldman and his wife, Elaine, in 1953.
"Even though the house had been greatly expanded over the years, we still wanted to respect its original vision—the clean lines, the openness, and the sense of calm," says Ricky, who hired celebrity designer Nate Berkus for the interior design work.
Jwan and Ricky give a tour around the happy family's beautiful new home in the video below.
In December 2017, Ricky celebrated his 46th birthday on Christmas Eve and did it in the best possible way
He spent the day lounging in a tiny white speedo under the Puerto Rican sun alongside his husband, Jwan Yosef.
Related: Gay Musician Steve Grand's Super Sexy in Jock Strap
About Ricky Martin
Ricky Martin was born in San Juan, Puerto Rico on 12/24/1971. He is engaged to Jwan Yosef, a Syrian-born Swedish painter and artist.
What is he famous for?
Ricky Martin (Enrique Martín Morales) is an author, singer and dancer. He began his career at age 12 with the all-boy pop group Menudo.
Ricky released several albums in Spanish before his career really took off in 1999 when he performed "The Cup of Life" at the Grammy Awards show.
That performance, and the following hit "Livin' la Vida Loca", gave Ricky enormous success worldwide and began the Latin pop explosion of 1999.
This paved the way for other Spanish-speaking artists to move into the English-speaking market..
Is Ricky Martin gay?
Yes, Ricky Martin came out as gay in March, 2010. He came out of the closet in a post on his official website.
In a lengthy note to his fans, Ricky wrote that the process of writing his memoirs got him "very close to my truth" and that hiding his sexuality would "indirectly diminish the glow that my kids were born with," referring to his twin sons, who were born in 2008.
"These years in silence and reflection made me stronger and reminded me that acceptance has to come from within and that this kind of truth gives me the power to conquer emotions I didn't even know existed," he writes about why he didn't reveal his sexuality earlier.
Ricky Martin's Social Media accounts:
Twitter: https://twitter.com/ricky_martin
Instagram: https://instagram.com/ricky_martin
Facebook: https://facebook.com/RickyMartinOfficialPage