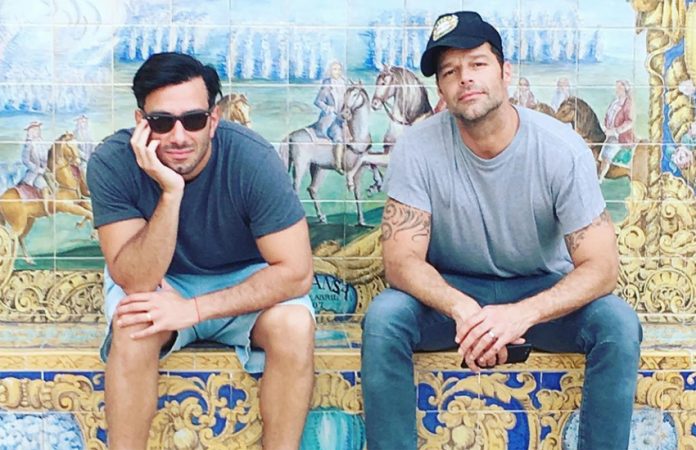 Ricky Martin and his fiance Jwan Yosef have posted a number of pictures from hard hit Puerto Rico on Instagram
The pictures show the devastation after Hurricane Maria hit the island last month, but also hope as the rebuid efforts start.
'My island will shine again'
Ricky Martin, Gloria Estefan, Luis Fonsi and many other Latino artists traveled to San Juan, Puerto Rico, on Monday to help sort through donations and connect with people who have lost their homes and belongings in wake of Hurricane Maria.
Ricky, who was born in San Juan, posted images of the rebuild effort on the island, writing: 'Everything is going to be ok and my island will shine again. BUT WE NEED TO WORK……ALOT.'
https://www.instagram.com/p/BZzhU08F4rN/
Hurricane Maria killed more than 30 people when she hit Puerto Rico and destroyed about 80 percent of the island's crop.
Ricky writes on Instagram: 'It's incredibly intense what Puerto Rico is going through at the moment. It will take a long time for my island to go back [to] what it was.
https://www.instagram.com/p/BZzdxrCFqIj/
'The governor of Puerto Rico Ricardo Rosselló said it will cost approximately 90 billion dollars to rebuild the island.
'We need more help. Thousands of families lost EVERYTHING …….but their smiles and love for life is intact.'
You can donate money to Ricky's YouCaring crowdfunder here.
Jwan also posted an update on Instagram, writing: 'For Puerto Rico this beautiful resilient island.'
https://www.instagram.com/p/BZzcoeogkPG/
In February, Ricky revealed to Andy Cohen that he and Jwan actually met on Instagram.