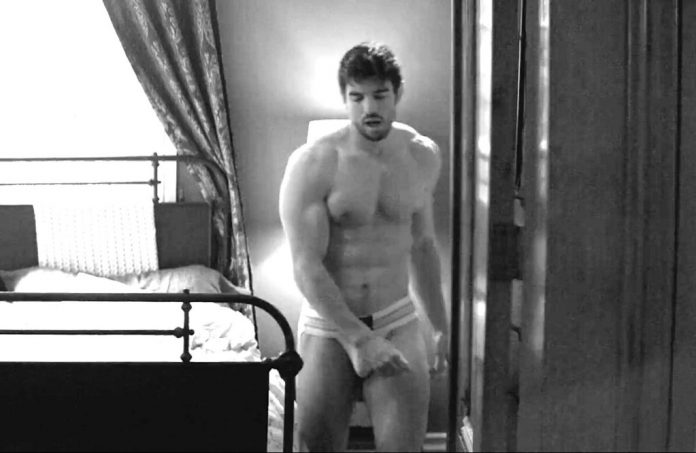 Gay artist Steve Grand is on a roll and has just released a music video and two sexy calendars where he shows off his sexy body
The country singer's video "Walking" includes scenes of him walking around in New Orleans and even shows a glimpse of the stud in jock strap.
Here's what Steve writes on YouTube:
"Happy almost-Thanksgiving, guys! Here is the lost-but-not-forgotten "Walking" Music Video we shot in New Orleans all the way back in May! My original idea didn't quite pan out, but John Lavin (Director and Editor) did an amazing job with a lot of the silliness we captured! And after thinking on it for the last few months, I've decided a lot of you would probably still get a kick out of all the fun and behind the scenes silliness we had on the single day we shot all of this ? So here is our cornucopia of crazy just in times for Thanksgiving! :D"
Related: Top 5 Gay Love Videos on YouTube
Steve has also released not just one, but two new calendars for 2018!
https://www.instagram.com/p/BdIr6neF_8o
About Steve Grand
Steve Grand was born in Lemont, Illinois, USA on 02/28/1990. He is currently living in Provincetown, Massachusetts, USA.
What is he famous for?
Steve Grand is an activist, singer and songwriter. He is best known for his first hit "All-American Boy" when it went viral on YouTube in less than a week in July 2013. Following the success, Steve appeared on Good Morning America, CNN and other national media. In addition to being a musician, Steve has become an active figure in the LGBT movement.
Is Steve Grand gay?
Steve Grand came out as gay to friends starting in eighth grade. His parents  encouraged him to seek counseling when they found out about his homosexuality. The therapy lasted for five years, but Steve does not want to tag it conversion therapy.
In an interview with Out.com, Grand said: "I want to make it clear that it's been misrepresented that I went through what most people know as conversion therapy. I saw a Christian therapist who, among many other beliefs, believed I'd be happier in a straight life. He didn't shame me for being gay. Most of the focus, we weren't even talking about my sexuality. But certainly his belief that I'd be living a happier life as a heterosexual was indeed harmful. In no way, shape, or form … do I condone ex-gay therapy. I think it's a horrible practice. There's no scientific basis for it. A person's sexuality is a part of who they are. And I certainly suffered for not having my sexuality affirmed."
Steve Grand's Social Media accounts:
Twitter: https://twitter.com/SteveGrandMusic
Instagram: https://instagram.com/stevegrandmusic
Facebook: https://facebook.com/SteveGrandArtist