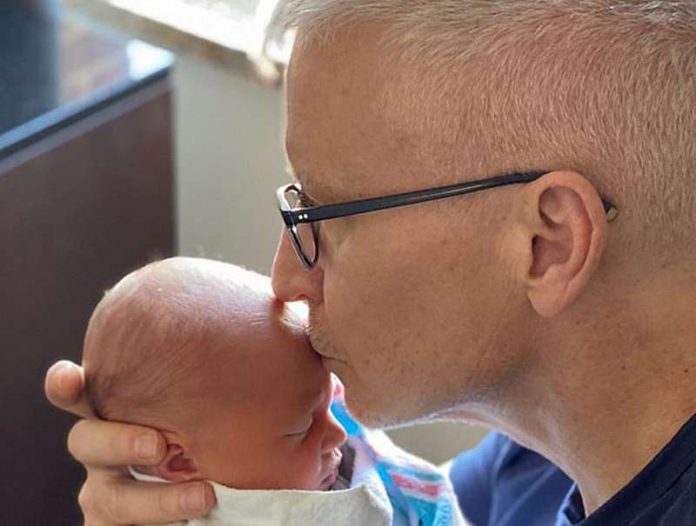 Anderson Cooper announced the birth of his son Wyatt Morgan Cooper on CNN
"As a gay kid, I never thought it would be possible to have a child," he told viewers.
Anderson shared pictures of his newborn, expressed gratitude for his surrogate, and paid tribute to his late family members.
"I do wish my mom and dad and my brother, Carter were alive to meet Wyatt," he said, "but I like to believe they can see him. I imagine them all together, arms around each other, smiling and laughing and watching, looking down on us. Happy to know that their love is alive in me and in Wyatt…and that our family continues. New life and new love."
Wyatt Morgan Cooper was born via a surrogate mother on 27 April.
"It is an extraordinary blessing – what she, and all surrogates give to families who can't have children.
"My surrogate has a beautiful family of her own, an amazingly supportive husband, and kids, and I am incredibly thankful for all the support they have given Wyatt and me. My family is blessed to have this family in our lives."
Anderson believes it is important to be able to look forward during these difficult times.
"It has been a difficult time in all of our lives, and there are certainly many hard days ahead," Anderson said.
"It is, I think, especially important in these times of trouble to try to hold on to moments of joy and moments of happiness. Even as we mourn the loss of loved ones, we are also blessed with new life and new love."
Releated: Andy Cohen Wants to Date Jeff Lewis' Ex-Boyfriend
More on Anderson Cooper:
Anderson Cooper's galpal Kelly Ripa celebrated her 48th birthday on October 2nd and the gay news anchor was first in line to congratulate
The dynamic duo has been friends for decades, and Kelly has said that she has had unrequited love affair with Anderson for more than 20 years.
"How many nights dancing? How many early mornings? How many laughs and giggles? How many silly stories told, and memories made? How many rooftop dinners and concerts and trips? How many confidences shared? More than I can ever thank you for," Anderson writes on Instagram.
"There is no one else like you, and I am so lucky to have you in my life. I love you. Happy birthday"
Anderson split with his ripped boyfriend Benjamin Maisaniin in spring 2018. He has later been dating Texas radiologist Victor Lopez.
Related: How to Find an Honest Gay Man
About Anderson Cooper
Anderson Hays Cooper was born in New York City, USA, on June 3, 1967. He currently lives in a firehouse-turned-residence in Greenwich Village, in New York City.
What is he famous for?
Anderson Cooper is a journalist, author and television personality. He is the anchor for his own news show on CNN, "Anderson Cooper 360 °". He is also a correspondent on 60 Minutes.
Cooper's memoir "Dispatches from the Edge" reached number one on The New York Times Best Seller List on June 18, 2006.
His daytime talk show "Anderson Live" ran from September 2011 to May 2013.
Cooper has won many awards for his news coverage including an Emmy for Outstanding TV journalism for his coverage of Princess Diana's funeral in 1997 and a National Award for Honour and Merit from the government of Haiti for his reporting on the country's devastating earthquake in 2010.
Is Anderson Cooper gay?
Cooper did not discuss his private life until 2012 when he gave permission to Andrew Sullivan to publish an email stating, "The fact is, I'm gay, always have been, always will be, and I couldn't be any more happy, comfortable with myself, and proud".
He was the first openly gay person to moderate a US Presidential Debate when he moderated the second debate between Hilary Clinton and Donald Trump in 2016.
The New York Times has dubbed Cooper "the most prominent openly gay journalist on American television".
Anderson Cooper's social media accounts:
Twitter: https://twitter.com/andersoncooper
Instagram: https://www.instagram.com/andersoncooper
Facebook: https://www.facebook.com/andersoncooper/