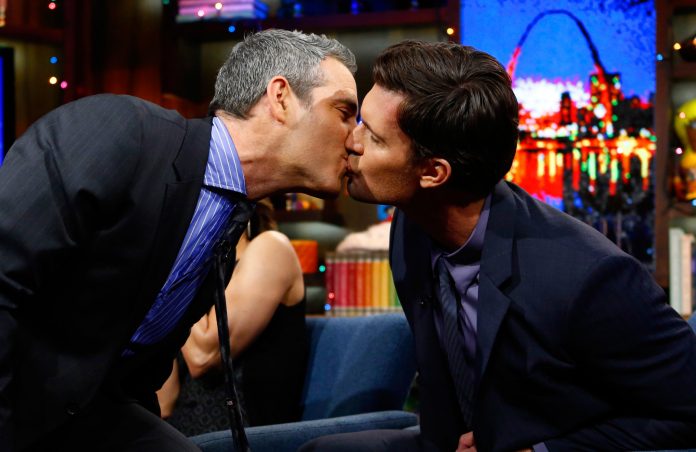 Gay TV host Jeff Lewis is flipping out because his boss Andy Cohen says he wants to date his ex-boyfriend
Jeff – best known as the host for 'Flipping Out' – claims Andy has made several ill-suited comments about his ex-boyfriend Gage Edward, both during their relationship and after their breakup.
On an episode of 'Andy Cohen Live' Jeff told Andy, "Once in a while you will say, you know…You used to joke a lot about wanting to date Gage."
Andy admits that he did but claims he stopped once Jeff and Gage split, "I know, and I stopped the second that you broke up."
But Jeff claims he didn't.
"You actually did not. You kept going with it. And actually, you said it recently."
According to Jeff, Andy wanted to bring Gage to an event after he heard that the couple had broken up.
"You did mention something about bringing Gage, and it did hurt my feelings. It was different when we were dating and you would joke, but now that we're not together and it was a tough breakup – I just wanted to say that I prefer you not to say that."
Andy apologized and Jeff accepted the apology.
Very classy of Jeff. Now let's just hope that Andy learned his lesson.
Related: My Friend Is Stealing My Man
Andy is currently single and the tabloids claim he's trying to find love, or something like it, on gay dating apps.
According to Page six, the Real Housewives host is looking for love/hookups on both Scruff and Grindr.
"He uses a picture of his chest as his main image and refers to himself as 'Coach Taylor,' " a "Friday Night Lights" reference, a source told Page Six.
"He had a secondary black-and-white shot of himself on a yacht."
Page Six' spy added, "I saw [his profile] last week and it was active that day."
Last year, Andy told Ellen DeGeneres that he had been kicked off Grindr because the app thought he was an impersonator.
Looks like his back on now. Hope you find some hotties, Andy?
Andy made the announcement that he was going to be a dad on his show "Watch What Happens Live!" in December 2018.
He said: "I've always tried to be as transparent as possible about my life.
"I overshare and I expect everyone around me to do the same. Tonight, I want you to be the first to know that after many years of careful deliberation, a fair amount of prayers, and the benefit of science, if all goes according to plan in about six months time I am going to become a father thanks to a wonderful surrogate who is carrying my future."
Any continued to say: "Family means everything to me and having one of my own is something I have wanted in my heart for my entire life and though it's taken me longer than most to get there I cannot wait for what I envision will be the most rewarding chapter yet."
Related: Tom Daley Sportsman of the Year
Andy and CNN host Anderson Cooper are good friends and Andy has revealed that they have even slept with the same guy
The juicy details were revealed during a game on Andy Cohen's show "Watch What Happens Live."
The game is kind of a relationship quiz where Andy and Anderson quickly have to blurt out answers to questions from their guests.
"Real Housewives of Atlanta" star Cynthia Bailey asked the question: "What's the one thing people don't know about the two of you? Oh, this should be good."
Andy shouts out: "That we're eskimo brothers!"
Anderson can't believe what he's hearing and all he can say is: 'What?'
When Cynthia asks Andy to elaborate, Andy quips 'You've gotta look that up on Urban Dictionary. I can't say it on the show.'
According to Urban Dictionary, "Eskimo brothers" is defined as two men who sleeps with the same person.
Anderson tries to cast some doubt around the issue, but Andy insists.
"It's true. We just found this out a few weeks ago!"
'He's really blushing,' Andy then remarks about his friend.
Related: Anderson Cooper's Sweet Greeting to Kelly Ripa
About Andy Cohen
Andrew Joseph Cohen was born June 2, 1968 in St. Louis, Missouri, U.S.A. He currently lives in New York City, New York, U.S.A.
What is he famous for?
Cohen is an Emmy-winning reality television producer, New York Times best-selling author, TV talk show and radio host.
He is the executive producer and host of the Bravo's "Watch What Happens Live with Andy Cohen" and of the "Real Housewives" franchise.
Is Andy Cohen gay?
Cohen came out as gay to his family when he was 22 and says he kept it a secret because he was scared of not being accepted.
"There's probably no gay person that you could ever talk to who wasn't familiar with people using gay slurs," Cohen told CNN in an interview.
"It happened to me all the time, which is why I was closeted until I was 22. I didn't think my friends would accept me because I heard them speaking in a certain way."
Cohen says that his parents couldn't have been more understanding. "They were so wonderful. My mom immediately got involved with this AIDS hospice in St. Louis," he said.
"They were kind of the dream parents to come out to. But so many people aren't so lucky, and still today there are families who turn their kids away, and kids who don't feel safe who are near suicidal about not being accepted."
Andy Cohen's social media accounts:
Twitter: https://twitter.com/Andy
Instagram: https://instagram.com/bravoandy
Facebook: https://facebook.com/andycohen