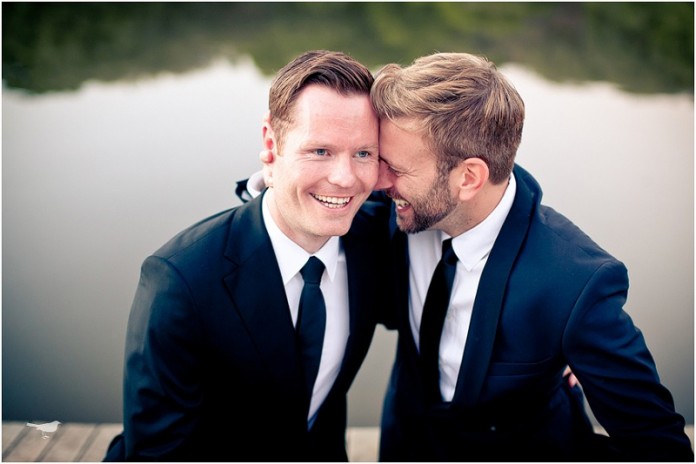 These super-cute gay weddings are truely inspirational to all us real believers of romance.
Now that 21 countries (as of December 2016,) including all US states recognize same-sex marriage it is time to get inspired by some super cute gay weddings around the world.
There is a very real chance that marriage equality will be a reality in all western countries in a very near future, although there have been some recent severe setbacks.
Even though the fight has just started and living conditions are still horrible for gays in so many countries, we hope these stories of gay marriage bliss will be an inspiration to everyone all over the world.
Related: 3 Gay Wedding Hot-Spots
Chris & Rich
Chris + Rich married! Chris and Rich live in Sydney and got married on their 10 year anniversary. Chris is Australian and Rich is South African and they decided to tie the knot at Hidden Valley near Somerset West in South Africa. WESLEY VORSTER PHOTOGRAPHY http://wesleyvorster.co.za/
Civil partnership seremony in Tenerife
This awesomely cute couple had their civil partnership seremony in Tenerife, Spain.
Simon & James
Simon & James's beautiful and inspiration wedding at Council House Birmingham on October 4th 2014.
Matt & Harshal
Matt and Harshal's gay wedding ceremony
Romance on the rocks
Romance on the rocks
Clinton & Callum
Clinton & Callum is a same-sex couple who was married at Dunbar House, Watson Bay, Sydney.
Graham & Bruce
Graham and Bruce's NYC Wedding Central Park 2014
Marek & Rocco
Marek & Rocco Chicago Wedding Highlights – Best [Gay] Wedding Video Ever
Rob & Malcolm
The world famous Montage Hotel in Laguna Beach, CA, hosted its first gay wedding in August 2013. The grooms, Rob and Malcolm, worked tirelessly with the hotel and their vendors to realize their unique, magical and singular vision — to be wed as the Pausmiths with their friends, family and God as their witness.
Johnny & Sebastian
Nov 10th, 2012 Johnny and Sebastian got married in the beautifully breathtaking Banyan Tree Mayakoba. Along with 90 of their friends and family, Johnny & Sebastian celebrated their union after 7 years together. Johnny and Sebastian had the privilege of being one of the first gay couples in the state of NY to be legally wed.