Chicago's gayest neighborhoods pulse with hip shops, chic lounges and clubs
America's third-largest city, Chicago has become one of the top gay destinations in the country, known for its exceptional museums, restaurants, hotels, architecture, and performing arts. It was also host for the Gay Games in July 2006, a spectacular event in US gay history.
Even if you're in town only for a short time, try to set aside at least an afternoon to visit a few key attractions in the Loop, the central business district that contains Chicago's most noteworthy museums and architectural marvels, including the leviathan Marshall Field & Co. department store, the Chicago Architecture Foundation Shop and Tour Center (which gives excellent walking tours), and Grant Park. Don't miss the superb Art Institute of Chicago, whose astonishingly comprehensive collection spans more than 40 centuries and includes the most impressive display of Impressionist and post-Impressionist works outside of the Louvre. Other Grant Park musts include the John G. Shedd Aquarium and the similarly humongous Field Museum of Natural History.
North of the Loop, you'll find a collection of lively and eclectic neighborhoods – some rich with galleries and nightclubs, others known for shopping and fancy apartments and hotels. In River North, Michigan Avenue (aka the Magnificent Mile) compares with the finest American and European shopping districts. Still farther north you'll find 1,200-acre Lincoln Park, which has several museums as well as the small but impressive Lincoln Park Zoo. To the west, Bucktown and Wicker Park are white-hot centers of avant-garde arts and offbeat dining and shopping.
Chicago's gayest neighborhoods, Lakeview and Andersonville, lie well north of downtown and pulse with hip shops, see-and-be-seen restaurants, and chic lounges and clubs. In hopping Lakeview, Matsuya serves excellent sushi and Japanese fare, including such knock-out starters as deep-fried chicken wings and whitefish with smelt roe. Although many imitators have opened nearby, Mia Francesca remains the best place in the neighborhood for sophisticated but simple Northern Italian fare. HB is a cozy spot that features the creative down-home cookin' of the Food Network's much-loved "Hearty Boys," Steve McDonagh and Dan Smith. X/O is a swanky newcomer that serves up a tantalizing three-course champagne brunch, plus such innovative creations as grilled short ribs with Vietnamese cabbage salad, and seared sea scallops with pumpkin dumplings. Moxie is a trendy place for tasty tapas, designer cocktails, and great people-watching – it draws a mix of the neighborhood's gay and straight folks.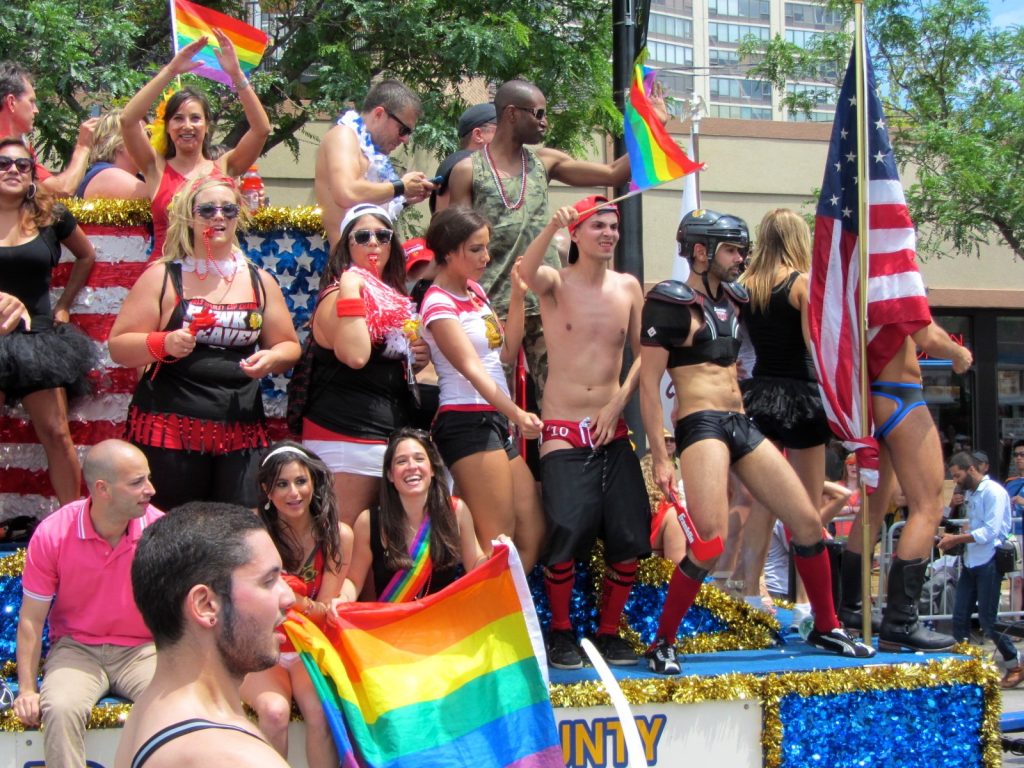 You could survive solely on the flaky, freshly baked cinnamon rolls that accompany every meal at the hallowed Swedish diner Ann Sather, which has several gay-popular locations. Athletes seeking healthy food should head for the Chicago Diner, which specializes in creative vegan and vegetarian fare and serves delicious baked goods. An attractive little Thai restaurant where the rice and noodle dishes are delicious and cheap, Joy's Noodles serves a terrific ginger chicken with a fragrant bean sauce. If you're a java junkie, keep in mind that the cozy Lakeview outpost of the Caribou Coffee chain is known locally as "Cari-boy" and "Queeribou" – that should tell you all you need to know about the crowd.
Boys' Town is the heart of the city's gay-male nightlife scene. The guppie bar Roscoe's is practically a Chicago institution, fun for dancing and cruising any night of the week. A guy guzzling Bud longnecks and another sipping cosmos can feel right at home together at Cocktail, an intimate storefront bar where friends often meet up before heading out to larger clubs. Chicago's classic stand-and-model video bar, SideTrack has plenty of rooms for mingling. Hydrate is one of the hippest gay bars in town, great for after-work cocktails or late-night dancing and cruising. A swank, smoke-free lounge known for its colorful cocktails and slick crowd, Minibar is a favorite after-work spot. A circuit-boy favorite on weekends, Circuit pulses with a feverish late-night dance crowd even at midweek, when Latin nights are a hit. The stylish Berlin disco draws a decidedly funkier and more alternative crowd than most of the preppy haunts in Lakeview. Nearby Spin is an eclectic gay club with an all-ages crowd and fun dance music.
Charlie's brings in fans of country-western music, while the Gentry on Halsted is a Boys' Town branch of downtown's popular piano bar. (The original is called Gentry on State, and if you think the trading is heavy at Chicago's Commodities Exchange, check out the cologne-dipped suits milling about this dressy cabaret.) Leather-and-Levi's types cruise the Cell Block. North of Boys' Town you'll find one of Chicago's friendliest and most diverse bars, Big Chicks, which draws an eclectic mix of hipsters, artistes, and jocks – devotees flock here from all over the city to soak up its inviting atmosphere. Next door, the same owners run the fabulous and hip restaurant, Tweet, which is known for its festive brunch and for tasty organic fare. Another fun Uptown hangout is the Crew Bar, which draws sports fans (there are 16 televisions airing big games) and serves delicious food, too.
One of the granddaddies of Chicago clubs, the Jeffrey Pub anchors the South Shore African-American gay community. In the artsy, alternative Bucktown and Wicker Park neighborhoods, virtually all of the area's smoky, hipster-infested bars draw a share of the lavender set, especially the Rainbo Club, a favorite of art students, rockers, and slackers. Cafe Absinthe draws a grunge-y bunch but ranks among Chicago's most esteemed neighborhood eateries. Francophiles swear that Le Bouchon cooks up the most authentic French bistro fare this side of the Atlantic. For delicious Cuban and Latin American food, book a table at kicky and gay-popular Cafe Bolero. And head to hip del Toro for tasty, relatively affordable Spanish tapas in an snazzy space with Art Nouveau-inspired decor.
Funky Andersonville is the heart of the lesbian scene – as well as just being an all-around-cool neighborhood with a fast-emerging dining reputation. A lively and atmospheric bistro with a decidedly queer following, Tomboy serves tempting fare like pan-seared duck with crimini mushrooms and a port glaze. T's is a friendly, gay-popular restaurant and bar – its Retro '80s Women's Night on Tuesdays is a hit. You could spend the whole night at Star Gaze, the neighborhood's top lesbian club, which serves dinner and also has DJs on weekends, lesbian comedy and live-music nights, and a convivial beer garden. And there's Atmosphere, a lively Andersonville dance bar and lounge with a mixed gay male and lesbian crowd.
The neighborhood also has a few men's (mostly hard-core) leather bars, such as the Chicago Eagle, which is attached to a bathhouse and decorated like a motorcycle garage. If you have a place in your heart for fitted jocks and Tom of Finland drawings, don't miss the city's Leather Archives and Museum, which is packed with erotica, fashion, and fascinating memorabilia from various international leather contests.
Until recently, standard chain hotels dominated the lodging landscape in Chicago, but quite a few hip hotels have opened in the past several years, including two run by the gay-friendly Kimpton group: the French deco-inspired Hotel Monaco, and the stylish and musically themed Hotel Allegro. Another option that offers style and luxury plus a fun attitude is the Hard Rock Hotel, which is set inside the landmark 40-story Carbide and Carbon Building, a fashionable property that's also home to the popular China Grill.
Up near Boys' Town there are fewer lodging options, but an excellent resource is the gay-friendly Neighborhood Inns group, which runs a trio of boutique hotels with charming rooms and great locations. City Suites sits along busy Belmont Avenue, closest to the dining and club action, while the more romantic Majestic and Willows hotels are set along peaceful residential streets a few blocks from the action. The city also has a handful of great inns and B&Bs, including Villa Toscana, a Victorian style bed and breakfast located in the heart of Boystown.