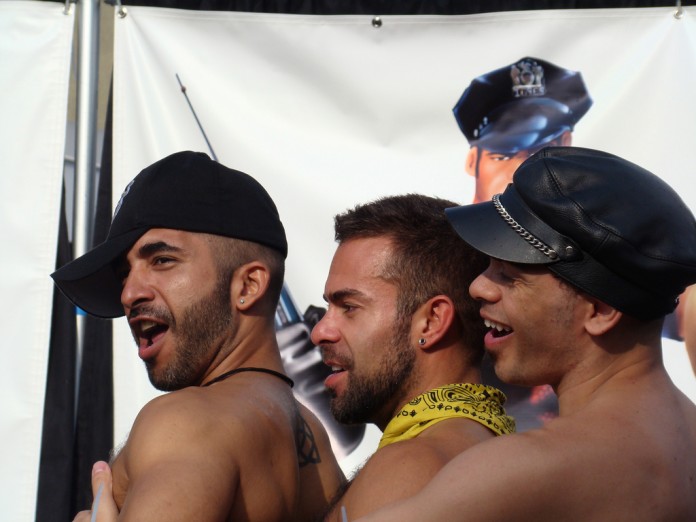 Chelsea has arguably become New York's hottest destination for gay visitors
As recently as the mid-1990s, relatively few visitors spent time in Chelsea, the neighborhood on Manhattan's west side between Midtown and Greenwich Village. Today, however, Chelsea abounds with gay bars, cool restaurants, diverting shops, avant-garde galleries, and an increasing number of hotels. It's become arguably the city's hottest destination for gay visitors, and a wonderful neighborhood to spend a weekend or short vacation.
This part of the city was developed in the 1830s by clergyman Clement Clark Moore, author of "A Visit from St. Nicholas" ("Twas the night before Christmas…"), whose family owned most of the area. Well into the mid-20th century, Chelsea was a drab, lower-income neighborhood where workers at nearby garment factories and river docks lived in cheap boardinghouses and rickety, airless tenements. But as gays began moving here in the '70s and '80s, gentrification gradually took hold. And in recent years, the neighborhood has developed cachet among both residents and visitors as one of the trendiest areas in the city as well as one of the nation's most dynamic gay communities.
Chelsea comprises roughly the blocks between 5th Avenue and the Hudson River, with 14th Street forming the neighborhood's southern boundary. Most locals consider 23rd Street to be its northern edge, but others argue the border extends as far north as 28th or even 32nd Street. For all practical purposes – particularly in terms of retail, dining, and clubbing – you'll find the most intriguing businesses between 14th and 23rd streets. And where gay-popular establishments are concerned, the main drag is 8th Avenue, with 7th Avenue a close runner-up. Additionally, 9th and 10th avenues have witnessed the tide of gentrification in recent years, particularly as top galleries have moved into the western reaches of Chelsea.
The neighborhood offers little in the way of attractions, unless, of course, you count shopping as a form of sightseeing. If you wander along West 20th through West 27th streets in the block west of 10th Avenue, you'll find storefront after storefront of cutting-edge art galleries. Fans of dance should note two important neighborhood institutions: the art deco Joyce Theater, which hosts high-quality dance companies throughout the year, and the dramatic Dance Theater Workshop, around the corner, which also presents acclaimed concerts throughout the year. The neighborhood draws plenty of foodies to its Chelsea Market, a bustling concourse of gourmet food stalls in which you'll find tantalizing Thai food, savory soups, fine wines, heavenly baked goods, and lots more.
In fact, restaurants have become one of the neighborhood's leading draws. There are the obvious bastions of gay social life, such as Viceroy and Food Bar for rather standard American chow, and campy VYNL, which is known for its eclectic Asian and international dishes, plus outstanding martinis. Gym buffs on high-protein diets favor Better Burger, with its menu of lean, char-grilled burgers and fresh-squeezed juices. Other hot spots include the funky Thai restaurant Room Service, known for such kicky creations as Thai-spicy tuna salad and chile-rubbed salmon; and Suenos, which serves some of the most innovative regional Mexican fare in the city – be sure to try the duck-confit quesadillas with poached pears and ancho chiles.
For weekend brunch, don't miss East of Eighth, which turns out first-rate contemporary American food and offers lively cabaret in the evenings. Few spots are more popular at lunchtime than Dish, a glorified diner of sorts, which is also known for its relaxing Saturday and Sunday brunch. Snackers and noshers will find plenty of toothsome options, including F&B Gudtfood for gourmet hot dogs and European-style street food, Murray's for some of the city's finest bagels, and Pinkberry, for the mysterious yogurt-esque frozen-dessert snacks that have taken the city by storm.
On the west side of the neighborhood, you can count on the Red Cat for a terrific meal of creative American fare, such as a fantastic paprika-roasted cod with spicy escarole and an anchovy-almond sauce. At cozy Tia Pol, choose from a long list of outstanding Spanish tapas, while the much-hyped Craftsteak is your go-to for superb cuts of beef – it's part of Tom Colicchio's (of TV's Top Chef) growing restaurant empire.
Chelsea has become the epicenter of gay nightlife in New York City (although it's fair to say that the Hells Kitchen and East Village neighborhoods provide plenty of competition). There are the trendy spots, such as G Lounge, a sea of coiffed and smartly dressed men hobnobbing around a central bar or relaxing in mod lounge chairs; and the long-running Splash, a two-floor temple of chic gay clubbing known for its go-go dancers and throbbing music. Quirky Barracuda cultivates a mixed arty and cruisy bunch, while the bilevel Eagle caters to the usual set of bears, leather men, and ardent porn enthusiasts (old-fashioned blue movies play on the video screens).
Rawhide is an old-school neighborhood bar with an age-diverse following, and the friendly Gym Sportbar has become the darling of the post-workout crowd. Locals hangouts like View Bar and XES can seem empty or bustling depending on the night, and a couple of pulsing warehouse discos, Rush and Stereo, round out the scene.
Chelsea has relatively few hotel rooms compared with other key Manhattan neighborhoods, but it's a 10- to 20-minute walk (or a short cab or subway ride) from the scads of hotels in Midtown. What you will find in Chelsea, however, are several properties with reasonable rates, most catering heavily to the gay market. The modern and rather basic Chelsea Savoy Hotel has a terrific location at the corner of West 23rd Street and 7th Avenue, and rooms here can run as low as $150 nightly.
Among the big chains, there's a Four Points by Sheraton Manhattan Chelsea on West 25th Street, and the Hampton Inn Chelsea on West 24th Street. Both of these are clean, well-managed, and affordable.
And, just a short walk east of Chelsea in a similarly vibrant area, you might consider the uber-cool W New York Union Square, a swank stunner that occupies the 1911 beaux-arts Guardian Life building and contains Todd English's bustling Olives restaurant and Rande Gerber's see-and-be-seen Underbar. Or check into Ian Schrager's luxuriously re-imagined Gramercy Park Hotel, a glam boutique hotel overlooking the elegant park of the same name.
Among smaller, gay-oriented properties, a reliable pick is the Chelsea Pines Inn, which occupies a charming 1850s town house in the heart of the neighborhood. Rooms with semiprivate bath (sink and shower are in your room, but the toilet is shared with several other rooms on same floor) start at $140, while rooms with private baths begin at $175.