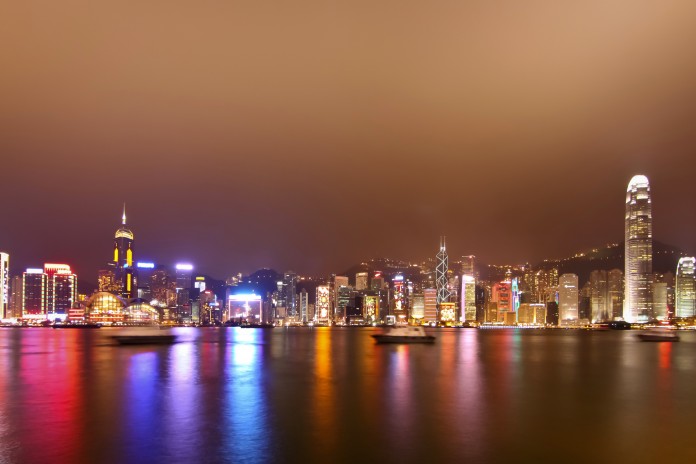 Hong Kong has a fairly visible and well-organized gay community
Comprising an archipelago of mountainous islands and a similarly precipitous peninsula extending from the China mainland, Hong Kong is one of the world's most spectacularly beautiful cities. It's also one of the Pacific Rim's hottest destinations for gays and lesbians, fans of fashion and gourmet dining, freewheeling investors and entrepreneurs, and devotees of luxury hotels. Nearly all of the world's leading hotel chains have outposts in this famous trading port at the mouth of the Pearl River Delta.
From 1842 through 1997, Hong Kong was a British colony. Since the United Kingdom handed this prosperous territory back to China, Hong Kong has continued to enjoy great popularity as a center of business and trade as well as retaining its status as a major tourist destination.
Now one of two "special administrative regions" of China (the other being the nearby island of Macau, which until 1999 had been a colony of Portugal), Hong Kong nevertheless maintains its own distinct identity. This territory of about 7 million people has its own currency, law enforcement, legal system, and customs and immigration policies. Automobile traffic follows British road rules, and even though Hong Kong is technically part of China, North American and British citizens do not require visas for entry, as they do when they cross the border into China.
Although the overwhelming majority of Hong Kong residents are of Chinese descent, visitors to Hong Kong will encounter a large population of Westerners – not just Brits but also other Europeans, as well as Americans and Australians. In the major commercial and tourism-driven neighborhoods, most signs and menus are written in English and Cantonese (the territory's official language), and most residents and employees speak at least some English. In fact, there are parts of Hong Kong that appear so heavily influenced by the West that, for better or for worse, you may feel as though you're not in Asia at all.
In comparison with other Asian cities, Hong Kong has a fairly visible and well-organized gay community, with an LGBT social and cultural scene that has grown steadily in recent years. This is in part because the city is such an international business and leisure hub, but also because attitudes toward gays and lesbians are steadily becoming more favorable throughout the Pacific Rim. Still, the traditional attitudes of China and even old-school Britain largely prevail. In this sense, gays and lesbians in Hong Kong tend to be more discreet and, in many cases, closeted, than in most major Western cities.
For visitors, shopping and dining rank among the favorite local pastimes. Hong Kong isn't quite the bargain retail destination it was years ago, but the territory is still rife with both sleek upscale shopping centers and quirky, discount and specialty markets. It's quite fascinating to stroll through the Flower Market in Kowloon, or to explore the clothing stalls of Stanley Market on the south side of Hong Kong Island.
In terms of sightseeing, there's quite a lot to see and do, and Hong Kong is an easy place to navigate (by cheap and efficient subway lines, ferry boats, taxis, and buses). Hong Kong Island is laced with sculpted bays and beautiful beaches, some of them with gay followings – notably Gold Coast Beach, off Castle Peak Road, and Middle Bay, off South Bay Road. No visit here is complete without taking the tram to Victoria Peak, which rises nearly 2,000 feet above the city center and on clear days affords panoramic views of the territory and surrounding waters. Also set aside time to visit the massive Tian Tan Buddha statue, the Hong Kong Heritage Museum, and – if you're a fan of amusement parks – Hong Kong's own giddy outpost of Disneyland.
Just keep in mind Hong Kong's sometimes sultry, semi-tropical climate when planning a visit. The territory can be wet and even stormy. Fall through winter is the best time to visit, as temperatures run from the 60s to the 70s, and the air is drier and fresher. From about May through early September, however, the region becomes inundated by excruciatingly humid and wet weather, with highs near 90 degrees and day after day of heavy rainfall.
Hong Kong dangles off the tip of southeastern China like a barnacle. Most of the territory is made up of the Kowloon Peninsula and two major islands just to the south, Hong Kong Island and Lantau Island (home to the major international airport). Visitors focus most of their time in Hong Kong's city proper, which consists of the northern tip of Hong Kong Island and the southern tip of Kowloon. Neighborhoods of significance to gay visitors include the fast-paced, if somewhat tawdry, neon-lit streets of Tsim Sha Tsui in Kowloon, where you'll find a number of gay saunas and karaoke bars; and the neighboring Lan Kwai Fong and Soho sections of Hong Kong Island's city center (an area commonly referred to as "Central" by locals).
The Central district is the part of Hong Kong that's depicted most often on postcards – its gleaming skyscrapers fringe the harbor front and are set against the backdrop of lush Victoria Peak. It's here that you'll find most of the city's top hotels and restaurants. Lan Kwai Fong and Soho are on the western side of Central and can be easily reached from most hotels on foot or by quick and inexpensive cab rides. This hip and trendy area abounds with gay and gay-friendly bars, discos, tapas restaurants, late-night cafes, fashion boutiques, and the like. It's a hilly area laced with narrow streets, but it's perfectly safe for exploring even if you're unsure exactly where to go (if in doubt, take a cab to the intersection of Hollywood Road and Wyndham Street, the heart of Soho).
The neighborhood's top gay club is Propaganda, which is hidden down an alley just off a stairwell below Hollywood Road. This is a hot spot for tourists and moneyed locals who don't mind the exorbitant cover charge and steep drink prices. Also popular for late-night clubbing is Drop, which pulls in a mostly under-30 crowd. The gay video lounge Volume is a must on the gay nightlife circuit. It's a sleek, modern space with colorful and cushy lounge seating, and DJs spin some of the best music in the city. Another good bet is Works, whose black walls and dim lighting feel a bit dated. Nevertheless, this is actually a quite trendy guy's hangout. Other worthwhile gay establishments include 2M Bar, an intimate gay and lesbian cocktail bar just down the hill from Hollywood Road, and New Wally Matt Lounge, a long-running pub in Kowloon just a block off Nathan Road.
Club 97 is a snazzy mixed gay/straight spot with more of a "family" following early in the evening, especially on Fridays, for happy hour. Straight and gay hipsters also mingle at Solas, a sleek lounge, and at Finds, an ultra-trendy spot in SoHo with outstanding Asian-cum-Scandinavian food and a smartly dressed crowd.
Hotels in Hong Kong can be expensive, as many of the high-end properties cater largely to free-spending business travelers, but if you're willing to spend a few hundred dollars per night, you'll find some astoundingly fabulous properties. Leading the pack is the magnificent Mandarin Oriental, whose plush rooms and suites are outfitted with every imaginable creature comfort. Try to book an upper floor with a harbor view, although those facing the city's colorful skyscrapers are perfectly wonderful. Restaurants such as Pierre (helmed by 3-star Michelin chef Pierre Gagnaire) and the Mandarin Grill attract foodies, while scenesters couldn't possibly visit Hong Kong without stopping for a martini at the swank M Bar, a 25th-floor lounge with incomparable skyline vistas.
The nearby Ritz-Carlton is a clubby, low-keyed, and intimate property with just 216 rooms and a cloistered, serene pool and sundeck with great views of downtown skyscrapers. Enjoy the lavish high tea presented daily in the swank cafe just off the lobby, or plan a dinner here at Toscana, which serves superb contemporary Italian food.
On the east edge of Central Hong Kong, in the Wan Chai district, the Grand Hyatt is distinct for its magnificent setting on the edge of the harbor. There are few tall buildings around it, which means that rooms enjoy knockout views of the water and Kowloon as well as the city center. This is a star in the gay-popular Hyatt brand, with some of the most lavishly decorated rooms imaginable. Don't miss the 11th-floor outdoor pool, which is the city's largest – it adjoins the beautiful Plateau Spa, which is an exceptional choice if you're seeking a spa treatment while in town. On the Kowloon side, top upscale hotels include The Peninsula, a grand dame dating from the 1930s, and the Island Shangra-La, a regal, centrally located beauty with fine views of the harbor and several excellent restaurants.
Unfortunately, it can be challenging to find truly memorable accommodations for under $200 a night here, and Hong Kong is without any gay-oriented guest houses or B&Bs. In Kowloon, the Eaton Hotel is a perfectly respectable option – it's affordable and centrally located, right by the Temple Street Night Market and close to gay nightlife.