The history of gay marriage in the US and around the world
Neil Patrick Harris and David Burtka are living the dream. When the two tied the knot back in 2014, the couple walked down the aisle in custom Tom Ford tuxedos, shared their first dance to Kelly Clarkson's "A Moment Like This" and danced the night away to a performance from none other than gay marriage pioneer Sir Elton John. It was the kind of fairytale wedding we all hope for. But in 2014, they had to hold their ceremony in Italy because gay marriage was still a state-specific issue in America. Luckily, we've cleared the marriage equality hurdle in the U.S. However, it was a long time coming.
The first official gay marriage case on record is Baker v. Nelson. In 1972, Richard Baker and James Michael McConnell took their case to the Supreme Court after being denied a marriage license in Minneapolis. They filed suit and argued that the lack of sex-specific language in the local laws meant they could receive a license. At the time, the highest court disagreed.
A decade later, Richard Frank Adams and Anthony Corbett Sullivan found themselves searching for recognition of their marriage. Unlike Baker and McConnell, they'd successfully obtained a marriage license in their native Boulder County, Colorado. But they wanted federal recognition. Sullivan had come to the U.S. from Australia. His husband, Adams, wanted the INS (Immigration and Naturalization Service) to recognize him as a direct relative. The status change seemed simple, but the INS refused. The newlywed couple sued the INS but eventually lost. The court defined the term "spouse" as the opposite sex only-a crushing defeat for the couple who should have been celebrating their union.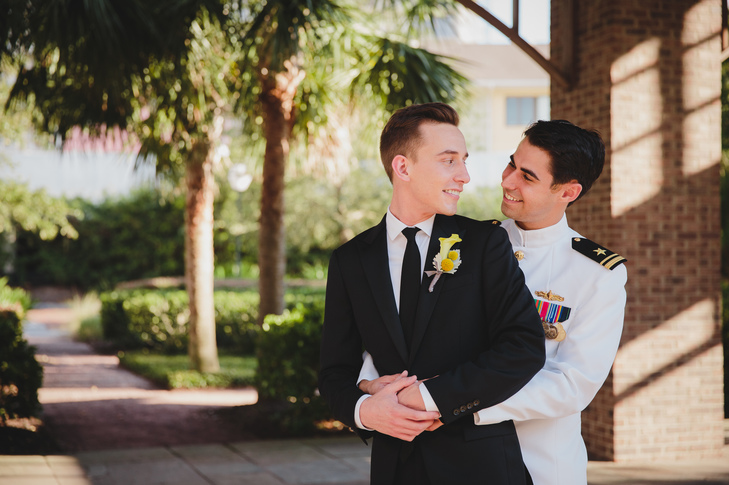 We just love this amazing photo by Stephanie W Photography. Michael, a naval officer, proposed to Joey in 2013 before deploying overseas. The two had been officially married for over a year when they exchanged vows in front of friends and family in Charleston, South Carolina.
Obama affirms support for gay marriage
1996 was an active year in the marriage equality battle. Back then, Barack Obama was a long way from the White House, but there were hints of his progressive views on gay marriage. While he was running for a Senate position, he sent a typed statement to a local gay and lesbian magazine that affirmed his early support.
"I favor legalizing same-sex marriages, and would fight efforts to prohibit such marriages," he wrote. If only the courts and politicians of this time could have followed his lead.
That year, Colorado was back at the center of the gay marriage battle. This time, it was the Romer v. Evans case. Voters had successfully voted Amendment 2 into law. The amendment was basically a broad act protecting gay people from any type of discrimination. This was inclusive of the right to marry. But local politicians weren't on the same page with the public. They challenged the act, and Colorado's Supreme Court overturned it. Not only were gay men and women no longer protected from discrimination-they also couldn't marry.
President Bill Clinton signs the Defense of Marriage Act
Later in '96, President Bill Clinton signed the Defense of Marriage Act. Known as DOMA, the act denied federal benefits to married gay couples. Later that year, a Hawaii judge ruled in favor of the right for gay couples to marry. But two years later, Hawaii citizens would vote to approve a constitutional amendment banning gay marriage.
Over the next two decades, the fight for marriage equality was defined by a succession of small wins and big losses.
Related: 10 Awesomely Cute Gay Weddings
Just before the turn of the millennium, California became the first state on record to pass a formal domestic partnership law. Less than a year later, Vermont legalized civil unions. Massachusetts was next up when it legalized gay marriage in 2003. However, by the end of 2004, 11 states had voted to deny same-sex couples equal marriage rights.
California strikes down same-sex marriage ban
California became a marriage equality battleground beginning in 2005. Local lawmakers passed a gay marriage bill, but Governor Arnold Schwarzenegger vetoed it. He did the same thing again in 2007. The next year, the local Supreme Court struck down a law banning gay marriage, a move that inspired gay couples across the state to start marrying in droves. However, that same year, voters approved the controversial Prop 8, which reinstituted the ban. It took almost two years before Prop 8 was overturned.
Charles Cooper was a high-profile lawyer that defended Prop 8 before the Supreme Court. However, while he was fighting to ban gay marriage, his stepdaughter came out of the closet. After Prop 8 was overturned, his views changed, too.
"My daughter Ashley's path in life has led to her happiness with a lovely young woman named Casey, and our family and Casey's family are looking forward to celebrating their marriage," he told TIME.
The United States legalizes gay marriage
From there, the tide turned in a positive direction. Several states, including New York, New Jersey and Maryland legalized gay marriage. Then, on June 26, 2015, the United States Supreme Court made history when it legalized gay marriage across the entire country. It was a decision that will go down in history, not just for the LGBT community, but for all Americans.
While the fight for additional equal rights and recognition, mainly those of the trans community, continues, marriage equality was a major American milestone. Abroad, the results are mixed. Notably, on the positive side, The Netherlands legalized gay marriage back in 2000. Canada did the same in 2005. Countries ranging from Norway to Iceland to South Africa to Brazil have ruled in the affirmative. Just this year, Mexico signed gay marriage into law despite many locals who vehemently disagree.
The fight for equality continues on
Countries in the Middle East and Eastern Europe, where staunch religious beliefs prevail, continue to enforce anti-gay laws and policies. Many of these places, like Egypt, Algeria, and Libya, still have laws on the books that make gay sexual activity illegal and punishable by jail time, fines, and even death. Gay marriage in these places is still light years away.
Still, the U.S. has joined a small list of countries that are leading the way globally. According to CBS News, there are almost 500,000 same-sex marriages in America. As we move forward, powered by this historic decision, we'll continue to see the rest of the world follow our lead.
Related: The 10-Point Gay Wedding Checklist