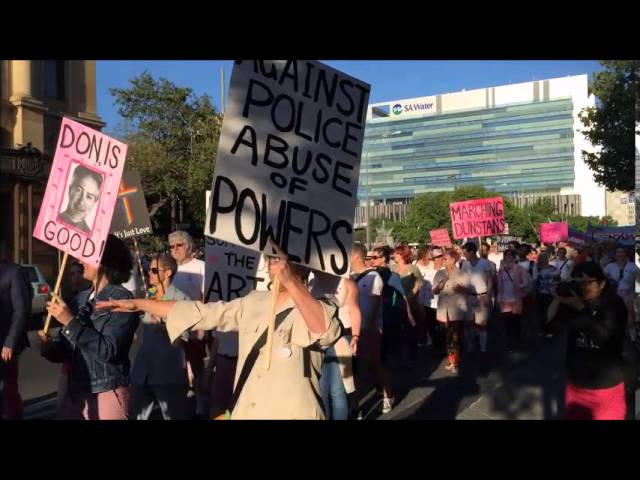 Renowned for fine wineries, esteemed restaurants, and sophisticated country inns
Australia beckons visitors with a long list of "must-see" destinations, from urban gay meccas like Sydney and Melbourne to natural attractions like the Great Barrier Reef and Ayers Rock. You can add another area to the list: the long-underrated city of Adelaide and its scenic surrounding countryside, which have become renowned for fine wineries, esteemed restaurants, and sophisticated country inns. Though it has a somewhat low-keyed gay scene, Adelaide hosts a two-week gay cultural festival, Feast, in November and has a terrific theater scene and countless exceptional restaurants.
The best way to appreciate this part of Australia is with a series of multiday adventures – allow three days in Adelaide, three more on nearby Kangaroo Island (which offers some of the best wildlife-viewing in the country), and two days each in the Barossa and Adelaide Hills wine regions. Here's the perfect itinerary for exploring this picturesque slice of Australian sophistication and hospitality.
Days 1 through 3: Adelaide
With about 1.2 million inhabitants, Adelaide is the nation's fourth-largest city. This civil, if somewhat prim, metropolis is characterized by leafy parkland, a well-developed cultural landscape, and a general sense of order and cleanliness. Aussie surfer dudeThe city has several worthwhile museums, the two best being the Migration Museum and the State Library of South Australia, whose Mortlock Wing has exhibits on Adelaide's history, including an exhibit of vintage Gay Pride posters. Also check out the National Wine Centre of Australia, which occupies a dramatic contemporary building on the edge of the verdant Adelaide Botanic Park. Here you can learn about Australian wines, attend tastings, and have lunch in the center's excellent cafe.
Also of interest to gourmands, Adelaide's bustling Central Market contains more than 250 shops and stalls selling every conceivable type of fresh food. The market and the surrounding neighborhood afford countless opportunities to sample foods prepared by Adelaide's many European and Asian immigrants. Stop by Lucia's Pizza for delectable Italian fare and potent espresso, or walk down nearby Gouger Street to Wah Hing, which serves first-rate modern Chinese food, or stylish Mapo, known for beautifully prepared Korean cuisine.
Reliable lodging options in Adelaide include the gay-friendly Majestic Roof Garden Hotel, a modern property in the heart of the East End dining and entertainment area. As its name suggests, a garden on the roof provides a relaxing spot to unwind and admire the city's skyline. Nearby are such popular eateries as Eros (for commendable Greek food) and the Chocolate Bean, a hip little cafe where you can sample artisanal chocolates. Another appealing choice is the InterContinental Adelaide, a modern high-rise overlooking the scenic River Torrens.
No visit to Adelaide is complete without a short excursion on the tram to the charming beach suburb of Glenelg, known for its slew of sidewalk cafes and restaurants. Head to gay-owned Zest Cafe Gallery, just off Glenelg's main drag, for a gourmet breakfast or lunch, perhaps a frittata with caramelized onions, sauteed potatoes, and Jarlsberg cheese.
Gay nightlife in Adelaide is fun but rather limited. A handful of mainstream places around town have a mixed gay-straight following, such as hipster-infested La Boheme and the friendly Wheatsheaf Hotel pub. The only true gay establishment is Mars Bar, a festive club with a spacious covered patio upstairs and a crowded dance floor and a couple of intimate bars downstairs.
Days 4 through 6: Kangaroo Island
This green, sparsely populated island that's roughly the size of New York's Long Island lies about 10 miles from the mainland and is easily reached from Adelaide by plane – the flight takes just 30 minutes. Until the early 1990s, island inhabitants supported themselves largely with sheep-farming and wool-harvesting. Since that time, entrepreneurs have branched out, diversifying Kangaroo Island's agricultural portfolio to include free-range chicken, marron (freshwater crayfish), grapes (for winemaking), olives, eucalyptus, and what's considered by many connoisseurs to be the best honey in the world. Sheep are now prized not only for wool but for the island's distinctive cheeses. The island has also become a popular haven for artists, many of whom have studio galleries open to the public.
Kangaroo Island's most notable attractions, however, are its national parks, which provide countless opportunities to observe iconic Australian wildlife. Fringed Lizard in Australia, Kangaroo IslandThis is one of the best places in the world to catch a glimpse of koalas, kangaroos, Tammar wallabies, brushtail possums, glossy black cockatoos, seals, sea lions, and curious-looking echidnas (one of only three egg-laying mammals in the world) in the wild.
The best way to experience nature is to book a trip with gay-friendly Exceptional Kangaroo Island tours, which creates customized itineraries for up to 10 people. The company employs knowledgeable locals as guides, and the rates include picnic lunches of creatively prepared grills and salads as well as local wine.
Kangaroo Island's largest town, Kingscote, is worth a stop to grab a coffee or a salad at Roger's Deli and Cafe, which also acts as the island's best newsstand and a purveyor of local wines and food products. Your best bet for dinner here is Restaurant Bella, where you might try pan-seared kangaroo fillet or local whiting (the most common seafood catch on the island) pan-fried in olive oil with a cherry-tomato salsa.
Kangaroo Island has relatively few accommodations, but there are some gems. Most remarkable is LifeTime Private Retreat, a hidden compound with unbelievably cushy accommodations set among three distinctive buildings, one of them on a cliff overlooking the ocean. At this intimate, gay-friendly, all-inclusive retreat, spectacular meals using fresh local ingredients are served in a converted sheep-shearing shed. Rates are steep, but a stay at LifeTime is an experience you won't soon forget.
Kangaroo Island Seafront is a 4-star accommodation set in tranquil gardens on Kangaroo Island, just 400 metres from the Sealink ferry terminal. Less pricey but still perfectly charming accommodations can be had at the Aurora Ozone Seafront Hotel in Kingscote – the best rooms are in the newer section across the street from the original building.
Days 7 and 8: Barossa Valley
The Barossa Valley, which lies just an hour's drive northeast of Adelaide, has become one of the world's great wine regions, growing tremendously in esteem just in the past decade. Anchor yourself for a couple of nights in this sunny, pastoral region, spending your days tasting award-winning Shiraz and Riesling, not to mention some of Australia's finest cuisine.
One place to combine your passion for food and wine is The Louise, a country inn whose contemporary, sophisticated accommodations are surpassed only by an exemplary on-site restaurant, Appellation. Chef Mark McNamara uses local provisions to craft creative yet classic farmhouse fare. The menu changes daily but might feature breast of pheasant with a juniper-infused game glaze, or a dessert of bittersweet-chocolate torte layered with a Shiraz sorbet.
There are a handful of lovely little towns in these parts worth a stop between vineyard tours. Most visitors make it a point to stop by some of the Barossa's winemaking powerhouses, such as Penfolds and Jacob's Creek. But also make time for some of the less-commercial, high-quality wineries, such as Langmeil, Peter Lehmann, and Turkey Flat Vineyard. For a quick nosh, stop in the cheery village of Angaston, which is home to a few cute shops and an excellent bakery-cafe called Blond Coffee, which serves up delicious panini sandwiches, poached eggs, and delicious pastries.
Another outstanding food stop in the area is Maggie Beer farm shop, a charming gourmet market and eatery run by and named for a renowned Aussie TV chef and cookbook author. Enjoy lunch here on the deck overlooking a willowy pond, snacking on such rarefied treats as duck-and-star-anise pate with wood-fired bread, followed by fig-caramel ice cream.
Days 9 and 10: Adelaide Hills
From Barossa Valley, drive south to reach the Adelaide Hills, a vertiginous, lightly wooded area less than a half-hour drive east of Adelaide. Here you'll find still more fine wineries, restaurants, and country inns.
Don't miss gay-owned Hahndorf Hill Winery, run by partners Larry Jacobs and Marc Dobson, who moved here in the late '90s from South Africa and have developed a top-notch selection of wines, including a celebrated Sauvignon Blanc and similarly remarkable Shiraz. The tasting room occupies a handsome building on a gentle hill, and on weekends you can enjoy lunch here – venison, raised right on the property, is a specialty. Other vineyards of note in the Adelaide Hills include Nepenthe Wines and Petaluma-Bridgewater Mill.
Stroll through the handsome village of Hahndorf for a bit of shopping. At Udder Delights, a dapper sidewalk cafe and cheese shop, you can tuck into platters of venison salami, local goat cheese, and wood-baked ciabatta bread. The owners also rent out a handsomely furnished studio apartment with a loft bedroom and a huge bathroom with a Jacuzzi tub. In the same village, the lesbian-owned Six Degrees Jazz Cafe presents live music and serves excellent regional cuisine (roast duck is a favorite here).
A highlight of touring the Adelaide Hills is a stop at Mt. Lofty Summit park, from which you'll enjoy unsurpassed views of the city of Adelaide and the surrounding region. Nearby is one of area's best lodging options, Mt. Lofty House, a beautiful country lodge that offers similarly magnificent views. The hotel's Piccadilly Restaurant & Wine Bar has earned considerable kudos for its well-chosen wine list and tasty food. It's a great place to enjoy the final meal of your stay, high above the stunning South Australia countryside.