The best couples- and singles-oriented places to pamper yourself
You don't have to have a ton of money to enjoy the destinations described in this article – but it helps. These are places rife with trendy restaurants, swank cocktail bars, fancy hotels, cushy inns, and sybaritic spas – it's not hard to blow $1,000 a day in these celebrated cities, resort towns, and gay getaways. And if you have money to burn, or you're traveling on a sky's-the-limit expensive account, why not indulge?
With that in mind, here are some of the best couples- and singles-oriented places in North America to pamper yourself.
Traveling with your mate?
The Napa and Sonoma Wine Country, California
The Wine Country north of San Francisco doesn't have a huge reputation as a specifically gay hideway, but if you ask Bay Area residents where they like to travel in style or celebrate a romantic occasion, this land of ultra-posh inns, stylish restaurants, and esteemed vineyards tops many lists.
Same-sex couples are almost always made quite welcome at the chic accommodations in these parts, from Auberge de Soleil in the Napa Valley to Madrona Manor in the tony Sonoma County village of Healdsburg.
Just remember to set aside some extra cash to ship home all those bottles of wine you buy.
Maui, Hawaii
Maui didn't get to be one of the world's favorite gay destinations by offering a wild nightclub scene – gay bars are few and far between on this island. But Maui is arguably the most romantic gay-friendly getaway in North America, where couples can relax along white-sand beaches and at five-star resorts beside lagoon-inspired pools.
The top-of-the-line resorts here – such as Wailea and Kapalua – have outstanding restaurants and world-class golf courses and spas.
The Makena Beach & Golf Resort is an excellent place to stay on Maui.
Savannah, Georgia
In courtly Savannah, many of the most lavish and romantic historic inns have developed an increasingly strong following with gays and lesbians in recent years. Most of these luxe properties lie near or directly facing one of the city's elegant oak-shaded grassy squares and typically have massive four-poster beds with carved headboards, museum-quality antiques, and whirlpool soaking tubs.
Savannah can definitely be a land of excess, as illustrated in John Berendt's best-selling book, Midnight in the Garden of Good and Evil, and the wealth of outstanding restaurants here definitely proves the point.
Stay at the Park Avenue Manor in Savannah's Historic District, or the Atlantis Inn by the beach on Tybee Island.
Litchfield County, Connecticut
This countrified patch of exquisitely preserved colonial hamlets, sophisticated restaurants, fine antiques shops, and scenic state parks has long been a second home to prominent glitterati (Dustin Hoffman, Diane Sawyer and Mike Nichols, Meryl Streep, Larry Kramer, Bill Blass, Stephen Sondheim, and so on).
It's not a typical gay getaway in the sense that there are no gay bars or gay-specific B&Bs here. However, just about every hip restaurant in the county has a steady gay following, and A-list New Yorkers have long frequented the many posh inns throughout the region, such as the Mayflower. Another popular place, The Litchfield Inn, features uniquely decorated guest rooms and New England-style dining.
The towns of Litchfield, Salisbury, Norfolk, Washington, and Woodbury all make ideal bases for exploring this area adjacent to both New York's Hudson River Valley and Massachusetts' Berkshire Hills.
Aspen, Colorado
There may not be a more romantic – and decadent – way to celebrate a special occasion than spending the weekend holed up at the Hotel Jerome in Aspen. And that's just one of several wonderful places to stay in this super-wealthy Rocky Mountains ski town.
It's not the easiest place to meet other single gay folks – unless it happens to be Gay Ski Week. But if you're here with a friend, whether it's ski season or not, there are terrific opportunities for indulging your interests at every turn: food festivals, spectacular hikes, fly-fishing excursions, art galleries – you name it.
Single and looking?
Fort Lauderdale, Florida
There's a false notion out there that finding romance (or simply getting laid) is impossible in a gay resort town unless you stay at a cheap dive with tawdry rooms. Fort Lauderdale happily defies this assumption.
In this booming beach community that has enjoyed a spectacular renaissance in recent years, you'll find a slew of classy, elegant hotels and gay resorts striking an unusually fine balance between the sophisticated and the sexy – the Worthington, Island Sands Inn, Grand Palm Plaza, and W Fort Lauderdale are among the best.
Many of these places are male-oriented, clothing-optional, and prone to late-night antics around the pool, hot tub, or wherever – and yet it's quite common at such establishments to find rooms with upscale antiques, a polite, low-keyed staff, and a respectable (but still wildly fun) ambience.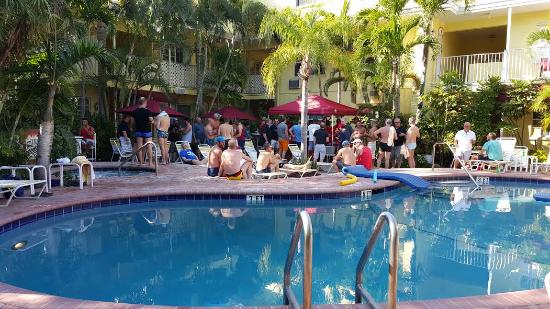 Vancouver, British Columbia
If you haven't been to Vancouver, no matter what your financial and social circumstances, put this jewel of a city at the very top of your list. And if you have the money to book a room at one of the several fine luxury hotels or inns – such as the West End Guest House or the Opus Hotel – go for it.
Vancouver makes for a delicious city to indulge yourself in. Restaurants here are out of this world, conjuring up some of the best Thai, Japanese, Mediterranean, and regional Pacific Northwestern cuisine in North America.
Nightlife options are relatively few for a city this size, but the clubs are lively, fun, and exceedingly friendly.
Boston, Massachusetts
Boston, like Paris or Florence, is meant to be appreciated on foot – no other city in America is more charming for strolling. Power-shoppers can walk along Newbury Street in hopes of scoring fashionable duds, and power-diners can saunter through the South End admiring the menus in the windows of the countless hot restaurants.
Or you can just amble from the lobby of any of Beantown's many rarefied hotels – such as the Onyx and Marlowe – to the leafy Boston Common or the promenade along the Charles River.
Wherever you walk, rest assured that you'll see plenty of gay men and women wandering the very same streets. And in Boston, a little eye contact goes a long way.
San Francisco, California
San Francisco is, among other great things, America's culinary darling, and it's also one of the world's great hotel cities, especially if you consider the many gay-friendly boutique hotels operated by the Kimpton (Sir Francis Drake, The Buchanan) and Joie de Vivre (Hotel Carlton, Hotel Phoenix, Hotel Vitale, Hotel Rex) chains.
New York is often awarded both such distinctions, but San Francisco maintains a level of consistency in these regards that is unrivaled. And the city's reputation for nightlife is legendary.
It may be a cliche to include San Francisco on any list of top gay getaways, but this is one destination that can't be recommended often enough.
Dallas, Texas
Dallas is one of those cities where everything seems to exist on a grander-than-average scale, from margaritas (the frozen kind were invented here) to shopping malls.
It has an extensive and varied nightlife scene that's a hit with both gay men and lesbians, and the most popular bars (plus a few fun restaurants) are within walking distance of one another, in trendy Oak Lawn.
Nearby are several deluxe hotels (the Rosewood Mansion on Turtle Creek, Hotel Zaza) and ritzy shopping in Highland Park, a neighborhood that feels not unlike Beverly Hills.
It's the perfect place to pick up a new outfit to impress the locals with, as this is definitely a city where people work hard to look their very best.