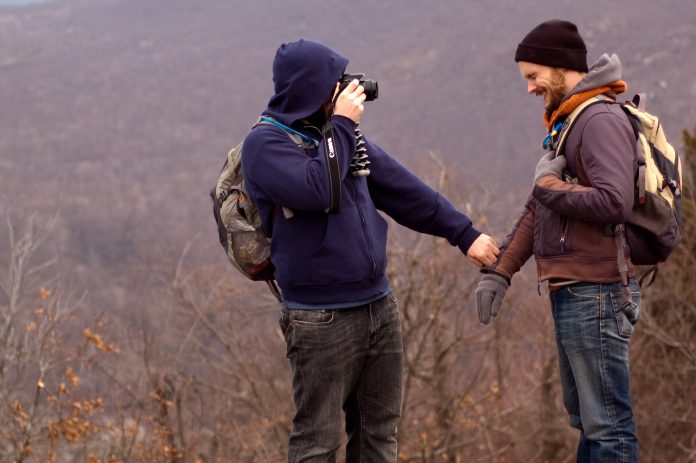 Take a break a from gay resorts or city life and get away from it all
Whether you're into camping, serious hiking, and off-road trekking, or you're more likely to stay in a romantic lodge, check out the park museums, and spend most of your time in your car, you'll be happy to know that most national parks offer a balance of both mellow and rigorous diversions.
The parks described below offer a broad range of activities. Some of them can be visited as day trips from nearby gay resorts or gay-popular cities, while others require plenty of time and planning. Whatever your level of interest in the outdoors, you're likely to delight in at least one of these adventures.
Canyonlands/Arches National Park, Utah
An advantage to touring the national parks of south-eastern Utah is the region's small network of gay-friendly inns. There are five national parks and one national monument in these parts, but you need at least a week merely to sample them, and perhaps two or three weeks for serious exploration. First-timers might want to focus on arguably the most dramatic of these natural wonders, Arches and Canyonlands national parks, which lie close together near the funky and low-keyed town of Moab.
Arches National Park, Utah On its eventual journey to the Grand Canyon, the Colorado River cuts through the southern edge of Arches and then – where it's joined by the Green River – snakes around the brilliant red sandstone formations of Canyonlands. The latter park takes days to investigate thoroughly. It comprises four districts, all miles from one another by car. In any of these areas you'll discover secluded campgrounds where at night the dark, starry skies put on a spellbinding show. Hiking and mountain-biking trails penetrate much of the park's interior, and white-water rafting is a favorite pastime through the park's dramatic slot canyons and narrow river gorges.
At Arches, on the other hand, you can get at least a nominal sense of the terrain and layout in one day. More than 2,000 sandstone arches – some of them as tall as 50 feet – dot this jagged, almost surreal landscape. A paved road allows access to most attractions, but you have to get out and follow one of the many trails to truly appreciate the park. The must-see is Delicate Arch, reached via a moderately strenuous 3-mile round-trip trail (with an ascent of 500 feet).
Moab abounds with eateries and shops, and the lesbian-owned Mt. Peale Resort is a short drive south; it's convenient to one of Canyonlands' entrances and it enjoys a spectacular setting at the base Mt. Peale.
Sample driving distances: Salt Lake, Utah (225 miles), Aspen, Colo. (230 miles), Las Vegas, Nev. (450 miles).
Related: Great High-End Getaways in North America
Mt. Rushmore National Memorial/Badlands National Park, South Dakota
Mt. Rushmore Making a trip to South Dakota's Mt. Rushmore and Badlands involves a bit of effort – you don't typically stumble by these parks on your way somewhere else, since they're quite far from any major cities. Consequently, these two fascinating national parks remain relatively un-crowded year-round.
Mt. Rushmore, part of western South Dakota's Black Hills National Forest, has been a source of inspiration and intrigue since Gutzon Borglum and a team of stonecutters carved the images of four distinguished U.S. presidents onto its face in the 1930s. These remarkably detailed likenesses of Washington, Jefferson, Teddy Roosevelt, and Lincoln even played a supporting role in the Alfred Hitchcock thriller North by Northwest (in which Martin Landau played a villain with an obvious gay crush on his cohort, played by James Mason). You can drive to a viewing platform at the base of Rushmore, taking in the awe-inspiring view, and – in summer – visit the sculptor's 1939 studio.
From here, scenic roads lead south through Custer State Park, where enormous buffalo often lumber alongside the road. Drive north along U.S. 385 to see the rollicking Old West mining towns of Lead (pronounced "leed") and Deadwood. Or make the two-hour drive east on I-90 to Badlands National Park, where Highway 240 loops by scenic overlooks and several trailheads. Not as singularly striking as Rushmore, the Badlands are no less unusual to look at. Endless acres of bizarre rock formations – colorfully eroded spires, buttes, hoodoos, and pinnacles – meet with a 65,000-acre wilderness area that consists mostly of ancient grasslands and prairies. Mountain biking, rock climbing, fishing, and bird-watching are among the most popular outdoors activities.
Sample driving distances: Rapid City, S.D. (15 to 65 miles), Denver, Colo. (450 to 500 miles), Minneapolis, Minn. (575 to 625 miles).
Joshua Tree National Park, California
Joshua Tree National Park Just a short drive from the world-famous gay resort Palm Springs, this 800,000-acre park at the convergence of the deathly hot Colorado and slightly cooler Mojave deserts feels miles away from civilization. It looks almost lunar-like in places. Of course, it's famous for the thousands of curious-looking Joshua trees for which the park is named. These distinctive members of the lily family grow about an inch a year and bloom winsome white flowers ever so rarely.
This aside, seeing a Joshua tree is but a minor reason to visit. Scenic drives abound – the 6-mile spur out to 5,100-foot Keys View affords breathtaking vistas over the entire Coachella Valley, and even as far as Mexico on the clearest days. Several short but fascinating trails penetrate the park's myriad ecosystems: a brief scramble through the Cholla Cactus Garden will introduce you to the regional flora, while the 1.3-mile High View Nature Trail entails a 300-foot ascent to magnificent Summit Peak. Longer trails past piles of massive boulders and by oasis-like hot springs offer the possibility of spying bighorn sheep and golden eagles.
Sample driving distances: Palm Springs, Calif. (50 miles), Los Angeles, Calif. (150 miles), Phoenix, Ariz. (270 miles).
Great Smoky Mountains National Park, North Carolina/Tennessee
Great Smoky Mountains Geologists believe that the Great Smoky Mountains, which straddle the border between Tennessee and North Carolina, are the world's oldest mountains. There's little question that this park ranks among the United States' oldest tourist attractions, and the crowds that permeate its every square mile can cause frustration in high season. Still, if you've never seen the Smokies, it's worth battling the slow traffic and heavily trod trails to experience this 500,000-acre park's ethereal beauty.
Favorite activities include hiking, especially to Chimney Tops, whose summit is reached via an invigorating 4-mile round-trip jaunt. The Appalachian Trail cuts a significant swath through the park, affording fine views of the many rugged mountain peaks, including the highest point in Tennessee, 6,643-foot Clingmans Dome. Keep your eyes open for wildlife; some 2,000 black bear, plus bobcats, deer, and – oddly – wild hogs make their home in the Great Smoky Mountains.
Favorite accommodations in the park include the Le Conte Lodge, which at nearly 6,600 feet is a memorable setting for an overnight. Day-trippers can get a lot out of a visit here simply by driving through some of the main routes and making a couple of short hikes. Take Newfound Gap Road for some of the best views, or plan a tubing trip down Deep Creek on a hot day. And if you're wondering about the park's name, the Cherokees first called these mountains Shaconage, meaning "blue, like smoke" after the mist that frequently envelopes the park each summer. Sadly, these days, its auto emissions and pollution from the region's coal-fired power plants that turn the Smokies blue. It's a reminder, of course, to make every possible effort to preserve these magnificent parks before there's little left of them to save.
Sample driving distances: Knoxville, Tenn. (50 miles), Asheville, N.C. (75 miles), Atlanta, Ga. (190 miles).
Related: Vacationing in Palm Springs