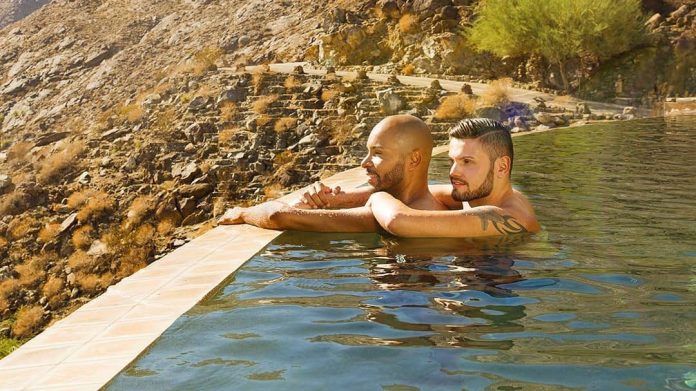 Palm Springs is an iconic desert town with numerous gay resorts
First "discovered" by Hollywood celebrities in the 1930's, Palm Springs has long been a favorite travel destination for open-minded visitors. The oasis in the middle of the desert has drawn people from all over the world to this secluded paradise, and to the easy relaxed life style that always seems to be present.
With dozens of gay owned/ friendly hotels, Palm Springs is a true vacation paradise for gays and lesbian travelers. The Palm Springs area offers everything you could possibly want from an exotic getaway, within the limitations of being located in the middle of the desert.
Even though Palm Springs is an excellent party city, there are a few other things you just don't want to miss.
With the Palm Springs Aerial Tramway you can get a spectacular trip up Mount San Jacinto. Gaze at the nine cities that make up the Greater Palm Springs area in the dramatic desert setting of the Coachella valley.
Ascending you'll pass through five different climate zones, each with its own ecology. At the top of the mountain you will get an unbelievable view of the valleys spreading out on each side. This is the perfect starting point for a hiking trip down towards the city.
There are also several different ways to explore the desert itself. You may hike down one of the well-marked hiking trails or you could rent a horse to do the work for you. Whatever type of transportation you choose there will always be a very exciting night-life waiting for you downtown.
Related: Top 5 Gay Love Videos on YouTube
Once you hit the party scene in Palm Springs it's quite obvious that you're not in just another Small-Town-USA vacation spot. After all we're talking about one of the big gay getaways in the US, and even though it may not be quite as cozy and charming as i.e. Key West, it definitely will make your visit worthwhile.
To escape the heat, head for the art, photography and glasswork at the Palm Springs Art Museum. It is always 75 degrees (23C), providing a welcome respite from the Palm Springs summer triple-digit temperatures.
The museum has been in its current building since 1974 but was founded in 1938 as the Palm Springs Desert Museum. The airy building, with 28 galleries, has work by Chagall, Picasso, Warhol, Lichtenstein, Antony Gormley and Ansel Adams. It also has two sculpture gardens that are well worth a visit.
Palm Springs is nown for its numerous gay resorts – some of them quite frisky – and for its fabolous (generally gay friendly) hotels.
The Santiago Resort is a private luxury resort located at the foot of the secluded San Jacinto Mountains. It's clothing-optional with stunning mountain views and surrounded by native plants, cacti, and palm trees.
The walled in clothing-optional Triangle Inn is all about privacy and consists of just nine rooms, most equipped with a full kitchen and dining room. There's also a four-bedroom house to rent for larger groups who want to be together under one roof.
The All Worlds Resort and Annex is the largest gay men's clothing optional resort in Palm Springs. Located right in the middle of the historic Warm Sands District, it's a massive compound that consists of two properties with five pools including a reflection pool, two hot tubs, cabanas, and even a volleyball court.
With a 3,000-square-foot spa and saline pools, the Jonathan Adler-designed Parker Palm Springs is pure luxury. Located on 13-acres of exquisitely manicured grounds, the hotel has clay tennis courts, petanque and croquet areas.
Related: Gay Houston – A Stylish Getaway