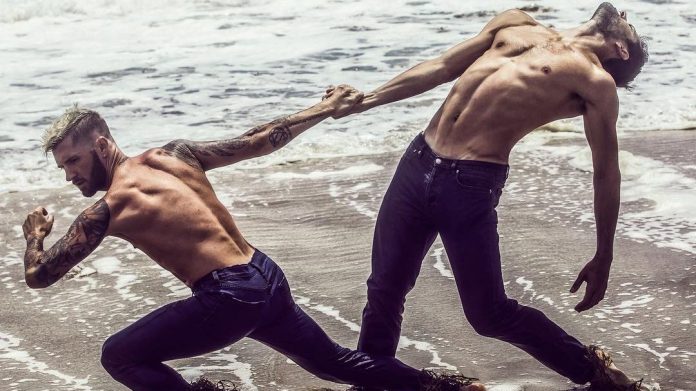 Gay dancer Travis Wall slammed 'Good Morning America' host Lara Spencer for mocking Britain's Prince George for taking ballet lessons
Now the 'So You Think You Can Dance' star is coming to her defence.
Travis says on his Instagram that the TV host reached out to him to apologize for being insensitve about the British prince's love for dance.
"So Lara Spencer just called me on my cell phone, she got my number from Debbie Allen, and she is completely horrified and just truly just issued this massive apology," Travis said. "I could just hear the horror in her voice."
The Emmy winning dancer/choreographer claims Spencer wants to make things right by speaking to him and other dancers on her show this upcoming Monday.
"She knows there's a bunch of us, Broadway and a lot of the ballet community here in New York City, we're going to Good Morning America on Monday morning and taking ballet classes outside," Travis explained. "So she's aware of it, and she wants to talk to all of us, and she wants to set this thing straight and right."
"So the dance community is incredible and our voices were heard which is fantastic. Hooray!"
On 'Good Morning America' Thursday, Lara Spencer made fun of the 6-year-old prince when reading off his school curriculum.
"Prince William says George absolutely loves ballet. I have news for you Prince William: We'll see how long that lasts," she said.
Spencer later apologized for her rude comments on Instagram.
"My deepest apologies for an insensitive comment I made during pop news on Thursday," she wrote. "From ballet, which I took as a kid, to anything in life you wish to explore, I fully believe we should all pursue our passion. Go climb your mountain and love every minute of it."
Related: How Embracing That You're Gay Will Bring Happiness to Others
About Travis Wall
Travis Michael Wall was born September 16, 1987 in Virginia Beach, Virginia. He lives in Los Angeles, California, USA.
What is he famous for?
Travis Wall is a dancer, instructor and choreographer. He rose to fame in 2006 when, at the age of 18, he appeared as a competitor on the second season of "So You Think You Can Dance". He was one of the final four competitors of the season.
Wall starred in the reality television show "All The Right Moves" in 2012. In the same year, Wall joined the show as a choreographer. He won an Emmy in 2015 for his work on Season 11. Wall is currently the artistic director of the stage show, "Shaping Sound". He specializes in contemporary dance.
Is Travis Wall gay?
Wall is openly gay, but first publicly confirmed it on Twitter in 2011 when he tweeted to his long-term partner Dom Palange, a gymnastics coach at UCLA.
Travis says he first realized he was gay at the age of 16. He said that dance helped him to explore his sexual identity.
Travis Wall's social media accounts:
Twitter: https://twitter.com/traviswall
Instagram: https://www.instagram.com/traviswall
Related: Top 5 Gay Love Videos on YouTube