Buenos Aires is actively courting LGBT tourists
With progressive attitudes on social issues and a spirited, chic style that evokes Paris, Rome, and New York City, buoyant Buenos Aires has become the LGBT capital of Latin America.
In this distinctly European-feeling city, the worlds of high fashion, haute cuisine, and tango come together, and an unstable economy has become a boon for visitors from other nations, because it's led to favorable foreign-currency exchange rates. Indeed, what was not long ago the most expensive capital city in South America has become one of the cheapest major metropolises in the world.
This city of nearly 3 million (12 million live in the metro region) sits along the southern bank of the Rio de la Plata, a wide estuary that forms the border between Argentina and Uruguay.
Spanish conquistadors established a foothold here in the early 1500s, and the city retains close ties to Europe – many Portenos (as residents are known) have Spanish and Italian lineage, and significant numbers also trace their roots to Germany, Great Britain, Russia, and France.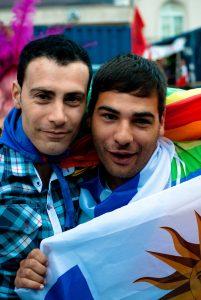 This is very much an international destination, and Buenos Aires has followed the lead of many European cities by actively courting LGBT tourists (the tourism office produces an excellent gay brochure and map) and legalizing same-sex marriage.
North Americans are sometimes deterred from traveling to Buenos Aires by steep airfares, but once you're actually in Argentina, the cost of travel is so amazingly low that you can easily spend less on a vacation here than you would in western Europe or the Caribbean.
During the southern hemisphere's summer season, November is the gayest month, honoring 1967's pre-Stonewall founding of Argentina's LGBT rights group Nuestro Mundo. Manuel Puig, author of Kiss of the Spiderwoman, was an early member.
Argentina's national LGBT rights march, known as Orgullo – Spanish for Pride – takes place in Buenos Aires the first or second Saturday of November. That same month, dance the gay Argentine way during the Tango Queer Festival, or watch gay films during Asterisco, Argentina's International LGBT Film Festival.
Related: Get Captivated by Rio De Janeiro
The city government of Buenos Aires throws its own gay festival, BA Diversa, full of events, talks, sports, art exhibits and more each August, timed with the G-Networks gay travel and business conference.
Buenos Aires (aka B.A.) is a sprawling city, but because cabs are easy to hail on the street and extremely inexpensive, they're a very practical way to make your way around. This is also a generally safe and enjoyable city to explore on foot.
The central neighborhoods of Microcentro, Congreso, and Retiro are typical business and commerce centers, and nearby Recoleta is a wealthy hub of high-end hotels and ritzy apartment towers. In these areas you'll find many of the city's top museums, performing arts venues, and political buildings, but you need to venture farther afield to get to know gay B.A.
Start with a walk through Barrio Norte, a busy and bustling district with a sizable gay presence and loads of fine clothing, home-furnishings, and electronics stores along the main drag, Avenida Santa Fe.
The most charming neighborhoods for exploring, however, are Palermo and the adjacent Palermo Viejo – the latter has the most pronounced LGBT presence in Buenos Aires. Narrow cobblestone streets lined with uber-chic boutiques, snazzy wine bars, Euro-inspired cafes, and offbeat galleries abound in both neighborhoods but particularly in Palermo Viejo.
Another district with gay cachet is San Telmo, which is close to downtown and whose elegantly faded 19th-century buildings, many of them former tenements, now contain a fabulous array of antiques dealers plus a growing number of hip restaurants.
Beef rules in Argentina. Get a juicy slab of it at La Cabrera in Palermo, an Argentine parrilla or steakhouse. Visitors who want to splurge on a formal experience head to Cabaña Las Lilas overlooking the Puerto Madero waterfront.
Argentine beef is on the plate and all around in gay bar and restaurant Pepo Pepona in Palermo, with male dancers and hunky waiters with pepper grinders, spicing up the service. Especially busy during the Sunday Feria de San Telmo Street Fair, PrideCafe is a great place for a snack and to chat with locals.
As expected in a large, gay-friendly metropolis, Buenos Aires has a vibrant nightlife scene, although many bars and clubs are only popular on certain nights of the week. It's best to ask around to learn which are likely to be busy (or even open) on a given evening – also keep in mind that most places don't get going until 2 or 3 in the morning (although they often remain busy until dawn).
The majority of B.A.'s "gay" nightlife options draw a mix not only of women and men but, in many cases, gays and straights – this is a city where folks from all walks of life seem to revel quite happily together.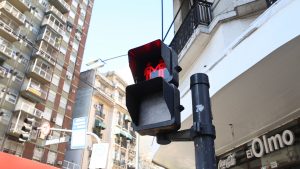 Gays and music loving straights mingle at Amerika, one of the city's largest clubs. Contramano, popular with bears and a mature crowd, was established soon after Argentina's military dictatorship ended, heralding the country's emerging freedom. Living up to its name, Glam in Barrio Norte offers an elegant scene with beautiful men throughout its several spaces. Sitges offers a humorous drag show along with dancing.
Lesbians flock to Bach Bar, and Casa Brandon in the Villa Crespo neighborhood is a unique gay cultural space offering art, talks and other cerebral events. Nothing says Buenos Aires like tango, and two LGBT choices of milongas, or tango halls, are La Marshall and Tango Queer, both offering lessons for beginners.
Prices of accommodations in Buenos Aires vary wildly, as the large and often very impressive international hotels, which appeal to business travelers and well-heeled tourists, tend to charge rates comparable to those in other major world capitals.
Park Hyatt is an absolute treasure, its rooms sleekly and artfully designed, and its restaurants, courtyard patio, wine-and-cheese bar, and spa all top-notch. The Hyatt's well-trained, thoughtful staff whisks about, tending to guests' every need.
The classic Alvear Palace Hotel has been serving discerning travelers since it opened in 1932 – the elegant rooms are among the largest in the city and its concierges know everything gay in the city.
Madonna stayed at the swanky Four Seasons during the filming of Evita, using the hotel mansion's balcony to practice her Don't Cry for Me routine.
Trendy Palermo has small boutique hotels like the Fierro, known for its gourmand-friendly atmosphere, and Home, with its cozy spa, grassy backyard pool, and DJ'd lobby bar. El Lugar Gay, Spanish for 'the gay place' is the gay-owned, men-only hotel just off Plaza Dorrego in San Telmo, with a rooftop patio offering weekly gay tango lessons.
Bo Bo is a smart boutique hotel with moderately priced, avant-garde rooms and an excellent restaurant popular with models and celebs. The intimate Didi Rooms contains 16 rooms, each done with handsome, contemporary furnishings, but the big draw here are the extensive common areas, including a lovely rooftop sundeck with great city views and a hot tub. Charming owner Adriana Teplixke and her knowledgeable staff can recommend great places to shop and eat, and rates here are quite reasonable, beginning around $100 nightly.
Related: Gay Destinations on the Rise