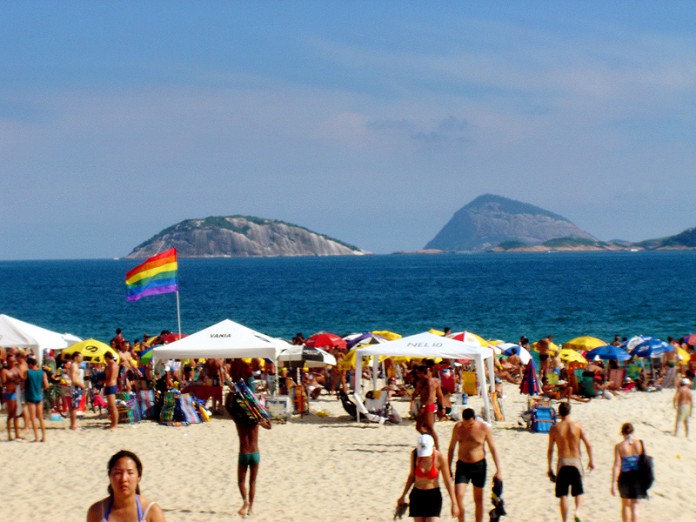 Rio is a fascinating, exciting place to visit year-round
Thousands of gays and lesbians live in Rio de Janeiro, a city of more than 10 million residents, and one of the most celebrated gay vacation destinations in the world. Huge numbers turn out for Gay Pride in early July, and the city's festive Carnival celebration also sees plenty of "family" pour into the city. But Rio is a fascinating, exciting place to visit year-round, possessing a splendid natural setting, a tropical climate (with highs in the mid-80s in summer and mid-70s in winter), and an extremely welcoming personality.
Rio hugs the Atlantic Ocean, its neighborhoods strung between white-sand coves and rocky mountain peaks, the two most visited being Corcovado, topped with its Art Deco-style statue of Christ, and Sugarloaf. You're rarely far from a sugary beach abuzz with vendors hawking fresh coconut juice and tropical cocktails. The city's most established neighborhoods are characterized by attractive, colonial-style architecture, but much of Rio is dominated by modern skyscrapers. One negative aspect of Rio is its reputation for crime, but the city has greatly stepped up efforts to make the touristy areas safe. Crime is still an issue here, but it's not generally any worse than in most other major international metropolises.
Americans have been visiting Rio in great numbers in recent years, in part because it's one of the few major cities in the world where the U.S. dollar enjoys a highly favorable exchange rate. Hotels, restaurants, bars, taxis, and shops in Rio are a comparative bargain for Americans, who can often save enough to offset the steep price of airfare to Brazil. An appealing trait of Cariocas (as residents of Rio de Janeiro are known) is that they tend to be extremely friendly, keen on having fun (whether it be dancing, eating, or beachcombing), and devoted to style. A potential challenge, however, is the language – relatively few Cariocas speak fluent English. You're more likely to encounter English-speaking locals in the more touristy areas, but it's definitely a good idea to pick up a Brazilian Portuguese phrase book and learn a few basics.
Although Rio is something of a gay mecca, the scene itself is a bit diffuse. The Ipanema and Copacabana neighborhoods have the majority of the city's gay-popular businesses, and there's one particular two-block area in Ipanema where you can detect a visible queer presence, but overall, this is not a city of gay ghettos and streets lined with rainbow flags. There are only a handful of gay bars and clubs, and the community here blends more or less imperceptibly with the rest of Rio. This is a city that's highly tolerant of homosexuality, especially compared with other major Latin cities, but gays here still tend to conduct themselves with an air of discretion.
Ipanema – with its narrow, tree-lined streets and attractive colonial-style buildings – is the best neighborhood to base your explorations, as it has a number of appealing, gay-friendly hotels in every price range, and it's mellower and safer than nearby Copacabana, which you can still easily walk or cab to. Another plus about Ipanema is that it borders the trendy Leblon district, which is rife with fine boutiques and diverting cafes. And Ipanema also has the city's best gay beach (between Rua Farme de Amoedo and Rua Teixeira de Melo).
Copacabana is the city's main tourist district, a bustling, slightly brash, neighborhood whose beachfront is lined with massive hotels and condos. It's still an appealing neighborhood, but the scale here is less intimate than Ipanema, and crime can be more of a factor, especially at night along the beach. During the day, however, Copacabana's long, crescent-shaped beach is undeniably lovely – great for sunning, reading, and people-watching.
When it comes to food, Rio – and especially Ipanema – has plenty of offer, and you'll find that Cariocas approach meals with great gusto; they also tend to eat late by American standards, usually heading out to dinner between 8 and 10 p.m. The city has many great Italian restaurants, with Mio a particularly romantic favorite for same-sex dates. If it's a truly special occasion, head to one of the city's most hallowed eateries (it's said to be a favorite of Madonna), Satyricon, a swank seafood restaurant famous for its lobster and shellfish.
Cozy and inviting Colher de Pau is a short walk from the beach; indeed, many beach bums who want a break from the sand head here to dine on pastas, sandwiches (try the one with smoked salmon, brie, and capers), pies, and pastries. It's a nice option for breakfast, too. Galitos Grill is a casual, tres gay choice for chicken dishes. And affordable Carretao is a traditional Brazilian rodizio (a steakhouse serving all-you-can-eat beef, sausage, fish, and chicken, plus a wide variety of sides). A coffeehouse ambience prevails at Cafeina, which offers an extensive array of sandwiches, and is a good place to fill out those postcards or peck away on your laptop.
Copacabana is where you want to go if you're up for a late night of dancing and partying – just keep in mind that tourists are sometimes preyed upon in the clubs by hustlers and scam artists (never accept a drink from a stranger). The most famous gay hangout in the city is the Copa, which has long been the domain of hunky muscle men and toned pretty boys. Cine Ideal is a popular weekly party held on Saturday nights – it rumbles well into the wee hours. Le Girl (held on Monday) and Le Boy (held on Sunday) are well-attended weekly parties geared toward lesbians and gay men on their respective nights. One other happening Copacabana disco to keep in mind is Fosfobox, which is busy Thursday through Saturday.
Ipanema has the friendliest, safest, and mellowest gay nightlife options. Here you'll find Galeria Cafe, a stylish, intimate club and art gallery that draws a mix of men and women of all ages, most of them tending toward the stylish, professional side. The neighborhood's other major gay club is Dama de Ferro, which buzzes with dancing and drinking Thursday through Saturday nights.
As is the case in many gay international destinations, bathhouse culture is alive and well in Rio, and it does not have the somewhat shady air about it that's occasionally the case in U.S. cities. One of the most popular saunas, right in Ipanema, is Studio 64, which has clean and comfortable facilities, including a video lounge, steam room, sauna, and private cabanas. Other well-regarded saunas include Club 117, known for its stable of strippers, and Point 202, which is near the Fosfobox nightclub.
For the latest details on the local gay scene, pick up a copy of the local monthly gay magazine, Odyssey Brasil. It's found at many gay businesses, including the office of Rio G Travel, which also produces its own extremely useful gay guide to the city (it's trilingual, written in Portuguese, English, and Spanish).
Hotels
Charming and modern, Casa Cool Beans is a small, relaxed gay owned Bed & Breakfast Inn located in Rio de Janeiro's Santa Teresa artist district. It offers a serene setting with multiple gardens, open-air areas, pool and sun deck all offer exposure to the wonderful breezes & views of Santa Teresa.
Golden Tulip Ipanema Plaza offers boutique accommodations with bright and spacious rooms featuring modern décor in the heart of Rio's most trendy district. Just 100 m from Ipanema beach and 1.3 km from Copacabana beach, this hotel offers a rooftop pool and a panoramic view of Rio de Janeiro.
Mar Ipanema Hotel is in an ideal location, just 100 m from the world-famous Ipanema Beach. In walking distance to many restaurants and shops, including Fórum Ipanema Shopping Mall. Comfortable rooms, with modern design interior, and a friendly and helpful staff.