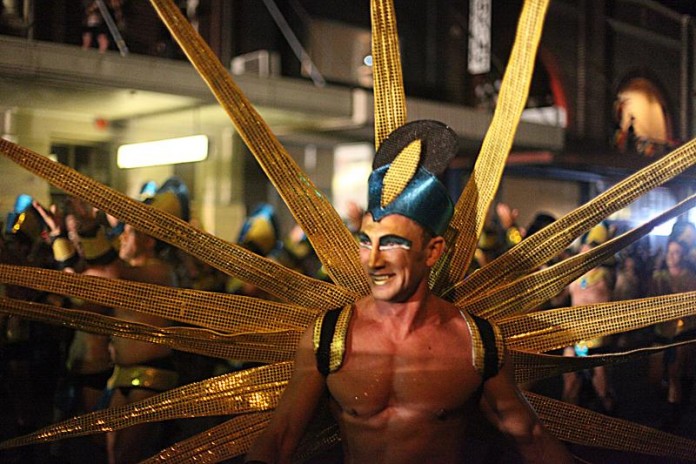 Summer is a terrific time to visit this visually stunning city
In North America, February marks the very heart of winter, and for much of the continent, this means chilly weather and dark, gloomy days. This is not the case on the other side of the world, in Sydney, Australia, the hippest and hottest gay destination in the southern hemisphere. Here, February marks the height of summer. Even better, it's the time for Sydney Gay and Lesbian Mardi Gras. This hugely popular series of cultural events, parties, and parades celebrating gay life in Australia rivals any queer festival in the world. Regardless of your interest in Mardi Gras, summer is a terrific time to visit this visually stunning city.
Cultural draws are many in Sydney, beginning with one of the world's foremost architectural icons, the Sydney Opera House, which apart from possessing a magnificent exterior overlooking Sydney Harbour presents fine operas and other musical and theatrical performances throughout the year. It's right beside Circular Quay, from which you can catch water taxis and harbor cruises to some of Sydney's famous beach communities, such as Manly, Watsons Bay, and the Harbour Islands, and also to the fabulous Taronga Zoo (an excellent place to come face to face with the many unusual animals unique to this continent). The harbor is surrounded by The Rocks neighborhood, which fringes Sydney's modern central business district, a warren of glitzy high-rise office towers.
There are several other top sightseeing draws in this fabled city. The already outstanding Art Gallery of New South Wales recently opened a phenomenal wing of Asian works that's among the most prestigious in the world. Just south of the opera house, you can lose yourself for hours strolling the lush grounds of the Royal Botanic Gardens. Grab a ride on Sydney's sleek monorail to poke around the Darling Harbour neighborhood, home to the shark-infested Sydney Aquarium and impressive Powerhouse Museum, a trove of fascinating science, natural history, and anthropology exhibits. And if it's a sky-high photo op you're angling for, take an elevator to the top of 1,060-foot Sydney Tower, where the southern hemisphere's highest observatory platform offers 360-degree views.
If you're keen on getting in touch with Sydney's famed natural scenery, consider a stroll along the Bondi Coastal Walk, a simple and easy path along the ocean that takes less than an hour to complete. Or for more of an adventure, book a tour with BridgeClimb Sydney to hike across the very top of the Sydney Harbour Bridge, one of the most beautiful such structures in the world.
Sydney's renowned gay scene is concentrated chiefly along Oxford Street, in the city's Darlinghurst and Surry sections. It's pretty busy from about the edge of Hyde Park for several blocks east, and as you continue along Oxford into the Paddington section, you'll find fewer gay hangouts but still plenty of fun businesses. Along Oxford Street's gay stretch, there are a handful of queer bars and clubs, several trendy restaurants, numerous fashion boutiques, and quite a few shops selling porn and sex toys.
Tops among the watering holes, the Colombian Hotel (note that bars and pubs in Australia often take the name "hotel" even when they don't offer overnight accommodations) is a trendy, mixed-gender spot with two floors of fun. The upper lounge is the snazziest space, where you can order fancy cocktails and watch fun videos alongside a smartly dressed bunch of bon vivants. Downstairs, it's more laid-back and a better space to mingle with strangers and sip beer.
Nearby, the Exchange Hotel has long been a favorite for dancing and cruising. This four-level club has several dance areas and lounges, and it cranks into the wee hours on weekends. It's great fun to watch the crowds gather in the neighborhood's gay epicenter, Taylor Square, from the balcony at the Kinselas Hotel, which is especially popular on Sunday nights. Manacle, right off Taylor Square, is one of the top leather bars in Australia, and across the street, the Oxford Hotel has been popular with gay guys for years. It's open 24 hours and draws an eclectic bunch of all ages and styles.
The bilevel Midnight Shift is another highly recommended spot, with a disco upstairs and a more laid-back bar with pool tables and seating on the ground level. Younger guys tend to favor the loud and festive Stonewall Hotel, which offers dancing downstairs and a lounge on the second floor. Finally, hard-core lesbian and gay disco bunnies cut loose at ARQ, which is open only Thursday through Sunday nights and packs in hundreds of buff dance-aholics.
Sydney's less-famous pocket of gayness is along King Street in the Newtown area, where bars tend to draw a more local, neighborhoody bunch. Some reliable nightlife options along King Street include the Bank Hotel, which appeals to a mostly female and fairly butch bunch; and the Newtown Hotel, which pulls in a varied posse of guys for drag shows, videos, and cruising. Serious fans of drag shouldn't miss the Imperial Hotel, which has both drag-king competitions and very popular shows inspired by the cult classic movie The Adventures of Priscilla, Queen of the Desert.
Sydney has emerged in recent years as one of the world capitals of inventive dining – there are great restaurants all over town. For a truly special occasion, few restaurants in Australia deliver more "wow" factor than Rockpool, a temple of creative modern Australian (aka "Mod Oz") cuisine, where you might sample such innovate fare as stir-fried squid and King prawns with squid-ink noodles, smoked bacon, tomatoes, chilies, and coriander. Another must for gourmands is Altitude, which sits atop the ritzy Shangri-La Hotel (on the 36th floor), affording unrivaled views of Sydney Harbour and serving stellar Mod Oz fare.
For more casual dining and drinking, stop by one of the city's quintessentially old-school pubs, such as the warm and festive Lord Nelson Hotel, which serves a nice array of ales and lagers as well as superb Aussie wines and tasty pub food. And for incredibly delicious Thai food, look to Sailors Thai, an elegant restaurant on one of the Rocks' busiest streets.
If Asian cuisine is your weakness, you've come to the right city. For the ultimate experience, venture a bit farther east into the Surry Hills neighborhood to Billy Kwong, an intimate restaurant where international celeb chef Kylie Kwong dreams up magically modern takes on traditional Cantonese food.
In the heart of the main gay district, for inexpensive, home-style food, drop by laid-back Betty's Soup Kitchen, which is known for its huge, meal-size bowls of soup, from lentil to gazpacho, plus simple pastas and homemade desserts. The Grumpy Baker is a cute coffeehouse with delicious baked goods and a typically delicious-looking clientele, too. On Taylor Square, Lure Fish Cafe and Oyster Bar serves up some of the best chow in the area. It's a hip space with clean lines and minimalist decor.
Wok on Inn and Don Don are side-by-side cheap and handy Asian restaurants, the first specializing in noodle bowls and the second in sushi. Nearby in trendy Paddington, Toko Sushi on Oxford turns out some of the most inventive sushi in town, in an uber-trendy dining room.
In the up-and-coming Inner West part of Sydney, the Newtown and Glebe neighborhoods have become popular for funky shopping and ethnic dining. Great dining spots in these districts include Kilimanjaro for inexpensive, delicious African fare; Sumalee for tasty Thai treats; and Iku Kitchen for vegetarian victuals.
Sydney has a number of inviting accommodations, most of them downtown, which is either a pleasant 20-minute walk or a relatively quick cab ride from Oxford Street. Directly facing Sydney Harbour, you'll find the stunning Park Hyatt, a four-story hotel with unbelievably cushy rooms, round-the-clock butler service, and a loyal celeb following. If you get a chance, eat lunch in the hotel's open-air dining room overlooking the harbor and opera house.
Up the street, The Establishment, run by Aussie design guru Justin Hemmes, turns heads with its 33 super-stylish rooms and chic public spaces, such as Tank nightclub, Est restaurant, and Sushi e cafe.
There aren't too many accommodations right along Oxford Street, but right on Hyde Park, there's the Sheraton on the Park, a thoroughly upscale lodging with about 550 sleek rooms and a great health club, pool, and spa. Another smart Darlinghurst option is the Medusa, which has just 18 rooms, all decked with dazzling colors and mod furnishings.
About five miles from downtown Sydney but right by the ocean, consider staying at Dive Hotel, which is in Coogee Beach and just steps from the sand. This intimate 14-room hotel is done in cool blacks and whites with striking modern furniture. In fact, even if you don't overnight out in this direction, at least plan a brief excursion. Sydney's fashionable seaside neighborhoods have loads of character plus intriguing shops and restaurants.
You might plan to watch the sun set from Bondi Beach's hottest restaurant, Icebergs, a futuristic, glass-walled cantina overlooking the ocean and serving such memorable Mod Oz fare as char-grilled quail with grape salad, and smoked eel with creme fraiche, arugala, and horseradish. The dessert of vanilla panna cotta with chocolate sauce and chestnut honey is a marvelous way to finish off a perfect Sydney evening.