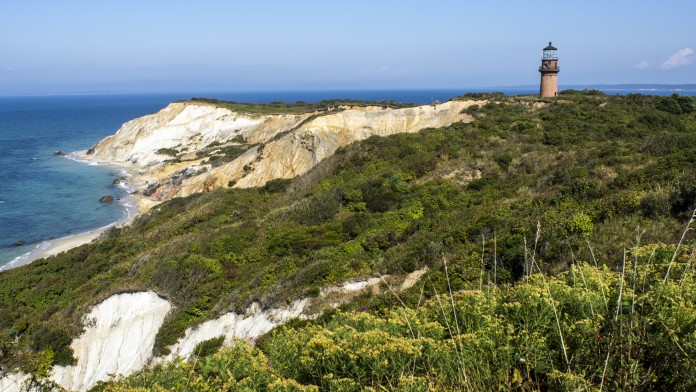 Martha's Vineyard has seen a gradual growth in gay and lesbian visitation
Since Provincetown bursts at the seams all summer long with excitement and socializing, quite a few lesbians and gay men across New England have begun heading to a quieter but no less charming and remote seaside getaway, Martha's Vineyard. Over the past several years the island has seen a gradual but discernible growth in gay and lesbian visitation. One key to enjoying this sparkling emerald island off the southern coast of Cape Cod (it's accessible by only ferry or plane) is to arrive with a lover rather than hoping to find one upon arrival.
Of course, Martha's Vineyard – along with its neighbor to the east, Nantucket – has long been a highly desirable destination. Families have been building the now-ubiquitous weathered-shingle cape-style houses here for more than three centuries, dating to the island's origins as a sleepy fishing settlement. Yachting and hobnobbing among the rich and famous became official pastimes during the early part of this century. Glitterati such as Carly Simon, James Taylor, Spike Lee, Sharon Stone, Meg Ryan, Denzel Washington, Ted Danson, and Mary Steenbergen regularly spend time here. Members of the Kennedy clan have been sailing over for years, and political pundits will always associate Martha's Vineyard with the Chappaquiddick scandal that ultimately cost Ted Kennedy the U.S. presidency.
Come for a visit, however, and you'll hear little talk of celebrity-spotting and rumor-mongering. Famous or unknown, gay or straight, folks come to Martha's Vineyard to get away from the vagaries and pressures of life on the mainland. Here you'll discover historic inns, some of the finest restaurants in coastal New England, and a handful of enchanting villages, each with its own pace and personality.
The town of Vineyard Haven is an ideal base. This walkable village has a few gay-friendly inns, some hip restaurants and boutiques, and an enviable sheltered location overlooking Vineyard Haven Harbor. The other communities on the island are within a half-hour drive (or an afternoon's bike ride – Martha's Vineyard is ideal for cyclists, and there are rental shops near each of the ferry terminals). If you wish to stay right in Vineyard Haven, book a room at the breezy Crocker House Inn, a 1920s beach house owned by young and friendly innkeepers Jeff and Jynell Kristal. Rooms are casually smart, with white-wicker furnishings, and some have fireplaces and whirlpool tubs.
Within a 10-minute stroll of these inns are several fine shops, a quirky old movie theater, and a few nice eateries. A favorite is Cafe Moxie, which presents an intriguing range of relatively affordable mod-American dishes. If you're in the mood for a lobster roll, drop by the Net Result, a simple fish market a 10-minute walk from the ferry terminal serving some of the freshest seafood around.
Oak Bluffs and Edgartown are the two other major settlements on the island. Oak Bluffs has been more heavily developed than other towns on the island, with a bounty of lively bars and rollicking amusements popular with college students and teenagers.
It's a fun town for window-shopping, picking up an ice cream cone at a local parlor, and eating – there are plenty of terrific restaurants in Oak Bluffs. At the upper end, the Sweet Life Cafe serves outstanding regional American fare and occupies a handsome Victorian house along the town's main drag, Circuit Avenue – try the squid-ink fettuccine with shrimp, scallops, calamari, and a tomato-basil-garlic broth. More casual and less pricey options, both of which are also fun places to sip cocktails and socialize, include Sharky's Cantina, which serves up terrific Tex-Mex in a festive ambience, and the Lookout Tavern, a rustic seafood shack overlooking the sea and serving not only great platters of fried and broiled fish and shellfish but also first-rate sushi.
Edgartown is the island's somewhat more conservative community, at least in appearance if not necessarily in politics (this is still a highly liberal part of the world, especially on social issues). This posh historic village defined by gorgeous white-clapboard Colonial homes and neatly manicured gardens has several convivial eateries, and numerous high-end clothiers and boutiques downtown. Tops for dining are Detente, a hip little wine bar serving superbly crafted, innovative fare like lemon-honey-basted halibut with truffled leek puree, baby artichokes, and oven-dried tomatoes. A more casual but still reliable bet is the Wharf Pub, which serves consistently good burgers, salads, and pub fare.
Right in Edgartown, you'll find some lovely, gay-friendly accommodations, including the Hob Knob, a handsome and well-run 18-room Gothic Revival property with unfussy but attractive furnishings reminiscent of an English country house.
Just south of Edgartown, with a fantastic location on Katama Beach, the Winnetu Oceanside Resort makes for a delightful retreat, especially if you've got kids in tow – in fact, this is one of the best gay-friendly, family-oriented properties on the East Coast. The property consists of a luxury inn with one- to four-bedroom suites as well as a cluster of three- to five-bedroom town homes. The resort offers dozens of diversions to keep you busy, from bike tours to whale-watching trips, and there's a world-class tennis facility on-site. Also, Winnetu's restaurant, Lure, serves some of the most inventive seafood fare on the island, such as butter-poached lobster with soft cornbread, roasted corn, and fava beans. This upscale resort draws mostly families with kids in summer, but it's more of a couples destination during the mellower spring and fall shoulder seasons.
Outdoors enthusiasts should stick to the western side of Martha's Vineyard (referred to locally as Up-Island). Here you can sample fresh lobster dockside in the picturesque fishing village of Menemsha (a great place to stop for a casual seafood lunch – just try one of the restaurants on the pier), or admire ocean views from the lighthouse and multihued clay cliffs at Aquinnah (formerly known as Gay Head). Below the Gay Head cliffs you will find, appropriately, a popular nude beach with a moderate following among gays and lesbians – when you hit the beach, turn right, and walk all the way to the end (about 30 minutes). A tip: If you'd like to check the scene out in advance, drop some change into one of the coin-operated magnifying lenses near the base of the lighthouse – it's the closest you'll come to a peep show on Martha's Vineyard.
In the Up-Island community of West Tisbury, set back on a wooded property slightly off the beaten path, you'll find the island's most opulent gay-owned property, Lambert's Cove Inn. Innkeepers Scott Jones and I. Kell Hicklin have restored what had been a somewhat dowdy country hotel into a sophisticated boutique inn with smartly furnished rooms set among three buildings. Amenities include DVD/CD players, high-speed Internet, and plush Egyptian cotton linens, and some rooms have private screened-in porches. A sunken pool in back is the perfect place to while away a hot afternoon. And in the evening, the inn's elegant dining room serves outstanding contemporary American fare, such as braised veal cheeks with sweet corn, English pea risotto, and a Madeira wine reduction. It's the definitive venue for a relaxing Martha's Vineyard hideaway.