The Gay Venice of America is a vibrant and exciting gay destination year-round.
Fort Lauderdale, which has transformed itself into Florida's leading gay vacation destination over the past couple of decades, continues to turn heads with the spectacular redevelopment of its stunning beachfront. This neighborhood with a number of gay resorts has seen the opening of several upscale, gay-friendly hotels, including the Atlantic, the Ritz-Carlton, and the W Hotel.
New bars, restaurants, and attractions also continue to open throughout the city and in the neighboring community of Wilton Manors, helping to make the region a vibrant and exciting gay destination year-round.
In deciding where to stay in Fort Lauderdale, consider whether you'd prefer a gay, clothing-optional resort or a larger mainstream property. Among the latter is the charming Riverside Hotel, set along fashionable Las Olas Boulevard. This natty 1936 property recently completed a stunning, multimillion-dollar makeover. The dashing Atlantic offers unobstructed ocean views from the majority of its spacious, airy rooms, all of them with Bose CD-stereos, lovely patios, and small kitchens.
The Ritz-Carlton is even more sumptuous: Most rooms overlook the ocean or Intracoastal Waterway, and they come with such deluxe perks as butler service, a fabulous spa, and leather furniture. The W Hotel Fort Lauderdale offer panoramic views of both the city and the ocean, all while you enjoy a swim in the rooftop pool.
Among the gay resorts, the upscale property that spearheaded Fort Lauderdale's growth into a major gay destination is the Royal Palms, and it continues to shine as one of the nation's premier small gay hotels. Perks here include complimentary snacks, wine, and beer, CD players and VCRs in many units, glass-brick showers with high-end bath amenities, and dedicated top-notch service. Guests can relax all day around the stunning pool with a waterfall and fiber-optic lighting. There are several other fine upscale resorts of comparable repute, including Pineapple Point, a handsome 1930s spread that has the grace and style of a Caribbean plantation.
The more reasonably priced Elysium Resort, just 200 yards from the beach, has perfectly comfortable rooms. Here you'll always find friendly guys lounging on the expansive sundeck, with its hot tub, hammock, and tropical bar – there are two heated pools. Even the simplest rooms at nearby Villa Venice are warm and attractive, with refrigerators and microwaves. With its friendly staff and an extensive pool area where breakfast is served, the resort draws an energetic, fun-in-the-sun bunch.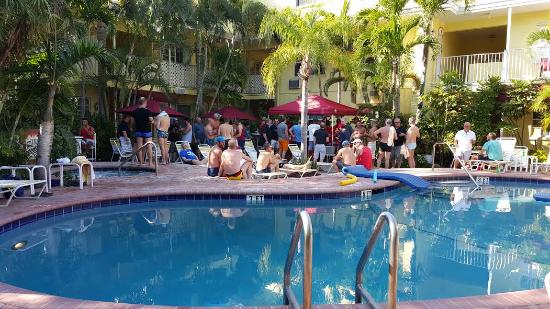 The similarly priced Worthington Guest House ranks among the cruisier resorts in town, with a playful vibe and attractive grounds for sunning and swimming au naturale. The same owners opened the neighboring Alcazar Resort, also featuring a frisky ambience and lovely rooms.
The Grand Resort, whose urbane decorative scheme contrasts markedly with the tropical beachy ambience of Fort Lauderdale beach; is one of the few gay lodgings with a gym. With about 30 rooms, the Schubert Resort, fashioned out of a retro-cool 1950s hotel compound, affords a similar level of opulence and alluring facilities, including a cafe with a full bar.
Although it's set a short drive inland from the beach, the Coral Reef Guest House is a worthwhile option thanks to its attractive gardens, massage offerings, and eight cheerfully furnished, reasonably priced rooms. One of the closest resorts to the many gay bars and restaurants in Wilton Manors, Cabanas Guest House appeals to social butterflies, with its 10-man Jacuzzi and eight-man aromatherapy steam room. The posh rooms have goose-down comforters, Wi-Fi, and CD/MP3 players.
Fort Lauderdale is less about sightseeing than Miami or Orlando – people come here to relax in the sun, socialize, and shop. This latter activity you can enjoy at the famed Sawgrass Mills Mall, whose more than 300 designer outlets include Donna Karan, Saks, Ann Taylor, and Macy's. Or just stroll along Las Olas, which abounds with fashion boutiques and jewelry shops.
It's also a city built on and around water, and there are myriad opportunities for sightseeing cruises, fishing charters, sailing trips, scuba-diving excursions, and kayak tours – many of the local accommodations work closely with area boating and sailing outfitters. But if you do have a hankering for a bit of culture, catch a play or concert at the Broward Center for the Performing Arts. The Museum of Art Fort Lauderdale is also a great place to while away the occasional rainy afternoon. It's known for its first-rate collection of works by leading American impressionist painter William Glackens.
The city's dining scene continues to evolve. At Johnny V, a hip Las Olas restaurant helmed by celeb chef Johnny Vinczencz – you might try ancho-cinnamon-grilled pork tenderloin or corn-dusted yellowtail snapper with smoked-pepper relish.
Or consider one of Fort Lauderdale's several gay faves, such as Kitchenetta Trattoria, who serves some of the best Italian food in the region, including knockout ricotta cheesecake for dessert. A favorite piano cabaret in Wilton Manors, Tropics offers above-average Continental fare, such as a prosciutto-pocket starter – a pastry stuffed with prosciutto, apples, walnuts, and mozzarella.
Wilton Manors is also home to Rosie's, a former Hamburger Mary's restaurant that's still a convivial spot for casual pub fare and socializing, and Galanga, known for its outstanding sushi and well-prepared Thai food. For dessert, coffee, and wine, or delicious sandwiches during the day, be sure to stop by breezy and hip Stork's Bakery. The Naked Grape is a handsome little wine bar with light food and live music most nights as well as a nice selection of microbrew beers to go along with the vino.
Fort Lauderdale / Wilton Manors pulses with gay bars. Georgie's Alibi is somewhat of a local landmark and is popular almost every night of the week. The Manor is modeled after The Abbey in West Hollywood, and the huge space is crowded on weekend nights.
Leather bars like the dungeonesque Ramrod, with its Tom of Finland artwork, always draw big crowds. Scandals Saloon is a country bar with live performances, dancing & sing-a-longs. Cubby Hole is a neighborhood bar for bear lovers, while Hunter's are a slick, happening video bar. There's something for everybody in this constantly growing gay resort community.
Tips: Low on cash to pay for your dream vacation? Trade or exchange your airline miles and hotel points at Points.com