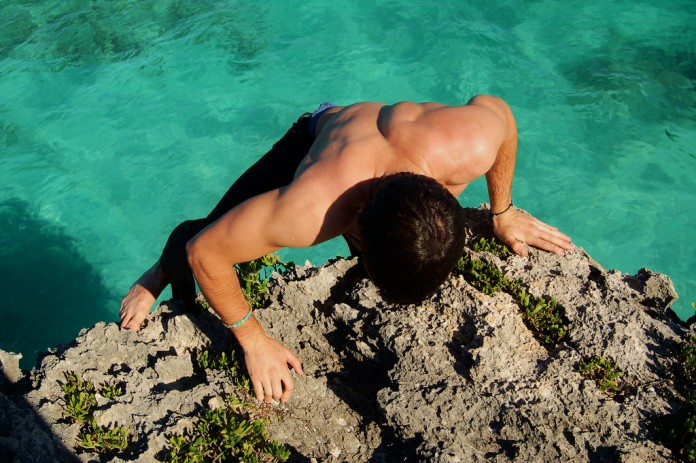 Vieques has become the most gay-popular hideaway in the Caribbean.
It's a seemingly perfect little gem sitting smack in the middle of the Caribbean, but Vieques was for long the most infamous island in the United States. The U.S. military occupied about 70 percent of this lush, mountainous land and was testing bombs and weapons here for years, despite increasingly impassioned protests. Under pressure from these nonviolent protests, the Navy agreed to leave Vieques on May 1, 2003. Since then, Vieques has slowly but steadily developed into the most gay-popular hideaway in the Caribbean.
Over the past couple of decades many lesbians and gays have moved to this 21-by-5-mile paradise just off Puerto Rico's northeastern coast, where the Caribbean Sea meets the frothier Atlantic Ocean. It's an easy-going, unpretentious island with a live-and-let-live mentality – the vast majority of Vieques' 10,000 inhabitants seem determined to never live anywhere else, military presence or not.
Related: Exploring San Juan
With golden beaches, protected bays, and just a handful of charming inns and eateries, Vieques makes a great two- to three-day escape, not only from the main island of Puerto Rico but also from the nearby Virgin Islands – St. Thomas lies just 20 miles northeast.
Before you plan a visit, consider the different ways to get there. You can easily fly directly from both San Juan and St. Croix, but also think about combining your visit with a tour of northeastern Puerto Rico. Just drive from San Juan an hour east to the bustling port city of Fajardo, spend a night or two there and explore nearby El Yunque rain forest, and then hop over to Vieques – just 10 miles out to sea – either by ferry or plane.
Fajardo, despite a busy, sometimes traffic-choked, downtown, has considerable architectural and nautical charm – it's one of the major yachting and sailing hubs of the Caribbean. If you're overnighting, consider pampering yourself with a stay at the 500-acre El Conquistador Resort, a virtual city-within-a-city that seems to tumble down a cliffside to azure seas below. Rooms all face east out toward Vieques and the similarly enchanting island of Culebra – the sunrise views in the morning are something else.
Fajardo isn't exactly a gay mecca, but the El Conquistador is a perfectly hospitable place offering all the pluses of a lavish, self-contained resort: horseback, scuba diving, tennis, golf, restaurants, and six pools – there's even a water taxi to shuttle you out to a private island. Plenty of guests hole up here for a few days simply to take advantage of the on-site Spa and Fitness Center.
Another excellent but more intimate and reasonably priced lodging is the Fajardo Inn, a Spanish Colonial property set high on a bluff with panoramic views of both the ocean and the distant mountains of El Yunque rain forest. There's a pool and 4 lushly landscaped acres.
The greatest reason for approaching Vieques via Fajardo is, in fact, the opportunity to visit 28,000-acre El Yunque, the United States' only rain forest. Begin your explorations at the fantastic El Portal Tropical Forest Center, which has interactive exhibits and loads of information on hikes, flora, fauna, and geology.
This mountainous park contains some 26 varieties of animal species found nowhere else, plus crashing waterfalls and well-marked trails. Consider yourself lucky if you happen to spy the rare red-breasted Puerto Rican parrot, or you hear the peeping of the tiny Coqui frog. Prepare to get a little wet here – this is a rain forest, after all.
From Fajardo, there are two ways to reach Vieques. By ferry – the ride can sometimes be a little choppy – which takes a little more than an hour. By plane, which takes just 10 minutes (there's inexpensive and secure parking at both the airport and the ferry terminal). If you skip Fajardo and fly directly from San Juan or St. Croix to Vieques, the flight time is 30 minutes.
If you're on Vieques for just a couple of days, it's feasible to get around using "carros publicos" (the island's version of taxis), which are typically quite eager for business and charge but a few dollars per person to most places. But it's far easier to rent a car.
On the northern coast, the island's main commercial hub, Isabel Segunda, contains the airport and ferry dock, as well as most local services and businesses, plus a small but engaging museum, which is inside the Conde de Mirasol Fort.
This 150-year-old restored fortification offers a useful overview of Vieques' local history, as well as an interesting perspective on the military presence. From this hilltop property you truly get a sense of just how verdant Vieques is – it's easy to understand why the producers of the 1960s movie adaptation of The Lord of the Flies filmed here.
On the southern coast, the village of Esperanza has most of the gay-popular (but all of them mixed gay/straight) inns, as well as a lovely beach and several beautiful bays.
Definitely tops among the accommodations is the gay-owned and ultra-charming Inn on the Blue Horizon, which even draws the occasional celebrity in search of seclusion. There are just nine guest rooms, most of them set inside cottages with large private porches – all have well-chosen colonial antiques, tile floors, and original paintings and drawings. You can take a dip in the pool, or mingle with other guests in the open-air tropical cocktail bar. This is a truly romantic retreat, as discreet as it is low-keyed.
Dining at the inn's Cafe Blu is almost reason enough to visit the island. The menu here changes nightly but might start off with black-pepper-seared sea scallops on a nest of goat cheese fettuccine, followed by roast tenderloin of pork with a stew of apples, new potatoes, and baby onions.
Also consider the nearby Hilton Ponce Golf & Casino Resort, a beachfront hotel which offers a private beach, a 27-hole golf course, a casino and a relaxing spa.
From either accommodation it's a 20-minute walk to Esperanza Beach, which is lined with several small inns and eateries, all of them moderately priced.
Mosquito Bay is one of the world's most dramatic phosphorescent, or bioluminescent, bays. Every gallon of water contains approximately 750,000 dinoflagellates – microscopic organisms that release a pulse of bluish- green light whenever they're touched or disturbed.
Several tour companies make nightly excursions here using a quiet, nonpolluting electrical boats – the highlight is donning a life vest and taking a leisurely moonlight swim in the bay. If you thought you looked pretty interesting under the intense blue lights at a gay nightclub, just wait until you try swimming amid the intense blue glow of a few billion dinoflagellates.