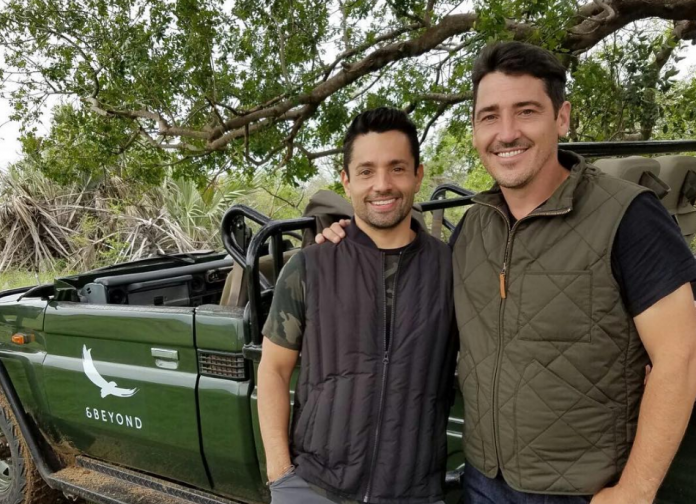 New Kids on the Block member Jonathan Knight has proposed to his longtime boyfriend, personal trainer Harley Rodriguez.
Knight popped the question when the couple was vacationing in Africa.
"We were in Africa, our parents were there — our moms were there — and I just figured this was the time to pop the question and make it official," Knight revelaed on Sirius Radio's The Jenny McCarthy Show.
"We were on the Zambezi River—it's right above Victoria Falls. We took a nighttime raft dinner, just the four of us out on the river, there was like a hippopotamus in the background. It was a super moon. It was just absolutely beautiful, it was so romantic."
The couple met back in 2008, when NKOTB released their comeback album The Block.
"We were rehearsing the day I met him. He's a trainer at Barry's Bootcamp, so I would be with the band all day, then the only time I got to see him was to go take his class," Knight told ET. "I'd take his class then we'd go for dinner afterwards. He's been around from the beginning and seen [NKOTB's comeback] morph into what it is today."
Jonathan Knight said his boyfriend had no clue that a proposal was coming, even though they both have considered their relationship similar to marriage, and they have taken each other's names on social media.
The couple was ecstatic after last year's monumental Supreme Court ruling, which legalized gay marriage nationwide.
"Me and Harley called each other right after it happened and were crying our eyes out on the phone," says Knight.
"It's just something that's been long overdue and it was really aggravating to see other countries have it legal," he added. "In Massachusetts it's been legal [since 2004], so I always felt if my state can do it why are other states not doing it? To have it done nationally was awesome."
Related: Gay Marriage: From Forbidden Fruit to Law of the Land
In the interview with ET, Knight also said that he thinks the world has been moving forward on LGBT issues and that it has become easier to come out.
"If we were then where we are today, I would have been openly gay from day one with the New Kids and it wouldn't have been an issue," he said. "Back then there was such a stigma that I couldn't even tell my best friend. These girls I went to prom with were really good friends and today most girls love gay guys and would be like, 'Yeah! Let's go to prom!'"
"Being able to be open back then, we would've just had a better time. I know I would have."
Related: Colton Haynes Lashes Back Against Coming-Out Criticism