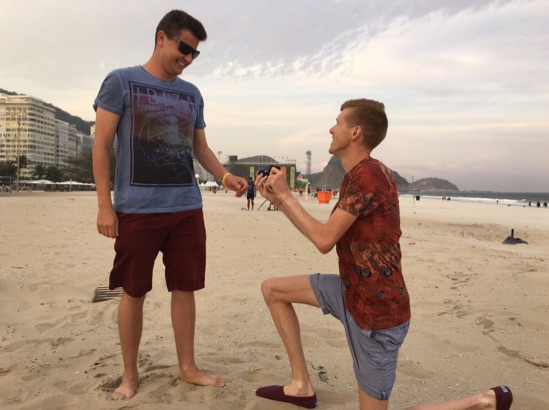 Gay Olympian Tom Bosworth asks boyfriend to marry him at the Rio Olympic Games
The Olympic Games in Rio has really been groundbreaking when it comes to bringing visibility to gays and lesbians athletes.
Last week, Brazilian rugby player Isadora Cerullowas was proposed to by her girlfriend in front of journalists and cameras from the whole World.
And now British track and field star Tom Bosworth, who came out last year, has asked his boyfriend, Harry Dineley, to marry him.
Bosworth made his porposal a little bit more low key by keeping it away from the world press and proposing privately on a beautiful beach in Rio de Janeiro. But he did post a photo of his proposal on Twitter afterwords and Dineley also posted a photo of the engagement ring.
He said YES!!! pic.twitter.com/roXsw7oq8f

— Tom Bosworth (@TomBosworth) August 15, 2016
Ok then. @TomBosworth x pic.twitter.com/OzGvzTeJkS

— Harry Dineley (@harryd1010) August 15, 2016
"It is a big decision, but it's not going to change my life. I'm comfortable and have been in a happy relationship for the last four and a half years," Bosworth said when he came out. "This isn't going to shock anybody that knows me. But to speak out about this, as a sportsperson, it is still news."
"In a few years time, anyone [will be able] to do this. Anyone can succeed in sport. And then hopefully it won't be news anymore."
Bosworth is England's top-ranked race walker and holds three British records. The gay Olympian finished sixth at the games in Rio.
According to Outsports, there are at least 45 publicly out lesbian, gay, bisexual, transgender and intersex athletes at the Rio games, as well as three coaches.