Our gay olympic heroes Gus Kenworthy and Adam Rippon just kissed at the GLAAD Awards
The hot athletes were giving a joint speech at the Beverly Hilton in Los Angeles when Gus planted a big kiss on Adams lips.
And, even though looking quite surprised, Adam didn't seem to mind a bit. Then, who would😊
Not surprisingly, social media went bananas after the kiss and helped spread the word around the world.
👀 it's all going down at the #GLAADawards with @Adaripp and @guskenworthy.

Watch the full show on Logo on 4/18. pic.twitter.com/tsV4Tav2hs

— GLAAD (@glaad) April 13, 2018
In his speech, Adam gave a big tribute to gay icon Britney Spears: 'Every time Britney does a runway walk on Instagram, a little gay child gets his wings.'
Britney didn't sing at the event, but she was there and met up with Adam and Gus backstage.
Gus captioned a photo of the three together: 'I'm a slave 4 u Britney Spears.'
In February, all of America got to see Gus kiss his boyfriend, actor Matt Wilkas, live on NBC during the Olympics in Pyeongyang, South Korea.
"It's something I was too scared to do for myself," Kenworthy said after the competition.
"To be able to do that, to give him a kiss, to have that affection broadcast to the world, is incredible. The only way to really change perceptions, to break down barriers, break down homophobia, is through representation. That's definitely not something I had as a kid. I never saw a gay athlete kissing their boyfriend at the Olympics. I think if I had, it would've made it easier for me."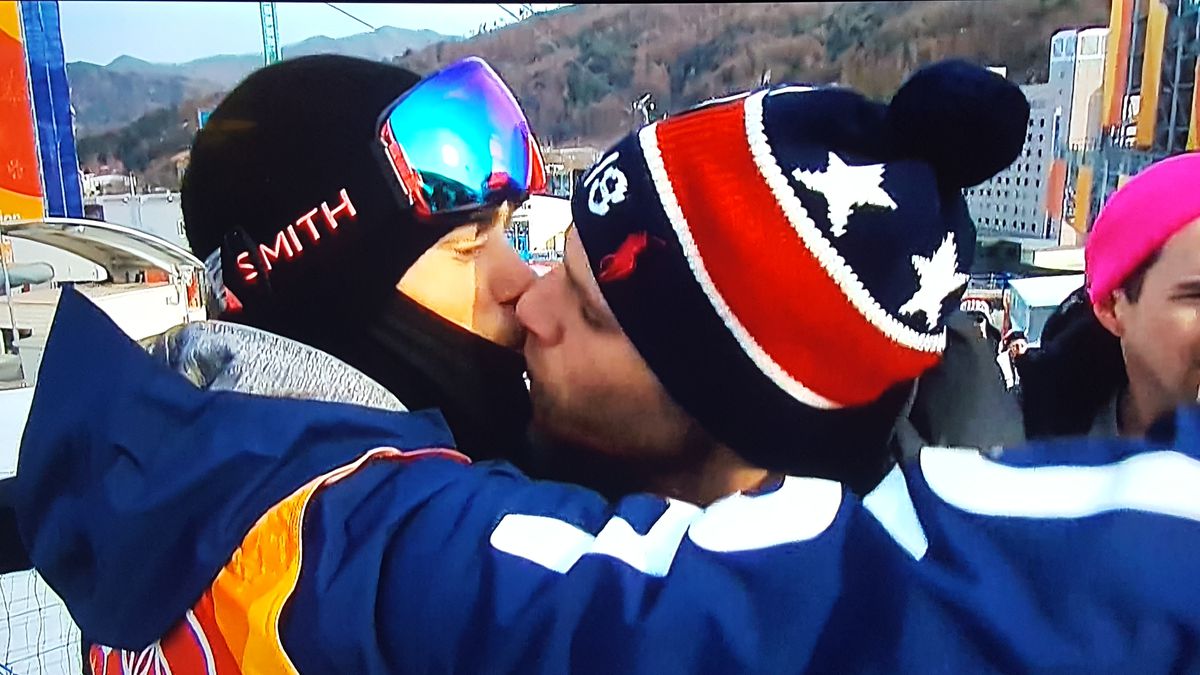 NBC also showed the skiers cheer squad waving gay pride flags in support of him.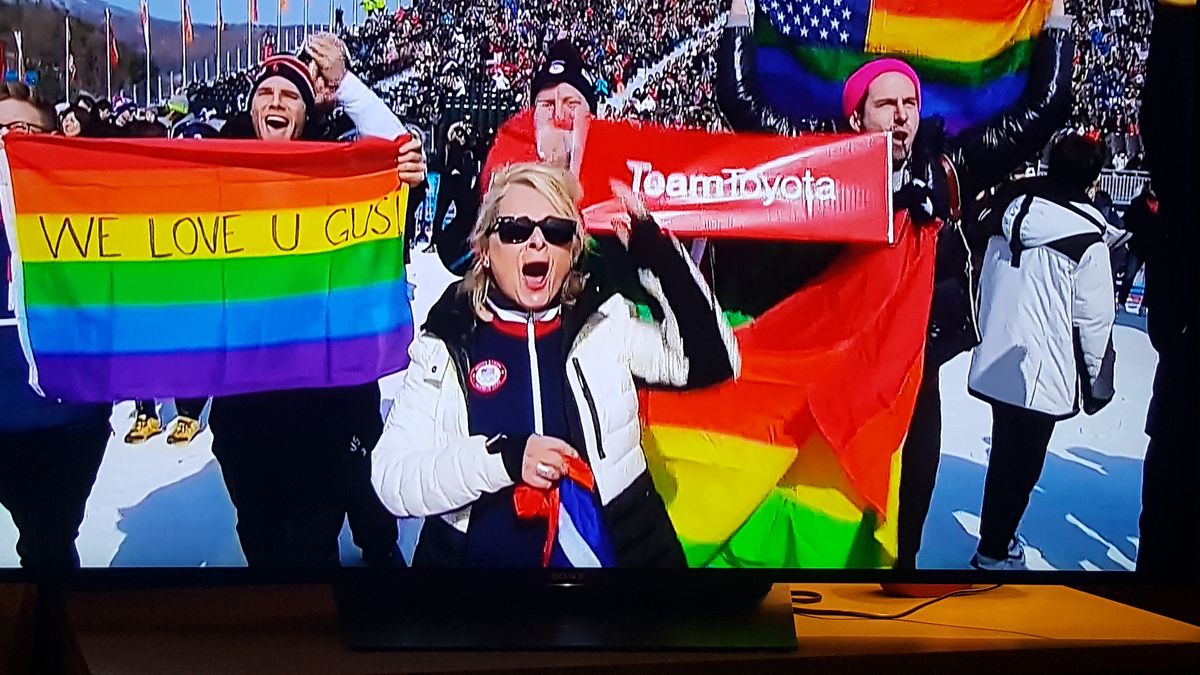 My Seoul mate! So happy to have my bf, my family and some amazing friends here in Korea to cheer me on! Tomorrow's the big day (tonight for y'all in the US) and win or lose I just wanna thank you all SO much for your support and encouragement. I wouldn't be here without you. pic.twitter.com/XwqWKldwbN

— Gus Kenworthy (@guskenworthy) February 17, 2018
Gus and his fellow gay Olympians made a big impact on this years Olympics by being out and proud at the event.
Gus posted a picture on Twitter where he kissed Adam Rippon on the cheek. As a caption, Gus Kenworthy wrote "We're here. We're queer. Get used to it."
The slogan dates back to Queer Nation and the HIV/AIDS activism of the early '90s, and was famously rephrased by Jack on "Will&Grace".
We're here. We're queer. Get used to it. @Adaripp #Olympics #OpeningCeremony pic.twitter.com/OCeiqiY6BN

— Gus Kenworthy (@guskenworthy) February 9, 2018
In a post on Instagram, Gus wrote:
"The #OpeningCeremony is a wrap and the 2018 Winter Olympic Gaymes are officially under way!" he wrote. "I feel incredibly honored to be here in Korea competing for the US and I'm so proud to be representing the LGBTQ community alongside this amazing guy! Eat your heart out, Pence. #TeamUSA #TeamUSGay"
Adam Rippon, who competed in the figure skating event in Pyeongchang, also recognized the importance of this historic event. He wrote on Twitter:
"Tonight I walked in the #OpeningCeremony and got to watch my old friend @Yunaaaa light the Olympic flame. Representing the USA is one of the greatest honors of my life and being able to do it as my authentic self makes it all so much sweeter."
Hillary Clinton commented on the historic significance of this years openly gay athletes.
"I'm going to watch as much as I can see," she said at the 2018 MAKERS Conference. "I love the Winter Olympics. I love the athleticism and the stories of our athletes, and I'm excited that Adam Rippon and Gus Kenworthy will be the first openly gay Olympians. So I'm going to be there cheering them on."
Gus stopped by "The Ellen DeGeneres Show" to discuss making history as an openly gay athlete in the Winter Olympics
Gus showed Ellen a picture of his battle wounds, even though some of us may have paid more attention to another body feature in the picture.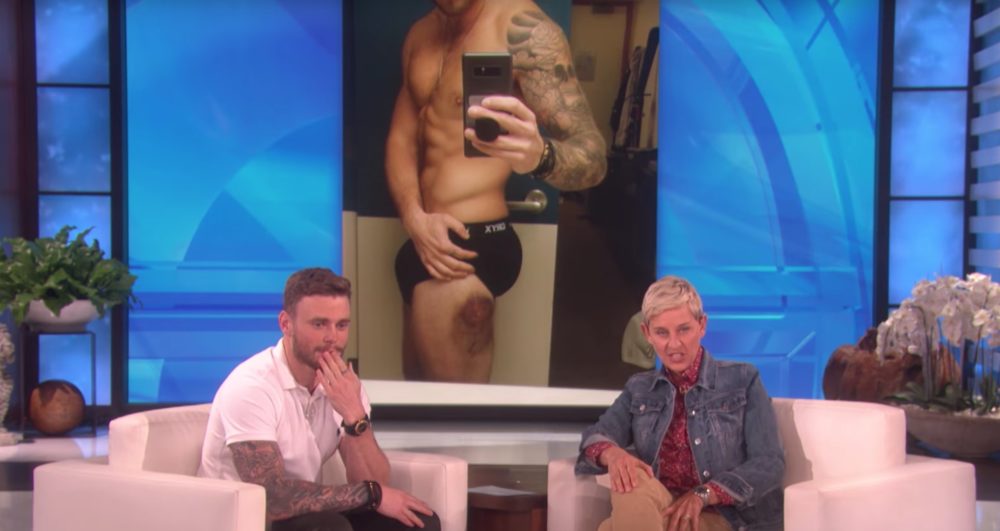 The handsome skier told Ellen that he was really excited about the upcoming Games, including meeting all the other athletes.
Them: What are you most excited for in Korea?
Me: Meeting the other athletes… 😈 pic.twitter.com/fbC7v2rc0z

— Gus Kenworthy (@guskenworthy) January 27, 2018
"It's going to be a different experience than last time around because I'm not in the closet," Kenworthy said. "I just want to meet as many athletes as I can, get to enjoy the opening and closing ceremonies, [and] hopefully ski the best I possibly can."



But he also had some reservations about the politics involved, saying that anti-LGBT VP Mike Pence is "a bad fit" to lead the Winter Olympics delegation.
"To have somebody leading the delegation that [has] directly attacked the LGBTQ community … just seems like a bad fit," he told Ellen. "I feel like the Olympics is all about inclusion and people coming together, and it seems like it's not really doing that."
Ellen asked Gus about his shot for the ESPN Body issue, which has some amazing pictures of the hot skier:
Gus was the second openly gay American to secure a spot in this year's Winter Olympics, after figure skater Adam Rippon
Gus ensured his place on the Olympic team with a second-place finish in the Men's Freeski Slopestyle Finals at Mammoth Mountain in California.
That result, combined with a victory at a selection event, qualified him for the Olympic team.
In an ad for Head & Shoulders, the hot skier not only showed off his amazing freestyle skiing skills, but also his gay pride.
The 26-year old athlete told the Washington Post that some of his fellow athletes refer to him as "The Gay Skier."
"I'm definitely, like, 'the gay skier' now," Gus said, "and that's fine. I knew I was stepping into that role when I did it. I, in some ways, don't care that that's the label that sticks because I am the gay skier, and I know that I took the step to come out publicly and decided to wear that badge proudly."
Related: Gay Olympian Proposes to Boyfriend on Beach in Rio
Related: Tom Daley Nominated as Sports Star of the Year
About Gus Kenworthy
Gus Kenworthy was born in Chelmsford, Essex, United Kingdom on 10/01/1991. He is currently living in Telluride, Colorado, USA.
What is he famous for?
Gus Kenworthy is an athlete. He is best known as a freestyle skier who competes in slopestyle and the halfpipe, and won the silver medal in Men's freestyle skiing at the 2014 Winter Olympics in Sochi, Russia.
Is Gus Kenworthy gay?
Gus Kenworthy came out as gay in October, 2015, and is the first action-sports star to come out.
He came out in an interview with ESPN, telling the reporter "I guess I should start by saying, 'I'm gay.'"
"I wanted to do it in my words and once and for all – and hopefully help kids that are in the same position I was," he later told Attitude magazine.
Since 2016, Gus has been in a relationship with American actor and reality star Matthew Wilkas, who had a lead role in the 2012 film Gayby.
Gus Kenworthy's Social Media accounts:
Twitter: https://twitter.com/guskenworthy
Instagram: https://instagram.com/guskenworthy
Facebook: https://facebook.com/guskenworthy
PS! You have to check out this Insta post where the skier shows off his greatest assets:-D