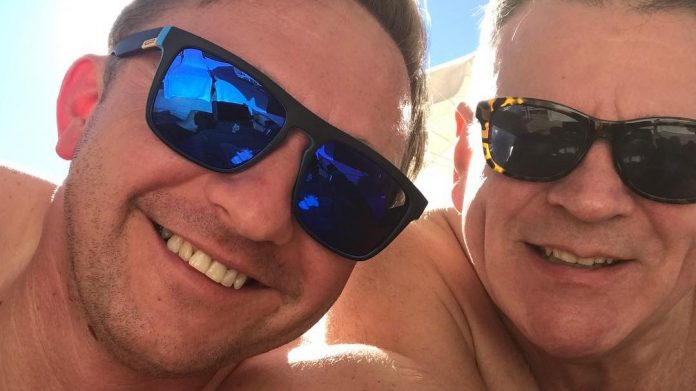 Santa Barbara is ideal for stealing away with your significant other
Given Santa Barbara's somewhat conservative, quietly affluent reputation, it surprises some people that the city has a sizable lesbian and gay community – there's even a well-attended gay pride event – Pacific Pride – each August.
Of course, this is a blissful place to live or visit no matter your sexual orientation, so its popularity among gay folks shouldn't shock anybody.
Although there's very little in the way of gay nightlife, the region exudes romance – it's ideal for stealing away with your significant other for a few days of carefree rest and relaxation. The stunning historic architecture, lush landscaping, and posh hotels are big draws, as are the gold-sand beaches, rugged mountains, and sunny year-round climate.
Some critics claim the area has lost its appeal because it's become too "discovered," especially the Wine Country of northern Santa Barbara County, which was immortalized in the movie Sideways.
But the city and the surrounding countryside still look spectacularly beautiful without feeling overly touristy or excessively developed, and the region remains stellar for great dining and wine-tasting, and hiking, biking, and exploring the outdoors.
As an added benefit, it's less than a two-hour drive north of America's second largest city, Los Angeles.
No visit to Santa Barbara is complete without a stroll along the waterfront, particularly around Stearns Wharf, which has several shops and restaurants.
A paved bike trail (also good for blading and jogging) runs along the shoreline, passing close by the Andree Clark Bird Refuge – a lagoon that draws more than 220 bird species – and the Santa Barbara Zoological Garden.
State Street is the city's main commercial drag, a pedestrian-friendly thoroughfare lined with shops and restaurants. Be sure to stop by the compact but reasonably impressive Santa Barbara Museum of Art, whose highlights include French Impressionist, German Expressionist, and regional American works, plus numerous antiquities.
Just a bit farther afield, nestled at the base of the Santa Ynez Foothills, the Santa Barbara Mission has one of the most dramatic exteriors of any in California.
You can walk through the church and amid lush grounds, which include a colorful rose garden. From here it's a five-minute drive north to the fine Santa Barbara Museum of Natural History, and still a couple of miles north to the Santa Barbara Botanical Garden, the jewel of the city's plethora of gardens and parks. Several miles of trails traverse this 60-acre tract of exquisite landscaping.
Everybody who visits Santa Barbara seems to talk about the glorious shopping and dining. Santa Barbarans, on the other hand, talk more about the outdoors.
There is much to see and do in the omnipresent mountains and rivers. Hiking, surfing, and kayaking are extremely popular pastimes, and the region has famously picturesque and tidy beaches. Just about any stretch of sand in the area is lively and fun, but the most popular spot for gays is Padaro Beach, off Padaro Lane in the village of Summerling.
Even if you haven't seen the wine-obsessed movie Sideways, you may have heard by now that the small towns north of the city claim some of the nation's best wineries.
Most of the action is in or around the communities of Santa Ynez, Los Olivos, Buellton, and Solvang (which is also known for its somewhat kitschy Danish architecture, crafts shops, and restaurants), and you can easily spend a day – or several – touring the countryside and sampling vintages at area wineries.
Some favorite wineries in this region known for its pinot noirs, petite syrahs, and chardonnays are Firestone, Gainey, Lafond, and Sanford. For the best wine tours, check out TripAdvisor.
And after all that wine-tasting, it's entirely appropriate to sample some of Santa Barbara's exceptional cuisine. Bouchon serves superb Cal-inspired French fare in a romantic, warmly lighted downtown dining room. Feast on smoked and seared pear-glazed wild salmon with tarragon-and-vanilla-scented lentils, or Dijon-crusted rack of venison with port-fresh cherry demiglace.
Another great bet is the Wine Cask, a rarefied dining room set across a shaded courtyard from the esteemed Wine Cask Store. Diners sample fine pinot noirs and grigios alongside stellar regional American fare like red-and-yellow-watermelon salad with crispy prosciutto, Humbolt Fog goat cheese, baby greens, and a white balsamic reduction.
A popular spot for breakfast, lunch, or dinner, with a light menu and a cheerful arbored terrace, Paradise Cafe serves omelets, soups, salads, and creative sandwiches.
The simply named Roy is one of the city's great bargains, offering an inexpensive three-course prix-fixe of modern Californian and Italian dishes, such as grilled lamb chops glazed with honey and cumin.
The Natural Cafe and Juice Bar is a great spot for huge and healthful salads, tasty fish tacos, veggie burgers, and other great food – there's also a nice selection of wines and microbrewed beers. The late doyenne of gourmet cooking Julia Child was a devotee of La Super-Rica Taqueria, an unprepossessing Mexican joint that serves excellent, if perhaps a bit overrated, steak tacos and the like.
Santa Barbara has some of the fanciest resorts and inns in Southern California, but also a wide array of simpler, less pricey properties. And although there are no gay-exclusive properties, a few have a strong "family" following. Among reasonably priced options, the Marina Beach Motel, a cheerful and attractive property right in the city's lively harbor area, fits the bill and is quite gay-friendly.
One of the top guest houses along central California's coast, the White Jasmine Inn (formerly called the Glenborough Inn) has a strong following among gays and lesbians. Rooms are in three neighboring houses, two of them Craftsman bungalows dating to the early 20th century and the third one an 1885 Victorian. Architectural details abound, from beveled glass and cross-cut oak beams to antique cherrywood armoires. Popular among Gay Pride Festival attendees, the Hyatt Centric Santa Barbara has fairly typical rooms with upscale furnishings, but the public areas of this imposing 1930s Spanish Mediterranean-inspired hotel are quite lavish. And the beach is right outside the door.
The city's world-class resort is the Four Seasons Biltmore. You simply can't beat the setting, on a green slope just steps away from the beach in the tony enclave of Montecito. And then there's the swank, stylish, and gay-friendly Kimpton Canary Hotel, which is right in the heart of downtown, steps from great shopping and dining. An unabashedly romantic study in Mediterranean style, the 97-room property is crowned by a rooftop pool and terrace with an outdoor fireplace and panoramic views of downtown, the sea, and the mountains. There's no better place to watch the sun fall over Santa Barbara, the soul of the American Riviera.