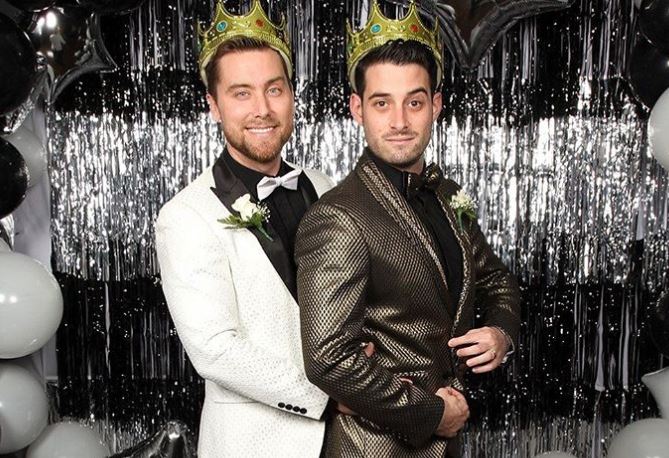 Former boy band star Lance Bass is getting ready for Halloween and loves to scare his husband Michael Turchin
In a series of videos on Instagram, Lance is having a lot of fun scaring Michael at their Los Angeles home.
I'm not so sure that the videos are totally genuine, but they're totally cute anyway😊
It's a nice break from their daily struggle to become parents.
https://www.instagram.com/p/BoiQpfWFv6y/
The couple desperately wants to be dads, and they're getting closer and closer to making that happen.
https://www.instagram.com/p/BfOweGDFwHN/
Lance and Michael got married in 2014, started their surrogacy journey three years later, and are well on their way to their first baby.
https://www.instagram.com/p/Bd9iM6GleCz/
"We're getting closer!" Lance told Hollywoodlife.com. "It's been a longer process than what we thought which everyone warned us about, but right now we're on our fifth egg donor, so everyone keeps dropping out for different reasons, but that's what's great about IVF!
https://www.instagram.com/p/BUCOH8cFFiU/
"You get to weed out dangerous things so you get to have the healthiest kids, so right now we're on donor number five and hopefully her genes will really match with our genes and we'll have the healthiest baby ever."
https://www.instagram.com/p/BNs-6A4Arye/
Related: Kids' Amazing Reaction to Gay Issues
About Lance Bass
James Lance Bass was born May 9, 1979 in Laurel Mississippi, U.S.A. He now lives in Los Angeles.
What is he famous for?
Lance Bass is a singer, dancer and entertainer, most famously known as one fifth of the boy band, NSYNC. The band released four studio albums and five tours. When Justin Timberlake decided to pursue a solo career in 2004, the band stopped producing music but never officially broke up.
After the completion of the NSYNC's "Celebrity Tour" in 2001, Bass moved to Star City, Russia to train as a cosmonaut. With the intention of going to space on a Soyuz space capsul, Bass was certified by both NASA and the Russian Space Program. When his financial sponsors backed out, he was replaced on the mission.
Bass has appeared in several television shows and movies including "Zoolander", "I Now Pronounce You Chuck and Larry" and "Tropic Thunder". He was a contestant on season 7 of "Dancing With The Stars" and finished in third place with Lacey Schwimmer as his partner.
Is Lance Bass gay?
In 2006, tabloids, posted photos of Bass with his then boyfriend, Amazing Race winner, Reichen Lehmkuhl. With rumors circulating, Bass knew wanted to come out to his family before coming out publicly, but coming from the American South, he felt it would be hard for his family to understand. Bass came out to his sister and then to his entire family and was met with support, especially his grandparents.
Bass came out publicly as gay in a cover story by People Magazine on July 26, 2006. The magazine bumped Johnny Depp from the cover in order to run the story.
Lance Bass's social media accounts:
Twitter: https://twitter.com/LanceBass
Instagram: https://instagram.com/lancebass
Facebook: https://facebook.com/LanceBassOfficial
Related: Boyband Star George Shelley Posts Sexy Holiday Pics with Boyfriend