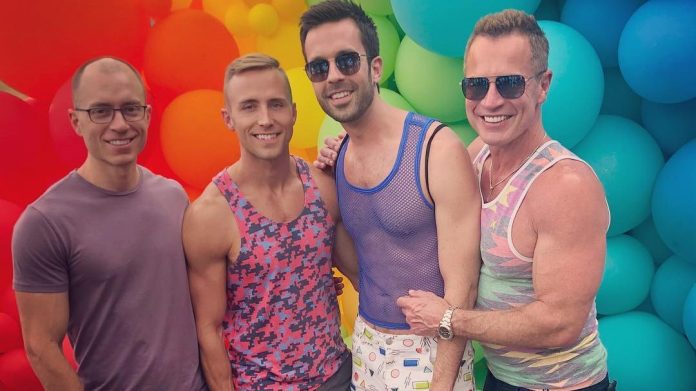 Minneapolis has developed a strong reputation for supporting gay rights
The more progressive of Minnesota's Twin Cities, Minneapolis has developed a strong reputation for supporting left-of-center social and political causes, including gay rights.
But this dynamic city of 425,000 also celebrates the arts with extraordinary fervor – it claims among the top art museums and regional theaters in North America.
And during the crisp and generally sunny summer and fall seasons, the weather is delightful.
Throw in the city's constantly evolving restaurant scene and proximity to the nation's largest shopping mall, and it's easy to understand why Minneapolis has become one of the country's most talked-about mid-size cities.
A great way to take in the city is simply to walk around its many appealing neighborhoods.
A good place for this is along the Mississippi River just north of downtown, around Nicollet Island and the St. Anthony Falls Historic District, a warren of vintage mills and renovated warehouses.
St. Anthony Main, the area immediately northeast of the island, was once a Polish neighborhood. Several hip bars and restaurants have opened in these parts, and a new wave of younger residents – many of them gay – has begun transforming the area.
You can stroll along the riverbank, which has park benches, and amble across the historic Stone Arch Bridge, a former rail crossing that's now for pedestrians and bicycles.
The bridge affords fine views of the roaring St. Anthony Falls and leads to the trendy Mill District, where vintage flour mills have been converted to condo lofts, restaurants, and the Mill City Museum.
Next door to the museum is the home of the prestigious Guthrie Theater, located inside a spectacular $125 million building that has become one of the world's iconic performing-arts facilities.
Farther west along the river, the historic and hip Warehouse District has approximately 150 stately buildings, many containing boutiques, cafes, design studios, and galleries.
From here, you can easily walk south into the heart of downtown Minneapolis, with its many soaring modern skyscrapers.
Continue south to reach Loring Park, which anchors one of the city's more gay-popular neighborhoods, and amble around the nearby 11-acre Minnesota Sculpture Garden, which is at the Walker Art Center.
This estimable museum is a must for art lovers. If you have some extra time, it's worth making the 15-minute drive from here to the Minneapolis Institute of Arts, housed in a 1915 Beaux Arts building.
The 80,000-piece collection includes works by Picasso, O'Keeffe, and Titian.
Die-hard shoppers shouldn't miss the region's most visited attraction, the leviathan Mall of America, which is a 30-minute drive away in Bloomington (right by the airport).
It may sound a bit silly to travel all the way to Minneapolis to visit a mall filled mostly with chain shops you could find anywhere, but if you're the sort of person to whom size matters, you'll likely be very impressed with this 4.2-million-square-foot shrine to retail, which contains a staggering 525 shops.
There are just a handful of gay bars in town, but they're quite fun and consistently crowded.
The Minneapolis food scene has really come alive in recent years – the city has some of the Midwest's most creative and talented chefs, yet prices here remain consistently lower than in Chicago or other big cities.
Right beside the Guthrie Theater, the bright and cheery Spoonriver focuses chiefly on organic and regional ingredients in its healthful, creative American fare. It's a lively option for brunch, or for dinner before a play.
Overlooking Loring Park, Cafe Lurcat has a strong gay following and serves first-rate contemporary American fare.
Minneapolis has plenty of hip, stylish hotels.
If it's a truly sexy and stylish pad you're seeking, consider the W Minneapolis Foshay Tower.
The uber-hip W Hotel chain opened this dramatic, super-plush hotel inside the city's most famous historic skyscraper, the 32-story Foshay Tower, which was built in 1929 and is the second-tallest concrete building in the country (behind only the Empire State Building).
The 229 high-tech rooms contain down duvets, "rain" showers, and custom pillows – the W is a destination of visiting jet-setters.
Other draws include the 27th-floor Prohibition lounge, and the city's retro-cool steak house, Manny's, just off the lobby.
A few blocks away, you'll find a similarly hip and arty boutique property, the Chambers Hotel, which occupies a pair of vintage buildings along Hennepin Avenue, steps from theaters and gay bars.
Rooms have tall windows, sleek black-and-white color schemes, bathrooms with cavernous walk-in showers, and 400-thread-count bed linens.
Set throughout the hotel are more than 200 original contemporary artworks from the collection of Ralph Burnet, the hotel's owner.
Be sure to stop by the lobby to admire the art and have a drink in the sexy, gay-popular lounge, or grab dinner in Chambers Kitchen, which turns out tantalizing world-beat cuisine, such as tempura salt-and-pepper walleye with jalapenos and basil.
Also check out the ultra-swanky Loews Minneapolis Hotel, a 22-story stunner whose rooms have such artsy accents as low-slung beds with glass-etched headboards. Bathrooms have Hermes soaps and freestanding "rain" showers.
The hotel's Cosmos has become one of the Midwest's premier restaurants, thanks to a gracious, knowledgeable staff, a stunning dining room with soaring ceilings, and creative, deftly prepared food.
Among the entrees, don't miss the Iowa lamb chop with cured lamb belly, fava beans, chevre foam, and fresh lavender.
Moderately priced gay-friendly Minneapolis hotels with handy downtown locations include the Aloft Minneapolis, a stylish Starwood-brand hotel in the Mill District, and the Holiday Inn Express, which actively markets to LGBT visitors.
A more intimate, romantic choice, the gay-friendly Nicollet Island Inn overlooks the Mississippi River and the downtown skyline and has 24 individually decorated rooms with reproduction antiques, four-poster beds, and French Impressionist prints.
You might also check out the lavish Sunday brunch served in the historic inn's fireplace-warmed restaurant – it's a big tradition in these parts.
Here you can dine on wild-mushroom crepes, bouillabaisse, and vanilla pot de creme while seated at a table overlooking the Mississippi River – there are few more romantic settings in all of Minnesota.