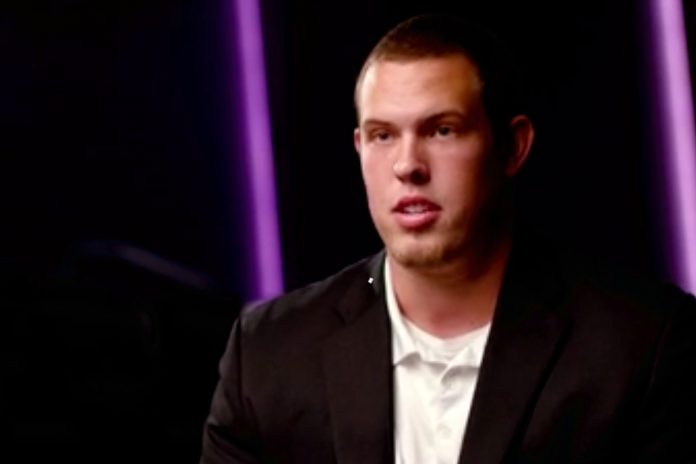 Kansas State offensive tackle Scott Frantz came out to his Wildcats teammates during a team-building exercise
He is the third active FBS player ever to reveal publicly that he is gay.
"I came out to my teammates, and I've never felt so loved and so accepted ever in my life than when I did that," Scott told ESPN. "And ever since then it's been great. I've grown so much closer to my teammates since. So it's been an amazing experience."
Frantz divulged his sexual orientation to his teammates when Wildcats coach Bill Snyder brought in a motivational speaker.
During the session, the players were asked to reveal details about themselves that they had never shared with anyone else.
"So the very first time I said those words were in front of, you know, 110, 120 football guys," Scott said. "So you can imagine how scared I was, how nervous I was. … This could go either really bad or could go really good. And thankfully my teammates embraced me with open arms, and it was great."
Scott told ESPN that he knew he was gay in the fifth grade but didn't really accept it until he got into his junior year of high school. He told his family a week after he made the announcement to his teammates.
Wildcats coach Bill Snyder told ESPN that even though he didn't know about Scott's sexuality when he recruited him, it wouldn't have made any difference if he did. He also believed Scott's teammates would be as accepting as him.
"I was quite comfortable that they would be very receptive and that they would treat him as they always said," Bill told ESPN, "as, you know, his teammate and someone that they cared about. And they did."
Scott started 13 games for Kansas State last season and says in the interview that he thinks it's important to go public with the fact he is gay to help others feel accepted.