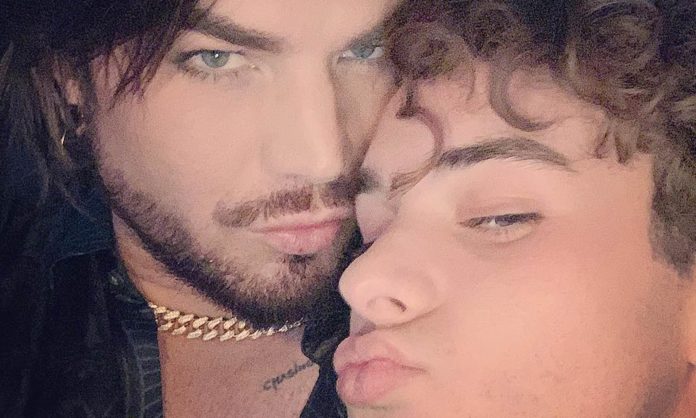 Adam Lambert's boyfriend Javi Costa Polo posted a video on Instagram stories where he says that he and Adam are no longer together
In the video, Javi explains that the distance between them was to great for the relationship to work.
"Alright people. As many of you know, we need to have a little talk about what's going on and you just see my perspective of things… You know, Adam and I, no longer together, which breaks my heart. Because I love Adam the most. He's the most amazing person I've met in my entire life.
"I will always have him and he will always have me. Sadly, I'm not a citizen of the United States. So we both decided that the best thing for me in order to keep growing and learning, I need to be in a country that gives me to right to be that."
Adam went public with his and Javi's relationship back in March.
"We met on Instagram," Lambert said on the RuPaul Show and joked: "I love meeting freaks on Instagram."
Related: Olly Alexander Needs a Man to Spin Him Around
When Adam competed on 'American Idol' in 2009, he instantly became a hit and was on magazine covers everywhere. But the fame did not come without costs.
"There was all this energy behind being the gay guy doing it," Adam says in an interview with Billboard. "I knew I was comfortable saying, 'Yes, I'm gay.' But educating the masses? I didn't get into this business to be an educator. I just wanted to wear glitter and sing."
The interview honors LGBTQ trailblazers, and Adam says that even though he loves talking about being a queer artist, he doesn't want it to define him.
"So that was the thing the media wanted to talk about. I loved talking about it, but at the same time I was like, 'Can it not precede me?'"
The groundbreaking artist also has some advice for his younger self: "'Relax, it's all going to be fine. You're beautiful, you're not ugly, you're not going to be alone.' There was so much shame and self-hatred. I would just try to calm myself down."
I think that's some wonderful advice for LGBTQ+ youth everywhere:-)
Last year, Adam was busy touring worldwide with Queen and finished recording his fourth solo album
In an interview with Client magazine, the glam star said he had worked on "three album's worth" of songs ahead of the release, adding: "It's different from anything I have done previously."
"I didn't feel tied to a trend or a genre and explored a lot more, so I think people might be surprised!", he says. "I'm at a place where I really feel clear about who I am and what I stand for and I think that's going to reflect in the music."
The openly gay singer has previously spoken about the intense scrutiny he faced because of his sexuality at the beginning of his career.
"Obviously there's still a long way to go, but there is a huge improvement," he says in the interview.
"10 years ago, there weren't many openly gay pop artists, and in a lot of ways people weren't ready and I got backlash when I wasn't really expecting it – I was just being myself and of course sometimes you do these things to prove a point more than anything.
"Now though, there's so many pop artists who are proud of their sexuality and the sheer number of us has improved the landscape," he added.
About Adam Lambert
Adam Mitchel Lambert was born on January 29, 1982 in Indianapolis Indiana, USA. He grew up in San Diego, California and moved to Los Angeles California, where he is based today.
What is he famous for?
Adam Lambert is a singer, songwriter and stage performer. He has sold over 3 million albums and 5 million singles worldwide.
His big break came in 2009 when he was runner up on the eighth season of "American Idol". His first album "For Your Entertainment" debuted at number 3 on the US Billboard charts the same year. The single "Whataya Want From Me" was nominated for a Grammy Award.
In addition to releasing two more solo albums, Lambert sings lead vocals, collaborating in place of Freddy Mercury for the rock band Queen. The collaboration started in 2011, and they have toured worldwide from 2014 to 2018.
Is Adam Lambert gay?
Adam Lambert came out as gay to his friends and family after he graduated from high school. He has always been openly gay in his public life and career.
He told a story to the Mosaic LGBT Youth Center in London, about wearing a dress for Halloween when he was nine years old. He said that despite his mother warning him that he might get teased, his parents were always supportive and he "felt really good in that dress".
His 2009 performance at the American Music Awards, Lambert featured a spontaneous gay kiss that sparked national controversy. Lambert defended his action, saying there is a double standard when it comes to same-sex displays of affection.
Adam Lambert's social media accounts:
Twitter: https://twitter.com/adamlambert
Instagram: https://www.instagram.com/adamlambert
Facebook: https://www.facebook.com/AdamLambert/
Youtube: https://www.youtube.com/channel/UC9SGC_32CZahPYkEY92xflA