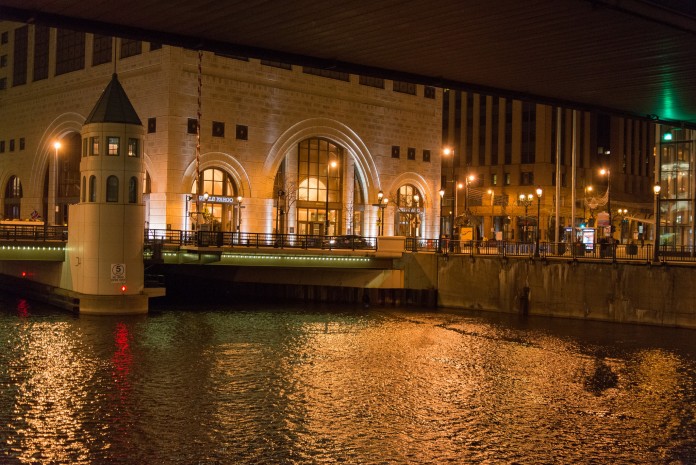 Milwaukee has one of the most vibrant gay scenes in the Midwest
The largest city in a state that's long enjoyed a favorable political and social reputation among gays and lesbians, Milwaukee hugs the shoreline of Lake Michigan and lies just 90 miles east of the hip, LGBT-popular college town and capital city of Madison. Milwaukee has one of the most vibrant gay scenes in the Midwest, and also one of the friendliest. The city has been enjoying a notable renaissance of late, with once downcast neighborhoods seeing an infusion of new residents, who have fixed up historic homes and moved into snazzy new condos. Noteworthy restaurants, coffeehouses, galleries, and boutiques have followed, many of them developing loyal followings among local gay folks.
Low-keyed Milwaukee lies just under two hours north of Chicago by car, situated dramatically overlooking Lake Michigan. Historically, outsiders have been quick to associate Milwaukee with bowling, Laverne & Shirley, and kitschy German restaurants with dirndl-clad waitresses and bucket-size beer steins. While these stereotypes hold true to a certain extent, they overlook the degree to which the city has become significantly more sophisticated of late. For instance, Milwaukee has quietly emerged as one of the Midwest's leading centers of the visual and performing arts – with a highly acclaimed ballet and symphony, two opera companies, countless theaters, and a world-class art museum. Milwaukee also has dozens of lesbian and gay social and political groups, and the June PrideFest celebration ranks among one of the largest such gatherings anywhere.
This is terrific city for strolling. Downtown, you can walk along State Street through the impressive Theater District, or admire the dignified 19th-century cast-iron buildings that line Old World 3rd Street. Attractive promenades run along downtown's Milwaukee River, passing beside trendy restaurants and bars with waterfront terraces. River tour boats depart regularly from Pere Marquette Park, where concerts and events are staged.
The city's most celebrated attraction, the Milwaukee Art Museum, lies east of downtown along the pastoral lakefront (also a fine spot for wandering on foot, as well as such outdoor activities as bicycling and kayaking). The museum's Eero Saarinen-designed building made headlines in 2002 when celebrated Spanish architect Santiago Calatrava created a magnificent addition, which has become one of the Midwest's most talked about structures.
Venture north along Prospect Avenue to discover some of Milwaukee's most charming neighborhoods, including the Brady Street district, with its eclectic mix of quirky shops and restaurants. Nearby is a fine example of Edwardian architecture and decor, the Charles Allis Art Museum – especially notable here are the collections of Barbizon and Hudson River School paintings.
Head south of downtown to reach the Historic Third Ward, a patch of imposing 19th-century warehouses that's undergone a major gentrification and now contain restaurants, art galleries, and antiques shops, as well as the handsomely renovated Milwaukee Public Market. Billed as Milwaukee's "Off Broadway," the district is also home to several experimental theaters. A visual-arts highlight is the Eisner Museum of Advertising and Design, a cool exhibit space (with a great gift shop); it's affiliated with the Milwaukee Institute of Art & Design, whose students design many of the wares sold here.
Drive a couple of miles farther south, through the gay-bar district of Walker's Point, to reach what has become the city's most visible LGBT residential neighborhood, Bay View (aka "Gay View"), which not only has plenty of attractive old homes but also a lively commercial strip along South Kinnickinnic Avenue. Here you'll find several noteworthy cafes and shops, including the feminist/lesbian bookstore, Broad Vocabulary.
Milwaukee's dining scene is up-and-coming, but one restaurant, Sanford, has been a culinary wonder for years – typically creative fare here includes the char-grilled elk loin with cremini mushrooms, rutabaga dumplings, and a pear-and-red-wine sauce. The same owners also run a more casual bistro, Coquette Cafe, in a converted loft in the Historic Third Ward. An early catalyst of the Brady Street renaissance, Mimma's trattoria is owned by a woman who often treks back to Italy in search of new recipes – it's always a great bet for a romantic dinner. The Hi Hat Lounge is another favorite in this neighborhood – it's known for its terrific Sunday brunch and happy-hour martini specials. Also in this area, gay-popular Bosley on Brady serves inventive, elegantly crafted Key West-inspired cuisine.
A slick spot with cute waiters and stylish patrons to match, Sake Tumi is a trendy place serving contemporary Japanese and Korean fare – it's along downtown's bustling Milwaukee Street "restaurant row," which also includes such see-and-be-seen spots as Cubanitas (for modern Latin fare) and Zarletti (well-regarded for its sophisticated Italian cuisine).
In a vintage brick building in the Historic Third Ward, gay-popular Bella is a warm and inviting coffeehouse that's perfect for hanging out with a good book or munching on decadent desserts. In a vintage foundry just across the Milwaukee River, Alterra brews potent, flavorful coffee and serves light fare; there are several other branches around town, including a beautiful space set inside a converted pumping station near the lakeshore. A charming spot for lunch or dinner – and maybe some post-dining shopping – Barclay Gallery & Garden Cafe comprises a gallery selling whimsical crafts and artwork from more than 300 artisans, and a restaurant serving reasonably priced, globally inspired fare.
Steps from several of the gay bars of Walkers Point is the sophisticated and romantic Spanish tapas restaurant, Don Quijote, a good bet for hearty paella. Nearby Jacques is a cute creperie and French bistro that's perfect for a glass of wine and a spinach-roquefort crepe before venturing out to the bars. On the eastern edge of Walker's Point, in the city's small but lively Latin Quarter, La Perla serves delicious, authentic Mexican food. In warm weather, dine on the deck out back. Retro-funky Cafe Lulu is a good bet in the trendy Bay View neighborhood for eclectic, casual fare – burgers, falafel, Moroccan chicken sandwiches – and Sunday brunch.
It should come as no surprise that the city that organized the nation's first gay softball teams and bowling league has a highly popular queer sports bar, the Ballgame. The guys here definitely know the score and don't hesitate to express their allegiances during televised games. Milwaukee also has a saucy leather scene, and Boot Camp is a main player. It's dark in here (duh) and packed on weekends. For a breath of air, or to get a better look at your suitors, head for the patio. Similarly popular with the leather crowd are the Harbor Room and Kruz, which opened in 2006 and has become a local favorite.
One of the friendlier bars in town, Fluid is a mirrored cocktail lounge with a lively bar in front and lounge seating in back. You're sure to see Milwaukee's die-hard clubbers and stand-and-model scenesters at the LaCage, which comprises four different bars along with one of the city's larger dance floors. M's is a casual but elegantly decorated, mixed-gender, neighborhood bar that's especially popular during the early evenings for happy hour, and for Sunday brunch. Lesbian-owned Walker's Pint is a cool, super-friendly tavern with an attractive interior and a wide selection of brews – a big plus is the beer garden. Lesbians also make up much of the clientele at the amusingly named Kathy's Nut Hut, a low-keyed locals bar in the southern end of Walker's Point.
Around the corner from Cathedral Square, This Is It is Milwaukee's only downtown gay bar, with a retro-hip interior that resembles a 1960s airport cocktail lounge. The crowd is eclectic and at times eccentric, the drinks cheap and stiff. A relatively popular cruise and video bar in Walker's Point, the Triangle is a homey tavern with a plant-filled patio. And last but not least, Club Boom is a super-cruisy place that sometimes hosts performers from the adult-film industry; the guys here usually show up with one thing on their mind, making it a likely spot to end a night of bar-crawling. Speaking of which, Midtowne Spa is the city's quite popular gay bathhouse.
Milwaukee has several excellent, gay-friendly lodging options. A sophisticated all-suite hotel in a converted 1930s downtown building, Hotel Metro has touches of Art Deco in the large, open rooms outfitted with down comforters and spacious, slate-floor bathrooms.
Also consider the luxe InterContinental Milwaukee, which sits right along the riverfront, close to area theaters, and has some of the fanciest rooms in town.
Hotel of the Arts – Days Inn and Suites is located just outside downtown Milwaukee, only one kilometer from the Bradley Center. The hotel openly supports the LGBT community and Community Center and offers completely non-smoking guest rooms with original artwork.
County Clare is a distinctive boutique inn with reasonable rates. The beautifully appointed rooms have four-poster beds, free Wi-Fi, and double whirlpool tubs. Quaff a pint of Guinness in the Irish pub on the ground floor, which is a terrific place to get a first-hand sense of the friendly demeanor that so defines this up-and-coming Midwest city.