Where to mingle with friends and snuggle up in bed for the night
When Massachusetts became the first state in the Union to legalize same-sex marriages, residents of America's oldest and perhaps most famous gay vacation retreat, Provincetown, did notice the effects on their community.
But places like the Universalist Meeting House of Provincetown, long a friend to the gay community, had been performing same-sex commitment ceremonies for eons and simply shifted gears to perform same-sex marriages.
However, Provincetown already hummed with activity during the summer season, when it's virtually impossible to find properties that can host entire wedding parties. And many guest houses are reluctant to court gay weddings at all, because they don't have the capacity or common areas suitable for large events.
So Provincetown's summer rituals of schmoozing at tea dances, sunbathing at Herring Cove Beach, and reveling into the wee hours at Atlantic House and the Crown & Anchor continue as they have for years. Only now, you'll also see from a few to a few dozen same-sex newlyweds and their well-wishers joining in cheerfully with the rest of the colorful P-town mix.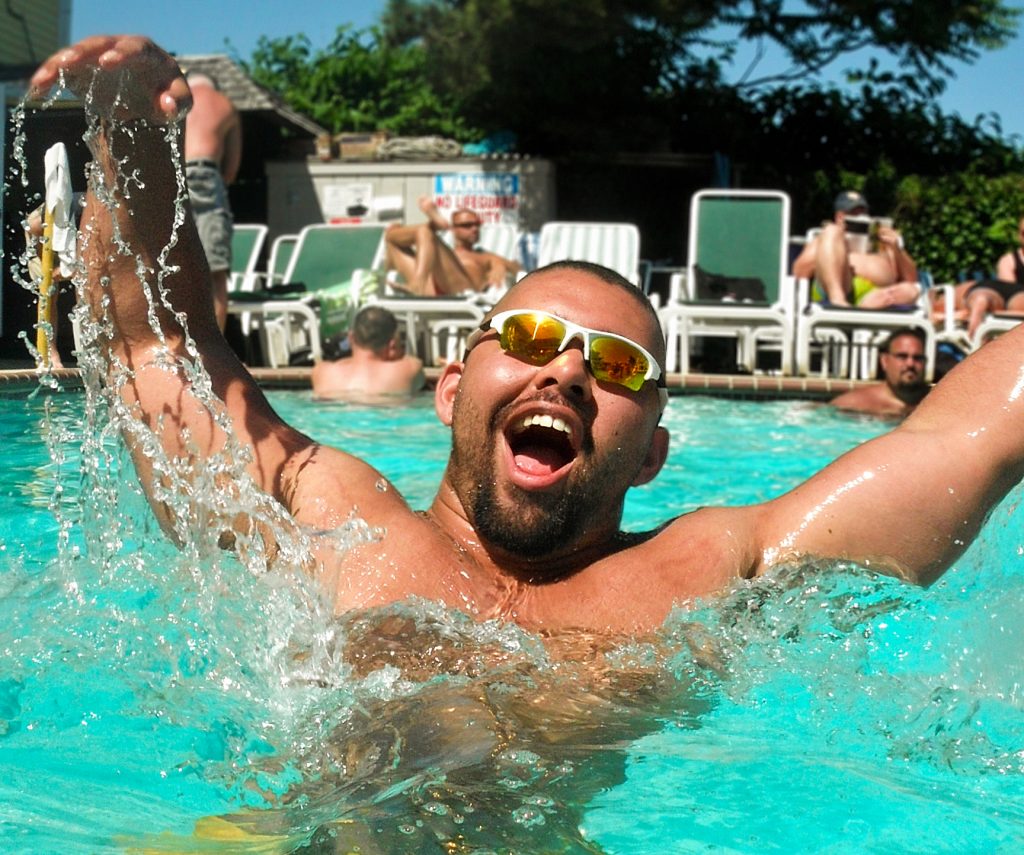 Whether or not your plans to visit P-town revolve around a trip to the altar, here are just a few recommendations for where to sample delicious food, mingle with friends, and snuggle up in bed for the night:
One of the hottest meal tickets in Provincetown is Chester, a wonderful purveyor of artfully understated contemporary fare like seared local diver scallops with lemon-pepper glaze and cauliflower flan. The wine list is exceptional, and the staff gregarious yet highly professional. Set in a former captain's house (circa 1750), the romantic Martin House presents some of the most innovative cuisine around. Here you might sample butter-poached lobster medallions with an onion baguette, braised leeks and fennel, and truffle oil. The Mews offers great live entertainment as well as tasty food.
The pubby cafe upstairs has lighter fare (burgers, salads, etc.), the downstairs dining room more formal cuisine. A relative newcomer just down the street from The Mews, Jackson's at the Flagship sits on stilts over the water and presents artful regional American chow, including rare seared tuna over a mound of baby corn, roasted tomato, and edamames.
In an intimate second-floor space with stunning harbor views, Ross's Grill earns kudos for its well-chosen wine list, tantalizing raw bar, and inventive American cuisine. The sophisticated Commons Bistro, with a bay window overlooking the main drag, Commercial Street, offers creative contemporary fare, such as griddled hanger steak with pommes frites and green-peppercorn sauce, plus excellent brick-oven pizzas. For some of the most authentic Mexican food in New England, head to Lorraine's. Crab enchiladas and roasted duck are a couple of the stellar dishes here. Right on the water in the East End, Fanizzi's offers up fresh, bountiful dinner salads, seafood pastas, and other casual but well-executed meals (at reasonable prices) – it's a bit of a sleeper, but worth checking out.
For lighter noshing, try Lagniappe, a favorite lunch spot serving up tasty Cajun-inspired fare, or casual Clem & Ursie's, where you can sample a mean Portuguese squid stew or hot lobster roll. Spiritus Pizza has some of the best people-watching, especially late at night in that golden hour between bar closing and Spiritus' closing (1 a.m.-2 a.m.). And be sure to stop by the Provincetown Portuguese Bakery to sample the delicious meat pies, pastries, rolls, and breads.
When it comes time to trade in your knife and fork for a mug of beer or an icy cocktail, head for historic Atlantic House (aka A-House), which contains both a hopping gay bar and a disco. The other big player in town, noted for its pulsing Saturday-night circuit parties, is the Crown & Anchor, which also has a festive video lounge and a cruisy leather bar. The Gifford House hotel is home to Purgatory, a small, sexually charged basement dance club.
In the East End, check out the lesbian-oriented Vixen, an attractive bar and dance floor with live shows on many nights. All summer long, poseurs and party creatures mingle and cruise during the Boatslip's legendary tea dances. The crowd usually moves on to the Pied Piper, which has a small but fun dance floor, off of which is one of the loveliest decks in town, a great spot to watch the sun sink over the bay.
Provincetown has more than 70 inns and guest houses with a gay following, most of them welcoming a mix of men and women, gay and straight (the exact breakdown of clientele typically varies throughout the year). Arguably the town's premier accommodation, the superbly sumptuous 40-room Crowne Pointe commands a regal setting on a bluff in the center of town. Cushy in-room amenities abound – comfy Heavenly Bed mattresses, pima-cotton bathrobes, gas fireplaces, whirlpool tubs, high-speed Internet, and TVs with DVD players. The inn's stunning Shui Spa is a top-notch facility with a professional yet low-keyed staff.
The Brass Key was the first Provincetown guest house to offer a level of service and amenities comparable to a world-class luxury hotel, and this splendid resort still excels in every category. The owners recently took over and completely refurbished Lands End Inn, an eccentric West Side property affording spectacular views of Cape Cod Bay. Tops among the 16 whimsical rooms are the tower suites with wraparound decks and domed ceilings – one has a decadent Moroccan decorative scheme.
The staff at hip and cozy Somerset House Inn have set the standard in Provincetown when it comes to hospitality – these guys go above and beyond the call to make their guests feel special, from picking them up at the ferry dock or airport in a shiny Land Rover to offering one the most impressive breakfast spreads and afternoon wine-and-cheese receptions in town. Somerset captures the chic ambience of an urbane boutique hotel, with its mod furnishings, Aveda bath amenities, high-speed wireless, and plush beds with 320-thread-count linens. A luxurious mansard-roof Victorian that's been meticulously restored, Esther's ranks among the top women-owned properties in town. There are just five guestrooms in this stately yellow house, with an excellent restaurant on the ground floor serving eclectic, globally inspired fare.
And that's just the tip of the iceberg. You'll find countless other great properties around town – the cheap and cheerful Heritage House, ideal if you don't mind shared baths; the sumptuous Benchmark Inn & Central, a pair of neighboring Greek Revival beauties with sun-filled rooms; the friendly and moderately priced Ampersand, nestled in the quiet West End; and the old-world elegant Carpe Diem, a sophisticated yet quite social guest house with rooms named for famous poets and writers (from Rilke to Cocteau). The 20 beautiful rooms and apartments at Gabriel's are named and themed after famous women, from Billie Holiday to Katharine Hepburn to Virginia Woolf; many units have fireplaces. And the Beaconlight has long ranked among the region's most inviting properties. The building, part of which dates to the 1850s, is surrounded by lushly landscaped grounds. Inside, a piano is often heard from the living room, and an octagonal roof deck affords panoramic views of America's classic gay summer resort – and nascent gay honeymoon retreat.
Bear Week in Provincetown is naughty fun:-)