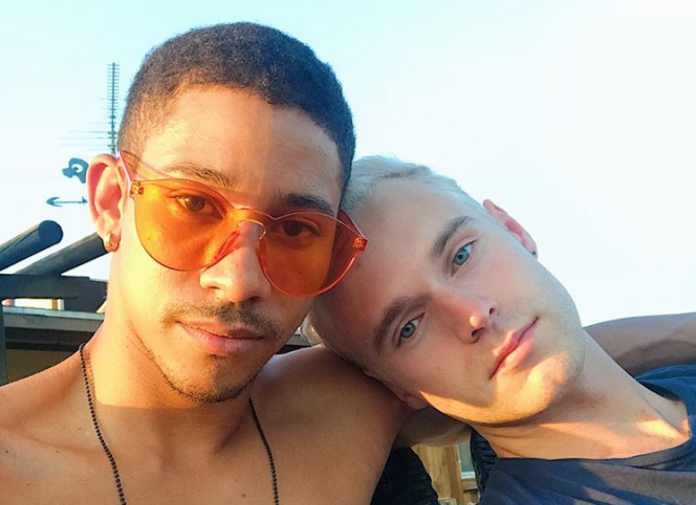 'Love, Simon' star Keiynan Lonsdale and male model Zak Frio just spent a hot weekend together in Joshua Tree National Park
"All we want for each other is to grow and be more of our true selves each day. No nonsense, no noise… just magic, just breathing, just being. Thank you for one of the best wknds of my life. I love ya i love ya i love ya yes i do @zakfrio," Keiynan writes in a post on Instagram.
https://www.instagram.com/p/Bl3ClZ-gbgn/
Both Keiynan and Zak share pictures from their trip into the California desert on their social media accounts.
"Sometimes You Meet Someone And You Know It Wasn't By Chance. Thank you @libfestival for one of the best weekends of my life. Filled with the kindest of souls who left my heart full and my mind inspired," Zak writes in a post.
https://www.instagram.com/p/BjYUWzHHRmG/
In another post, he writes: "A weekend I'll remember for life. Find Yourself Someone You Can Be 100% Yourself With 100% Of The Time. Someone who holds you accountable to be the very best you can be in this life. @keiynanlonsdale thank you for always Inspiring me. Thank you for encouraging me to be myself and to be my very best. Life is a crazy adventure and it is a blessing to explore and grow with you by my side. magic"
Related: Gay Actor Russell Tovey And Hunky Fiancé Split
And the posts are packed with well-wishing comments from fans:
"Yall are so cute and beautiful – so happy for you" -fala.lu.feyang
"So happy for you babe. You two are the cutest – live, love & appreciate." -tia_carmen_b
"You're a beautiful couple. Love you guys." -stevenabaker23
Keiynan came out as bisexual last year and had his first major role as Kid Flash in CW's hit superhero series 'The Flash'.
This year, he became an even bigger star with his role as Bram in the groundbreaking movie 'Love, Simon'.
About Keiynan Lonsdale
Keiynan Lonsdale was born December 19, 1991 in Sydney, Australia. He has since moved to Los Angeles, California, USA.
What is he famous for?
Lonsdale is an actor, dancer and singer. His first acting job was playing a dancer on the Australian TV series "Razzle Dazzle: A Journey Into Dance". Since then he has gone on to play prominent roles on the American CW series "The Flash" and "Legends of Tomorrow". He also played a supporting role in "The Divergent Series" movies.
In 2018 Lonsdale starred in the romantic teen comedy "Love, Simon" alongside Josh Duhamel and Jennifer Garner.
Lonsdale has also released several songs including "Kiss the Boy" and "Preach" in 2018.
Is Keiynan Lonsdale gay?
Keiynan Lonsdale came out publicly as bisexual on Instagram in May 2017. He wrote, "I like to change my hair, I like to take risks with how I dress, I like girls, & I like guys (yes)."
He says his Instagram post received a welcoming response and he has been inspired ever since, by the many people all over the world who contact him with messages of support.
Keiynan Lonsdale's social media accounts:
Twitter: https://twitter.com/KeiynanLonsdale
Instagram: https://www.instagram.com/keiynanlonsdale/
Facebook: https://www.facebook.com/KeiynanLonsdale/
Youtube: https://www.youtube.com/channel/UCXxpKhRPQwXK00AZnMtFLoQ