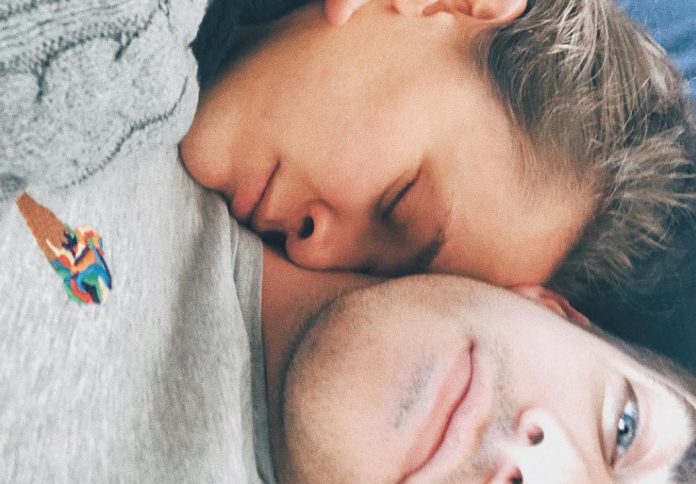 GLEE actor Kevin McHale celebrated his boyfriend Austin McKenzie's 25th birthday with some super cute Instagram posts
Kevin and Austin spent the weekend together on a romantic camping getaway to the Pacific Northwest.
Kevin posted several pictures from the trip on Instagram, and also a beautiful photo where he wrote "Happy 1/2 way to 50 to the cutest boy in the world."
The guys are clearly in love and are spending as much time as they possibly can together. And they're more than happy to let their fans in on their happiness through their social media accounts.
Kevin and Austin met on the set Dustin Lance Black's miniseries 'When We Rise' last year.
PS! Kevin has been having a real body makeover lately:
Totally ripped! Check out #Glee star Kevin McHale's jaw-dropping body transformation! https://t.co/qDWmy7ix1s@druidDUDE @UPFitness pic.twitter.com/C9Qw1xJa6f

— ExtraTV (@extratv) August 27, 2018
I'm sure Austin doesn't mind the transformation:-D
Related: Tom Daley Nominated as Sports Star of the Year
About Kevin McHale
Kevin Michael McHale was born June 14, 1988 in Plano, Texas, USA.
What is he famous for?
McHale is an actor, singer, dancer and radio host. He is most famous for playing the role of Artie Abrams on the TV show "Glee". Before becoming an actor, McHale was in a boy band called NLT, or "Not Like Them". The band opened for The Pussycat Dolls in 2007. He still writes his own music and is currently signed to Universal Music.
McHale has appeared in several music videos including One Call's "Blacklight" and Katy Perry's "Last Friday Night". In 2012, McHale co-hosted the Teen Choice Awards with Demi Lovato. He hosted the British panel comedy "Virtually Famous" from 2014 to 2016 and currently a host of "Sick of My Own Voice" for Dash Radio.
Is Kevin McHale gay?
In a Twitter post on April 20, 2018, McHale wrote, "#NoTearsLeftToCry is gayer than me and I ACCEPT. Ty @ArianaGrande." This was the first time he stated publicly that he is gay.
McHale says that he had been quiet about his sexuality during the filming of "Glee" because his boyfriend at the time was not "out". Based on his online presence, fans have assumed McHale to be gay long before his tweet. He has since posted selfies to Instagram with his boyfriend, "When We Rise" actor, Austin McKenzie.
Kevin McHale's social media accounts:
Twitter: https://twitter.com/druidDUDE
Instagram: https://www.instagram.com/kevinmchale
Facebook: https://www.facebook.com/MrKevinMcHale/