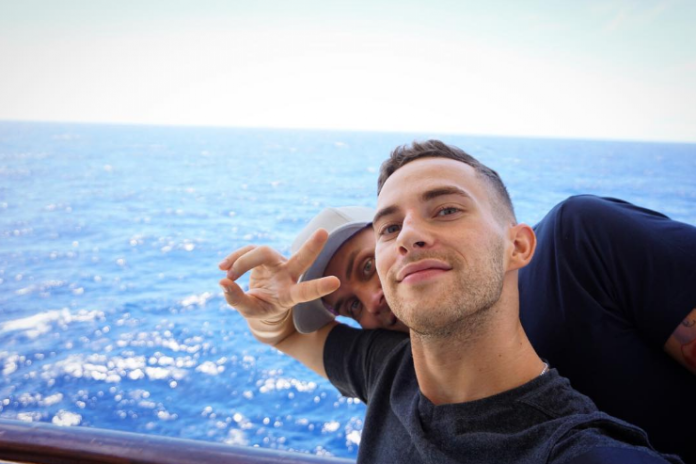 Adam Rippon will join the cast of Will & Grace for his first scripted TV role
The openly gay Olympian seems to be enjoying the spotlight after his impressive Bronze medal win at the Olympics and is virtually everywhere nowadays.
Adam won Dancing With the Stars earlier this year and will serve as a judge on Dancing With the Stars Juniors, and now he's also entering into scripted television.
NBC has confirmed that Adam will appear in a cameo role in season 10 of Will & Grace, but the details of his character is not yet known.
In June, Adam was having a blast serving as a celebrity ambassador for Celebrity Cruises' Pride Party at Sea.
Adam brought his hot Finnish boyfriend, Jussi-Pekka Kajaala, on the cruise and the couple shared the experience with their followers on social media.
"I'm honored to be an ambassador for Celebrity Cruises' second annual Pride Party at Sea!" Rippon says. "It's great to collaborate with a brand like Celebrity that is so dedicated to the LGBTQ+ community."
https://instagram.com/p/Bjq1ixWHb0y/?utm_source=ig_embed
Adam and fellow gay Olympian Johnny Weir co-hosted a spectacular Pride parade on-board Celebrity Constellation and Celebrity Reflection in Sicily, Italy, and Cartagena, Spain.
https://www.instagram.com/p/BjnImMfFbIw/
Adam went public with his relationship with Jussi-Pekka in April 2018. Adam and Jussi-Pekka — who is not a skater — met on Tinder, according to a friend.
Rippon said they had "been talking for the past seven months" and then "started to hang out a little bit more, because we were both really busy."
"It's fresh! I'm fresh," Adam told PEOPLE, adding sarcastically: "Now that I'm even busier, I thought it was a better time [for us] to hang out."
About a week or two ago, the pair made it official, Rippon says while promoting his upcoming Stars on Ice tour alongside fellow 2018 Olympians including Mirai Nagasu, Nathan Chen and Bradie Tennell.
https://instagram.com/p/BhEXQGSl9wQ/
In March, Adam received HRC's Visibility Award from fellow gay Olympian Gus Kenworthy.
The out gay figure skater became our hero during the Olympics, both for his achievements on the ice and for standing up for gay rights.
Related: Gus Kenworthy Kisses Boyfriend Live On TV
Adam did not only bring back the bronze medal from the Olympics, he also put a powerful spotlight on the current administration's anti-gay politics by publicly criticizing Vice President Mike Pence.
At a gala dinner in Los Angeles, gay skier Gus Kenworthy presented Adam with the Human Rights Campaign Visibility Award.
"It was such an incredible pleasure and an honor to stand beside him as two out, proud gay athletes representing the United States," Gus said.
https://www.instagram.com/p/BfUSj7YlsLf/
Afterwards, Adam delivered an inspirational speach about being an out gay role model.
"I like to talk about my coming out because coming out has been the most liberating experience of my life. I hope that everyone, regardless of their sexual orientation, has their own coming out experience," Adam said in his acceptance speach. "When you can share who you are with the world you will find great power."
"When I was little, I used to care so much about what others thought of me. I was mindful of the way I dressed, my mannerisms, the way I talked. I was afraid people would think I was weak. I was afraid of making mistakes. I was afraid that I wouldn't be welcomed by the LGBTQ community because someone like me wouldn't be the role model they were looking for. Maybe I was too gay and maybe I was just too myself."
Adam then continued to talk about how he faced his fears:
"I remember making the choice to be unafraid. I made the choice to not care what others thought of who I was. I was going to be truly me," Adam said. "This was the biggest and most important decision I've ever made — to live fearlessly, to take risks, to let go of my fear of what others may think of me and to always keep learning. You will find that you will have your greatest success when you wear your scars proudly."
Related: My Family Treats Me Badly After I Came Out
Adam also thanked queer pioneers for paving the way for him and others, "This award belongs not only to me but to those who came before me and who helped make my journey that much easier."
Watch Adam's speech with Kenworthy's introduction below:
Here's som snack from Adam's Instagram:
https://www.instagram.com/p/BahswplFnPB/
https://www.instagram.com/p/BfQo58jF-S7/
About Adam Rippon
Adam Rippon was born in Scranton, Pennsylvania, USA on 11/11/1989.
What is he famous for?
Adam Rippon is an athlete. He is best known for winning a bronze medal at the 2018 Winter Olympics as part of the figure skating team event, thus becoming the first openly gay U.S. male athlete to win a medal in a Winter Olympics.
He won the 2010 Four Continents Championships and the 2016 U.S. National Championships.
Earlier in his career, he won the 2008 and 2009 World Junior Championships, the 2007–08 Junior Grand Prix Final, and the 2008 U.S junior national title.
Is Adam Rippon gay?
Adam Rippon came out as gay in October, 2015. In a wide-ranging interview with reporter Amy Rosewater in an issue of SKATING magazine, Rippon revealed his sexual orientation.
"Being gay is not something that defines me. What defines me is what my mom always taught me: to treat everyone with respect, to always be a hard worker and to be kind. Those are the things that define me."
Adam Rippon's social media accounts
Twitter: https://twitter.com/adaripp
Instagram: https://instagram.com/adaripp
Facebook: https://facebook.com/adaripp89