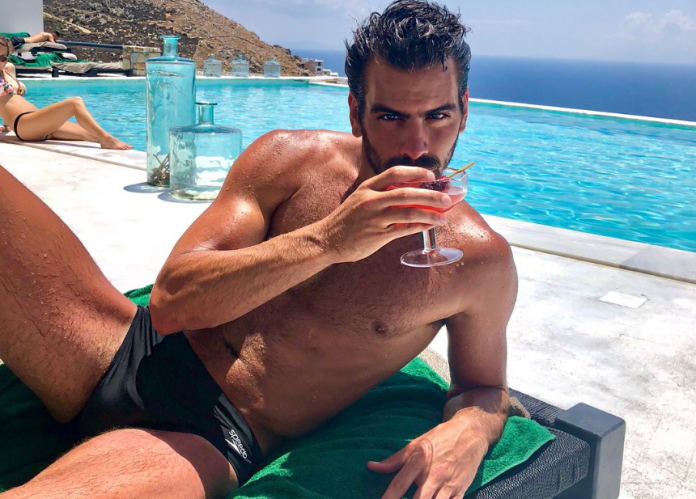 It's no secret that deaf activist and male model Nyle DiMarco is a man of many talents
The hottie – who describes himself as sexually fluid – didn't only win 'America's Next Top Model' in 2015. He also won the 22nd season of 'Dancing with the Stars'.
In a video post on Instagram, Nyle is showing off some pretty impressive diving skills at the Barton Springs Pool in Austin.
"I still got all the skills on a diving board!! (watch till the end) What tricks you want me to do next?" DiMarco writes in the post. The model performs a forward back flip; a "one and half flip" dive; a 180-degree back dive; a double back flip; and a double front flip in the video.
Damn, Nyle. That's hot!
Related: Bisexual Actor Keiynan Lonsdale's Hot Male Model Weekend
About Nyle DiMarco
Nyle DiMarco's birth name is Nyle Thompson. He was born in Queens, New York, USA on May 8, 1989.
What is he famous for?
DiMarco is a model, actor and deaf activist. He became the second male winner of the competition series, "America's Next Top Model, Cycle 22" in 2015.
His acting credits include the leading role in the American Sign Language Films production "In The Can" and a recurring role in the television show "Switched at Birth".
DiMarco also competed and won the 22nd season of "Dancing with the Stars". He was partnered with Peta Murgatroyd.
He walked for Armani in June 2016 at Milan Fashion Week.
Is Nyle DiMarco gay?
Nyle DiMarco came out as sexually fluid in October 2015 in response to a question from Out Magazine. He also tweeted that he identified as fluid along with an article explaining the term.
Nyle DiMarco's social media accounts:
Twitter: https://twitter.com/NyleDiMarco
Instagram: https://www.instagram.com/nyledimarco
Facebook: https://www.facebook.com/NyleDiMarco/
Youtube: https://www.youtube.com/channel/UCbmhkxzY_ruj9vilkokLS6A
Related: Are Male Models Gay?